Will Your Second Story Deck Sway? (Plus 4 Tips to Add Stability)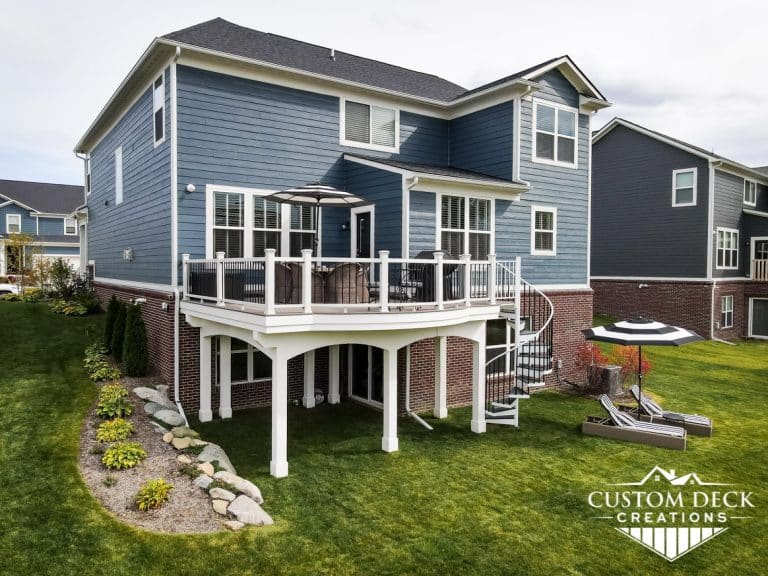 Decks that are low to the ground don't generally have any issues with swaying and wobbling.
It's the taller, 8-14 foot decks that we hear more concerns about from homeowners. Most commonly, "will my second story deck sway?" and "how can you give a higher off the ground deck more stability?".
You likely won't spend much time on your deck if you feel unsafe (and we wouldn't want you to if it wasn't secure). So today, we're going to discuss what kind of movement you should expect from a second-story deck and how you can make it more secure. 
Building to Code
Naturally, a taller deck will require longer structural posts to support them. The posts should be at a minimum of 6 inches x 6 inches in size (4×4's or 4×6's won't do!). You may even be required to use circular steel posts, depending on the height of your deck and your local municipality's building code. 
But even with hefty structural posts, you can expect there to be some slight swaying, but not enough to ever make you feel unsafe. If you do, immediately stop using the deck and call your builder. 
If this happens, there are solutions to reduce or eliminate the movement.
How to Reduce or Eliminate Deck Sway 
Additional Bracing
Bracing is critical for the stability and safety of any tall deck. So it's no surprise that extra bracing is usually the best method when your deck needs a little more support to stop it from wobbling. 
Cross Bracing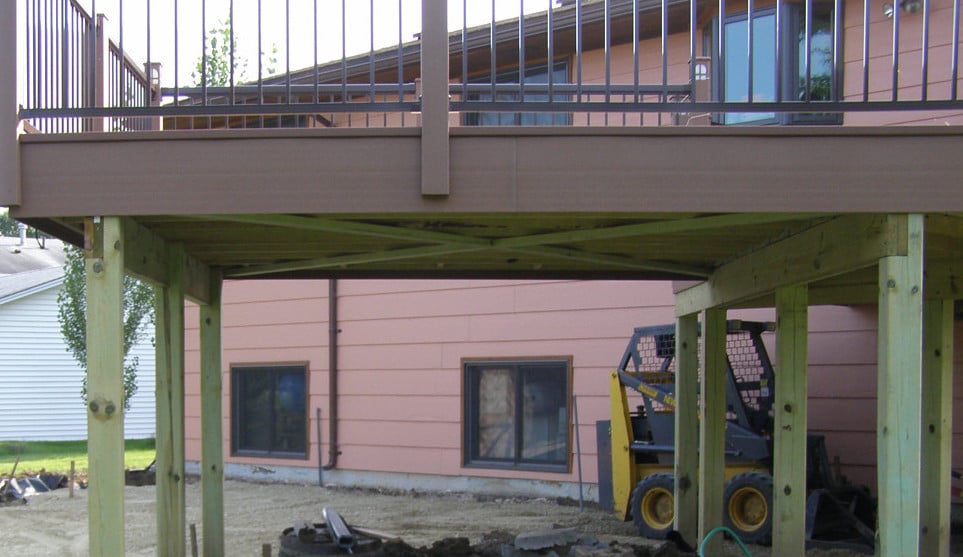 Even if it's attached to your home, you can sometimes feel the deck sway once you walk 10-15 feet out on it. That's where cross bracing comes in; it's ideal for preventing any elevated surface from swaying back and forth. 
You install these braces horizontally under your deck's joists, using screws to attach them to the bottom of the joists. Often, they're positioned from the center point of the house outwards at a roughly 45-degree angle to create a "V" pattern. But you can add more for additional stability. 
Diagonal Bracing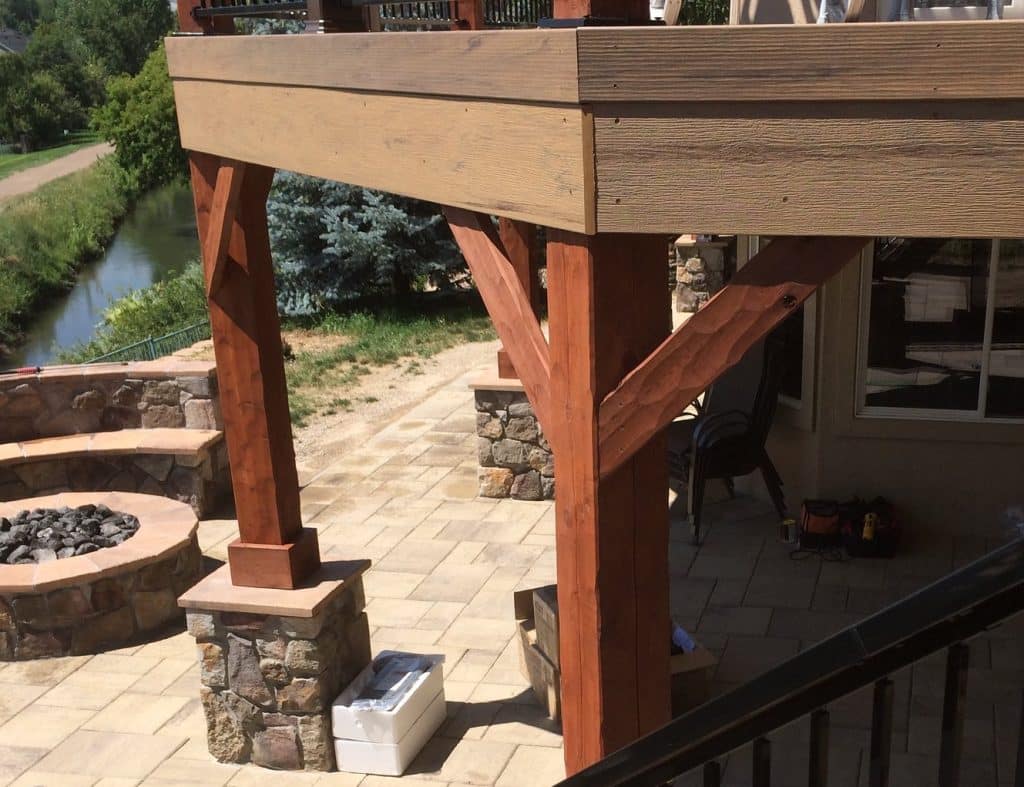 Another great way to improve stability is to use diagonal bracing. This technique is commonly used to help eliminate swaying and prevent collapsing. 
You install these braces diagonally (hence the name) from the posts to the outside structural beam. Typically, this is done on the two outside corner posts of your deck. 
Additional Blocking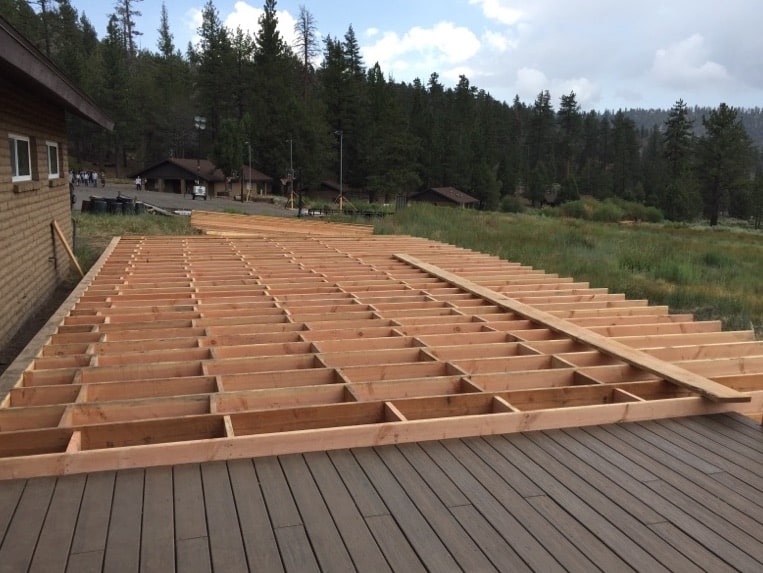 You can also try installing blocks between the joists, known as mid-span blocking. It further prevents deck sway and adds strength to the entire structure. 
Often, you can use scrap boards for blocking (as long as they're pressure treated), and it saves on the amount of waste from the project. A typical approach you'll see is installing the blocks in a zig-zag pattern, but there are many different techniques. 
Secure the Deck to the Home
If you have a freestanding deck, you can still secure it to your home, but it wouldn't be a structural connection like a ledger board (more on this later). However, it would still work to reduce or eliminate deck sway. 
There's no "one size fits all" solution. Sometimes a few properly sized structural screws would do this trick, but this may not be permitted in all municipalities. You'll need to work with your builder and local inspector to develop a safe solution.
Install Using a Ledger Board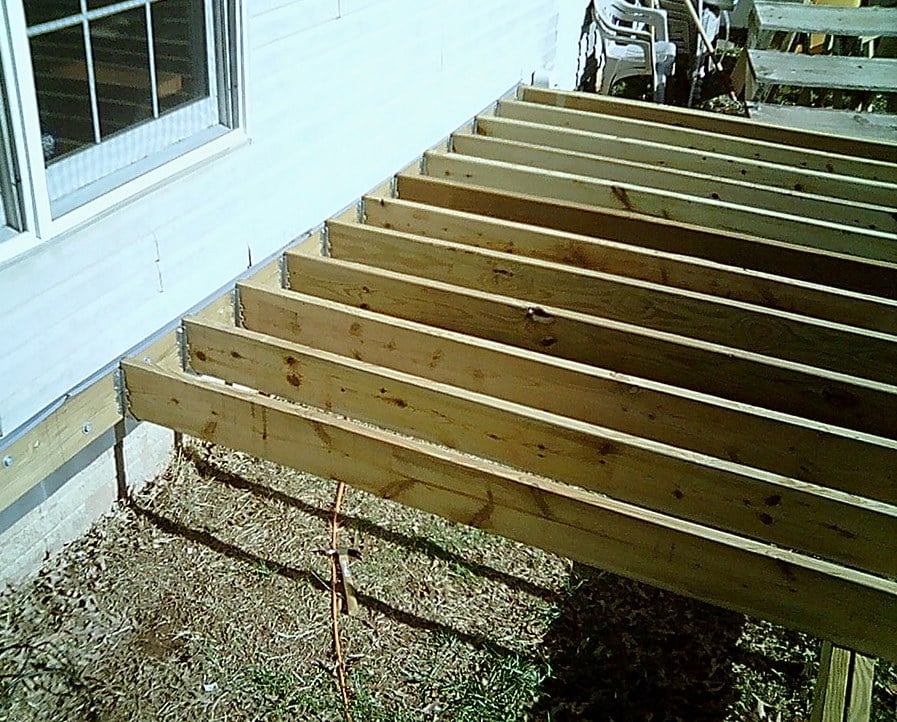 This one is more of a preventative measure than a fix, but we think it's still valuable to know. You can design your deck so that it's ledgered to your home, but this isn't always ideal. It's believed that about 50% of decks across the US are in need of repair or replacement. And unfortunately, the cause of many of these issues is incorrect ledger board installations.
Even though it can reduce movement, improper installation can cause water penetration issues in your home. And over time, the water damage can cause these ledgered decks to collapse. 
For more information, check out our post: Freestanding Vs. Attached Decks
Conclusion
You should never feel unsafe on a deck, even if it's on the second story and you feel slight movement. A bit of motion is normal, but the methods we've outlined should eliminate all (or almost all) swaying and wobbling. 
With that being said, never take your chances if something feels off; keep clear of your deck and get it checked out right away.
What Next?
Are you ready to get started on your build? Let's chat!
At Custom Deck Creations, we build composite decks for clients across Southeast Michigan. We'll work with you on a design that meets all of your needs and stays within your budget. And we'll guarantee to build it strong and stable, whether it's on the first or second story!
Feel free to take a look at some of our most recent projects, and when you're ready, give us a call for a free, over-the-phone estimate. 
Did you enjoy this article? Why not share it with a friend! Want to keep reading? Take a look at these posts next: