Deck and Patio Combo: Which Should You Build First?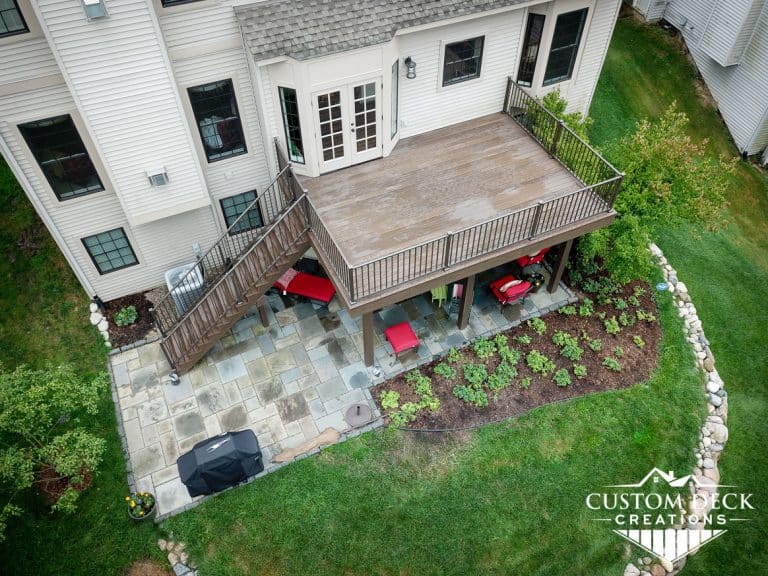 A deck and patio combo is one of the best ways to use your backyard to its fullest. 
It's a dream for homeowners who love to entertain because they can design each space to their liking. For example, they can use the deck for grilling and outdoor dinners and have a conversational area for drinks and entertainment on the patio. Or vice-versa!
But if you're planning on building both, it's essential to consider which to do first. And regardless of whether you place them side by side or have the deck over the patio, you want the overall design to flow. 
So today, we're discussing what you should build first and sharing our best tips and recommendations to create your own backyard utopia. 
What Comes First: The Deck or The Patio?
In an ideal world, you'll install your deck first and then your patio. 
There are a few reasons for doing it in this order. Starting with the fact that once the deck and stairs are complete, installing the patio at the perfect height is much easier. Which in turn helps make the entire project look seamless and well thought out.
PRO TIP: Design Together
We like to approach a deck and patio combo by considering how both will fit into the overall layout of your backyard. And we ask ourselves how we can incorporate any wishes or designs holistically into each space.
This strategy works much better than thinking about the deck now and maybe the patio and landscaping later. The goal is to create a cohesive space so you can get the most enjoyment out of your yard. 
Installing a Patio Under Your Deck
If you're planning on building a 2nd story deck above your patio, we still recommend that the deck comes first. After that, the process of having the patio installed is straightforward but varies depending on the materials you use.
Poured Concrete
You can pour the patio concrete around your deck's structural posts without too much difficulty, or the need to modify anything. But I'd like to emphasize that if you're using concrete for your patio, you'll absolutely want to build your deck first. If you don't, you'll need to cut into the concrete to install your deck's structural posts after the fact, and it's not as easy or fun as it sounds.
PRO TIP: Pour Concrete Away From Posts
If possible, ask your contractor whose pouring the patio concrete to avoid the structural posts for your deck. Concrete acts like a sponge full of water, which wood will easily soak up. So any poured concrete that's in contact with your wood posts can lead to them rotting prematurely and needing to be replaced. If it's not possible to avoid, you can also protect them by applying an environmentally-friendly preservative to the bottom of the posts, such as copper naphthenate, a copper post sleeve, or spacing the poured concrete away from the deck's post using foam.
Patio Pavers
What if you're building a patio from pavers? It's just as easy and also won't require you to modify anything on your deck. You may need to cut a few of the pavers to create a nice fit, but beyond that, all you need to do is lay them around the posts.
Can I Build the Patio First?

Even though we recommend building your deck before your patio, we understand it doesn't always work out that way. But not to worry, it's entirely possible to build your deck after. It's just a little trickier, and parts of the patio may need to be altered or repaired after the build. 
Building a Deck Over Your Patio
If you've decided to build a second-story deck, how you approach it will depend on whether you've used concrete or pavers for your patio. 
Concrete
We briefly touched on this earlier. But unfortunately, your contractor will need to cut into the concrete to dig holes for your deck's structural posts. They must meet the requirements of your local building code. So usually, the holes need to be dug approximately 16″ x 16″ square, and the posts must be at least as deep as the local frost line (in Michigan, that's 42 inches).
Once you have your deck built, your existing poured concrete patio will likely require a bit of landscaping to cover the cut holes. But there's a couple of ways to deal with this:
Have the structural posts wrapped in stone veneer. 
Place crushed marble or other colored stoned around the posts.
Patio Pavers
If you've used pavers for your existing patio, building your deck after is much more manageable and leaves little to no damage. Your contractor can simply pull up the pavers, install the deck's structural posts, build the deck, then reset the pavers. This is quicker and easier compared to a concrete patio, but there will still be some additional time and work involved compared to building your deck first.
PRO TIP: Install Deck Footers at the Same Time
If you have yet to start on your deck and patio combo but are choosing to build the patio first, you can ask your contractor to install the deck footings at the same time of your patio build. That way, when you move on to building your deck, you won't have to tear up your patio.
Building a Deck Next to Your Patio
The process of building your deck next to your patio is even more straightforward. You don't need to worry about the structural posts, and it's relatively easy to build the deck's stairs down to the height of the patio. However, you can face some trouble when it comes to the design.
Planning and building a deck to perfectly fit in with the preexisting layout of your patio and yard can be challenging, but it's not impossible. Work with your local deck builder and you should be able to create a functional and aesthetically pleasing design for your deck.
PRO TIP: Filling the Small Gaps
If you find any small gaps between the straight edges of your deck and the stagged pavers of your patio, try this: Pour colored polymeric sand into the spaces. Polymeric sand will turn hard like concrete after it gets wet, which creates a much more finished look.
Conclusion
Installing your deck before your patio is almost always better, it's generally less time-consuming and requires fewer corrections than starting with a patio. But, if it doesn't work out that way, there's no need to be discouraged. Building your patio first and your deck second can be done, and will still end up looking great.
The most important thing is that the design for your deck and patio combo flow well together, and neither one looks like an afterthought of the other. 
What Next?
Speaking of design, if you're planning on building a new deck, we'd love to hear from you!
At Custom Deck Creations, we build composite decks for clients across Southeast Michigan. We will work with you to design and build your deck which matches your vision and budget (before or after your patio build). Feel free to give us a call and check out some of our most recent builds.
If you've enjoyed this article, share it with someone who would find it helpful. Want to keep reading? Check out these posts next: