Freestanding Vs. Attached Decks: Which Should You Choose?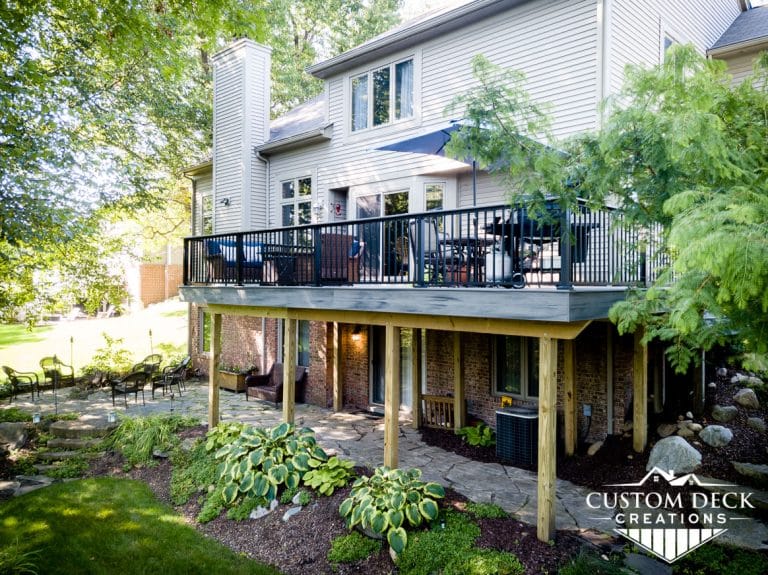 Are you debating with yourself over building an attached vs. freestanding deck, trying to visualize how both will look next to your home?
The good news is you won't be able to tell them apart while you're standing on your deck. Both create a beautiful extension of your home and a place to enjoy spending time with friends and family.
Today, these two types of decks are going head to head so you can discover the advantages and disadvantages of both. Plus, we'll also share our two cents on what we believe is the better choice. 
Attached Deck
An attached deck, also known as a ledgered deck, is secured to your home using a ledger board, so it relies on both structural posts and your house framing for support. 
Pros
Fewer structural posts are needed to support the deck
It leaves more room to build a patio or for storage underneath
It will sway less than a high, off the grade (10'+) freestanding deck 
Cons
Improper installation can lead to water damage in your home
Poor connection from the ledger board to your home can lead to deck failure
Complex ledger board installations can be tedious (through brick or stone veneer)
Special Considerations
Ledger Board Precautions
The #1 reason decks fail is from an improperly installed ledger board. Its connection to the house is crucial to the longevity of the deck and the safety of everyone who enjoys it.
Contractors must use enough proper metal fasteners to secure the ledger board and deck to your home; the flashing also needs to be installed correctly. Otherwise, you can find yourself with water penetration issues or a deck that could break away from your house.
Attaching Ledger Board to Brick
For safety reasons, attaching a deck ledger to a stone or brick veneer is not permitted by code in most municipalities. But many building departments are now accepting decks with ledger boards attached through the exterior and into the house's framing – with specialized fasteners designed for this purpose. 
Fortunately, Simpson Strong-Tie creates a fastener just for this purpose called the Brick Veneer Ledger Connector or BVLZ (the Z stands for Z-Max, which is their exclusive coating for exterior fasteners). 
This kind of installation requires access through your basements' ceiling. That could mean cutting the drywall (but don't worry, not your walls) or, in the case of a drop ceiling, simply moving the panels out of the way.
Freestanding Decks
Freestanding decks are the most common and are separate from your home, relying entirely on structural posts for stability. 
Pros
No penetration into your home so there is no possibility of water getting into your home and causing damage
More compatible with brick, stone, or oddly shaped houses
It doesn't add extra weight to the structure of your home
It's simpler to build compared to complex ledger installations
Cons
Higher off the grade decks (10'+) can have slight sway to them
Improper installation of the footings can lead to the deck slanting or drifting away from the house
Special Considerations
Deck Footing Depth
One of the most critical aspects of building a freestanding deck (or any type for that matter) is making sure the footings are installed below frost level. Doing so will ensure your deck doesn't shift during freeze-thaw cycles.
Freestanding Deck Height
Also, consider the height you'd like to build your deck. The lower it is to the ground, the less you'll have to worry about it swaying. But that problem can be significantly reduced with taller decks using diagonal sway bracing.
Freestanding Vs. Attached Deck Costs 
Building an attached vs. freestanding deck will cost about the same for many homes with siding. Even though you have fewer structural posts to install when using a ledger, removing the siding, installing the ledger board, and attaching the flashing takes time. 
Things get more labor attentive when you need to drill through the brick veneer to attach the ledger to your home's rim joist with the BVLZ. It can cost approx. $1,500 – $2,500 more, depending on the deck's size and design.
Which Should You Choose?
A freestanding vs. attached deck, what is the better choice?
Well, the best type of deck for your home will depend on various factors, including the design of your deck, the style of your house siding, the deck's proposed height, and the need for space underneath. But an experienced deck builder will reliably be able to build either and have it last for decades.
However, if you aren't planning on installing a patio underneath, an attached deck has few major benefits. That, on top of the potential for water damage, is why we typically recommend building a freestanding deck. 
Ready to Start the Building Process?
At Custom Deck Creations, we've built over 150,000+ feet of composite decking. If you're in Southeast Michigan and ready for a deck of your own, get in touch! We'd love to chat about your project!
Please feel free to also check out our blog if you want to learn more about composite decks and how they compare to wood. We've also created an FAQ full of the most popular questions from our customers.