Single vs Two-Tiered Decks: Which Should You Build?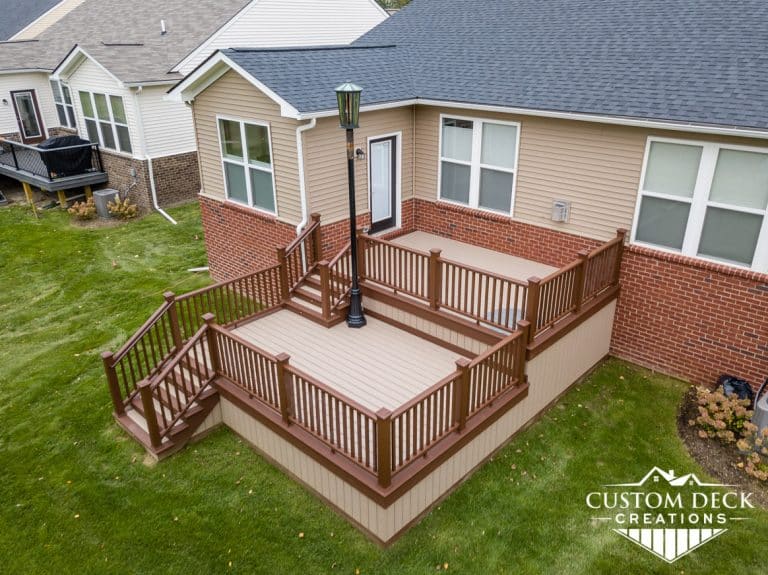 We've had the opportunity to design and build hundreds of one and two-tiered decks for our clients over the years. 
We know how important it is to design the style of deck that will most functionally work for your home, so you don't find yourself wishing for something different after it is built because it doesn't suit your needs. 
So how do you decide what style you should build? Our recommendation: by considering the advantages and disadvantages of both and how they fit in with your lifestyle.
We want to make sure you can confidently make the right decision. So to help you out, here are the pros and cons of both single and two-tiered decks.
One-Tier Decks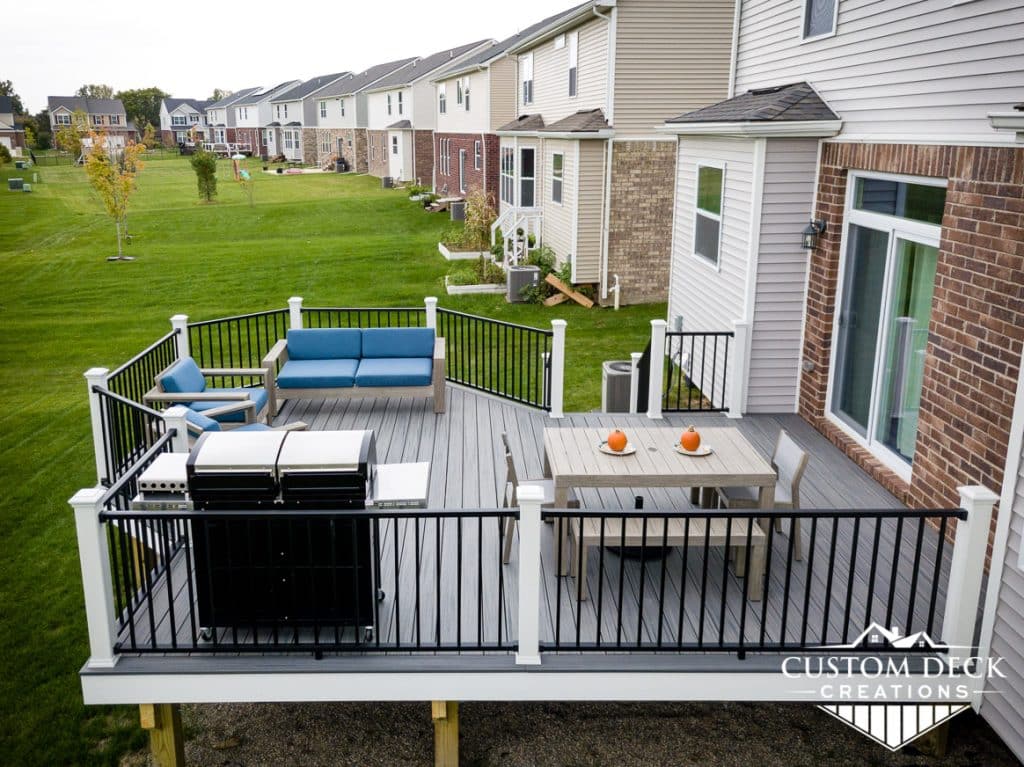 One-tier or single-level decks are by far the most common we see today – about 90% of our decks are built as a single-tier. The simple one-tier design gives you a comfortable place to unwind and enjoy the outdoors.
Pros
Considering one-tier decks have a relatively simple design, they're a bit more straightforward to build which reduces the total investment of a deck, compared to a multi-level deck. It's the ideal choice if you're on a budget or simply don't want to overspend. 
Our clients also love the simplicity a single-tier deck provides. No more physical limitations on where you "must" place your outdoor furniture since you have steps to work around. With a single-tier deck, you have the flexibility of moving furniture around in the future.
Cons
An honest stretch here since furniture solves this, but oftentimes a single-tier deck doesn't have designated areas like an eating area and a conversational area. This is easily circumvented by simply having a table & chairs and then having separate seating elsewhere on your deck. Alternatively, similar to the photo above, an "overlook" can be built into your deck's design to provide separate designated areas on your deck.
Two-Tiered Decks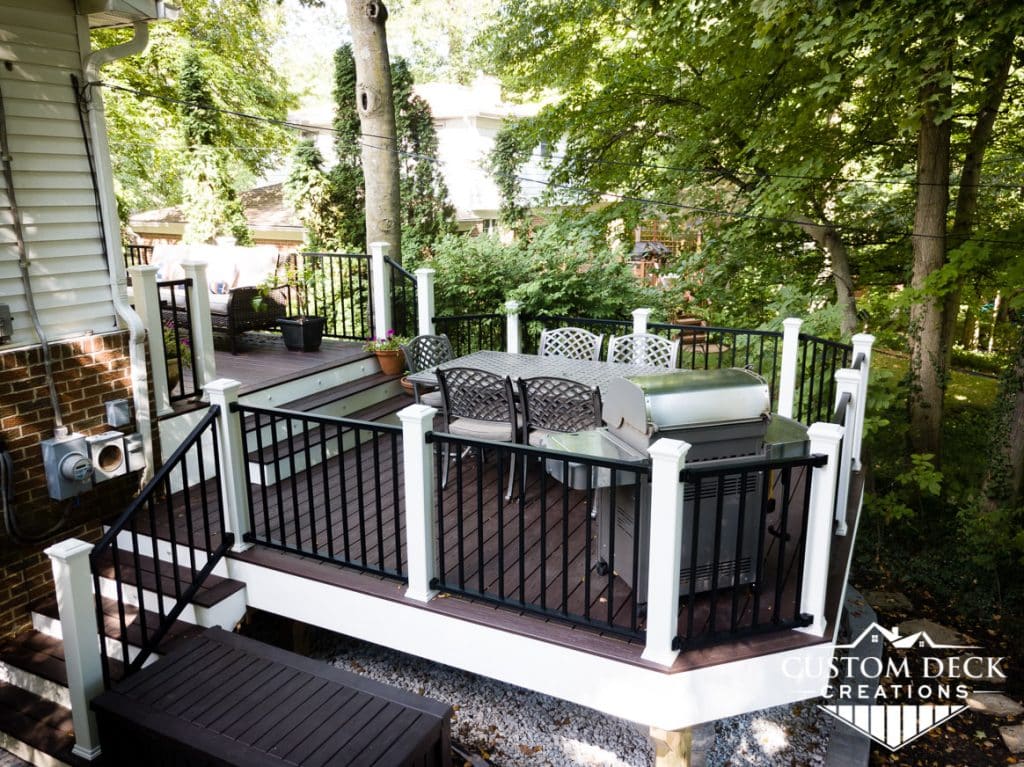 Two-tiered and multi-level decks were very popular in the 2000s and 2010s. Even though one-tier designs dominate the market today, a two-tiered deck is still a practical option depending on how you plan on using the space, and what your backyard's layout is as well.
Pros
One of the greatest benefits of having a two-tier or multi-level deck design is the beautiful aesthetic it creates. With many layout possibilities, you can create a visually appealing space that's truly unique to your backyard.
The range of designs also means you can create dedicated spaces that are practical for your needs, such as:
A separate conversational area and an eating space
An outdoor kitchen and a dining area with a table and chairs
A level with a hot tub and another as a lounge
A dedicated area for kids to play
Having separate entertainment areas increases the usefulness of the entire deck. It's also an excellent solution to rescue parts of your yard that are unusable because of the terrain. 
Uneven ground, large slopes, and rocky areas can be a pain if your goal is to turn the area into somewhere to entertain. If leveling isn't the route you'd like to take, a viable solution is to build over it with a multi-level deck. 
Cons
One of the biggest drawbacks to two-tiered decks is by having separate tiers, there is a physical barrier (usually steps) of which furniture cannot be placed over. These steps may also create a tripping hazard for guests who aren't familiar with the layout of your deck. Or it can be risky for anyone who might sit too close to its edge – think a chair leg going over the side of your deck.
Another consideration is the cost. The extra level adds additional framing, picture frame, fascia, and often structural posts and railings, which can quickly add to the total price of your deck. 
Lastly, consider the size of your home before you decide on a multi-level deck. Mutli-level decks may easily overpower a house which will take away from its aesthetic appeal – your deck builder should be able to show you multiple deck design ideas.
PRO TIP: As an alternative to two-tiers, a common design we add is bumping out part of a single-level deck. Doing this still creates a space for dedicated areas without creating a limitation of a physical step. Here's that concept: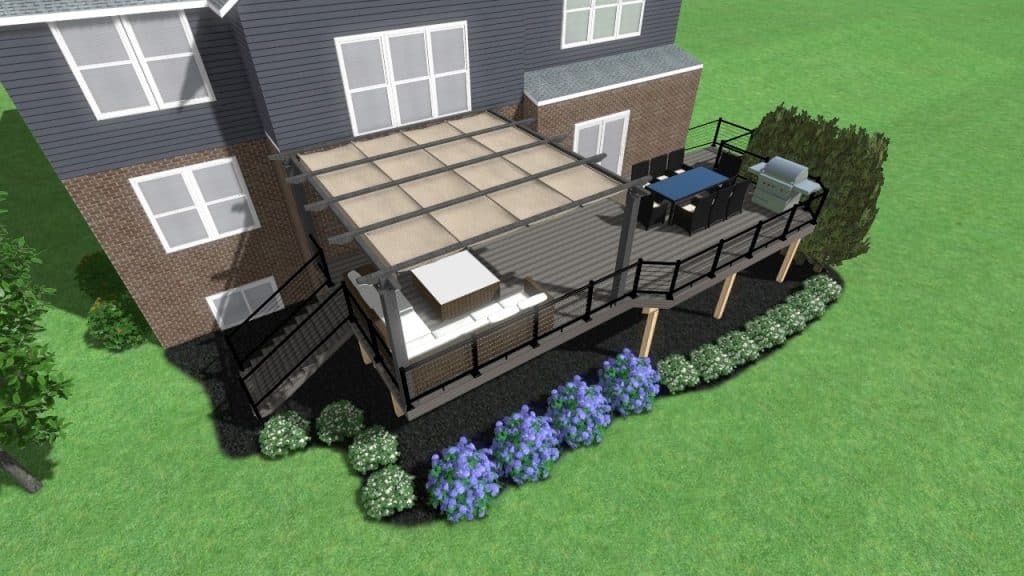 Final Thoughts
There are plenty of pros and cons to both styles of decks, but one is not better than the other. The option you should choose comes down to the purpose of your deck and, of course, your budget.  
By keeping things simple with one level, you won't overspend on deck space you won't use or don't need. On the other hand, two-tiered decks have a beautiful design that makes it easy to create designated areas for specific uses. 
Start Building
At Custom Deck Creations, we build composite decks for our clients all across Southeast Michigan. We can help you design and build a deck based on how you plan on using your new space. We'll create multiple 3D designs so you can get a clear vision of what it will look like before you commit. 
Feel free to take a look at some of our most recent projects. 
If you have any questions or want to get started, give us a call. We'd love to hear about your project.