Landscaping Under a Deck: Our 3 Options After the Build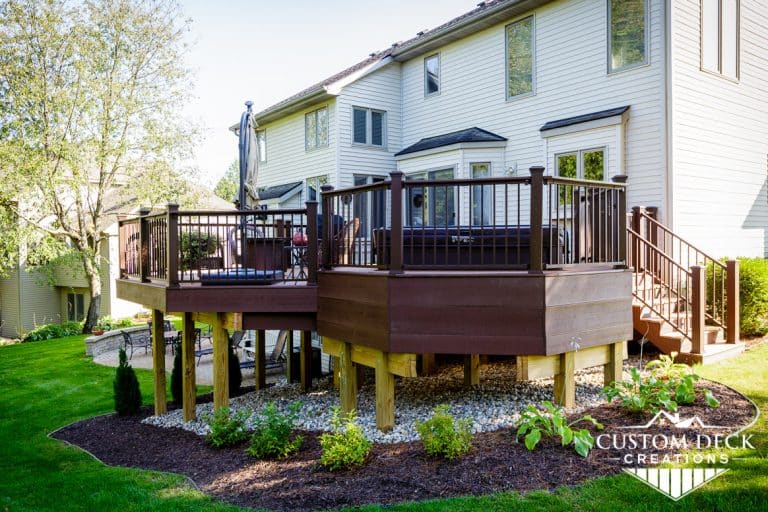 Your deck is finally complete. You're ready to pull out the grill and patio set to spend the summer out in the sun! 
But not so fast…
There's still one more step for us to complete. It's an often forgotten space that easily gets cluttered with garden tools and miscellaneous items: underneath your deck.
While usually an afterthought, it's arguably just as important as the deck itself. And how we approach landscaping under a deck will prevent a few problems we're going to discuss and give the entire area a clean and polished look. 
Here are 3 ways we approach landscaping under a deck.
1. Weed Barrier & Pea Gravel 
We install a premium weed barrier and pea gravel under most every deck we build (clients may opt out of this and save some money). This is also what we recommend to homeowners in most cases. But trust us, you'll want to buy the highest-quality weed barrier you can find, not the big box brand. 
The combination of weed barrier and pea gravel will:
Help slow down the growth of grass and weeds and hinder them from spreading under your deck.
Allow adequate drainage to help prevent water from rotting deck posts.
Discourage animals from building their home under your deck. They typically don't like burrowing or nesting on top of stones.
But keep in mind that weed barrier and stone will only slow down grass and weeds and won't prevent them entirely. The forces of nature are against us in some situations.
For example, grass spreads by rhizomes underground and can sprout up even through the toughest of landscape fabrics. However, using edging could be helpful in these scenarios. But it could also be as simple as a plant seed blowing in the wind and landing on the gravel. Before long, it can start to grow.
PRO TIP: Stone Size
It's standard to install stones in an inch to 2-inch thick layer. But some condo associations will require 3 or 4 inches, which we can easily accommodate. Make sure to check for any requirements if you aren't sure. 
2. Upgrade Your Gravel
While you won't go wrong using pea gravel to landscape under your deck, we've got a few upgrades for you to consider if you'd like to up the visual appeal.
Egg Rock

Approx. $200 Upgrade
Egg rock is a smooth stone similar to pea gravel in that they're both considered river rock. But egg rock will be larger on average, about 1-2 inches in size, compared to pea gravel at 1/8-3/8 inches. Although egg rock costs more than pea gravel, it generally takes less of it to cover an area because they're larger stones.
Crushed Marble

Approx. $1,000 Upgrade
Crushed marble is considered one of the most aesthetically pleasing stones to use in your landscaping. You'll typically see white marble that's crushed into the size of large gravel, but you can also find it in a variety of light earthy colors.
3. Leave the Space for a Patio
A patio is an excellent choice for entertaining and using your yard to its fullest potential. If you have a second-story deck and are considering installing one, we can leave the landscape under your deck how it is. 
PRO TIP: Patio & Deck Design
Design your patio and deck at the same time, even if you wait before building the patio. That way, you can plan and designate areas for specific purposes (grilling area, dining area, lounge, etc.) and have everything flow together. Trex even offers spiral stairs that are perfect for deck and patio combinations.
What About Edging?
We understand the appeal of edging around your deck, especially if you already have it in other areas around your yard. However, we always leave the edge natural because of its low maintenance appeal, and most of our clients prefer the anesthetics of it. But, we wrote an entire post on lawn edging ideas if it's something you're interested in doing. 
Conclusion on Landscaping Under a Deck
Installing weed barrier and stone under your deck is our standard. And whether you stick with pea gravel or upgrade to egg rock or crushed marble, it can help make your yard easier to maintain and look its best. 
Lets Start Building
Are you ready for a new deck? We'd love to chat!
At Custom Deck Creations, we help clients build their dream decks across Southeast Michigan. We'll work with you on a deck that meets your vision, is practical for your needs, and stays within your budget. And of course, we'll discuss how you'd like to landscape under your deck. Feel free to check out some of our most recent builds or get in touch for a free, over-the-phone estimate. 
If you've enjoyed this article, share it with a friend! Want to keep reading? Check out these posts next: