Will White Deck Fascia Get Dirty? Here's Why You Shouldn't Worry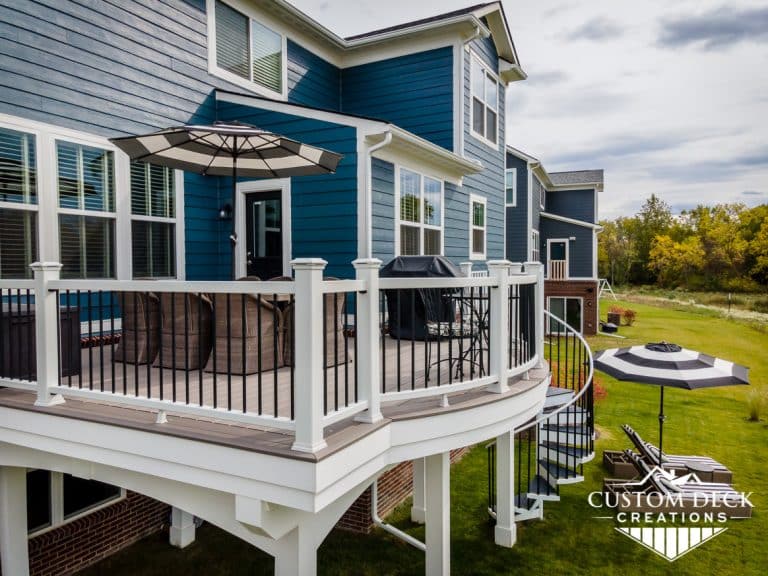 A common question we get from clients is if white deck fascia gets dirty easily?
The fear is if you choose white fascia, it won't be long until it doesn't look crisp and clean anymore. The myth is that it'll become dirty and stained, with no way to fix it without replacing the entire board. 
So are you better off choosing a different color and saving yourself the disappointment? Or is it something you shouldn't be all too concerned about?
We're going to help you make that choice and give you our two cents on why you shouldn't worry about choosing white fascia if it's what you truly want.
The Truth About White Deck Fascia
Fortunately, it's not your deck's fascia that gets hit the hardest; the bottom-most stair riser usually gets the thick of it. But the truth is, all outdoor surfaces are subject to pollen, dirt, grass from the mower, scuff marks from shoes, etc. And your deck's fascia board is no different.
So naturally, a lighter color like white will show more "weathering" than something darker; that's a fact. But that doesn't mean you shouldn't choose white fascia if that's the color you have your heart set on. If your home's trim (such as windows, corner edging, downspouts) are white, we'll usually recommend white deck fascia! White deck fascia beautifully compliments white house trim.
Building materials have come a long way regarding their durability and washability. With the products out today, a little bit of dirt doesn't hurt anything. And keeping white, truly white, isn't as tricky as you might think. 
Keeping White Fascia Looking White
Consider Your Materials
The level of difficulty in keeping your fascia clean will be affected by what material the board is. 
White deck fascia made of wood and painted with high-quality exterior paint is quite durable. But, it isn't the easiest to keep clean and maintain over the years compared to composite or PVC fascia. Generally, you don't have to worry about either of those becoming stained; you'd be surprised at how easy it is to remove even the toughest grass stains. 
Easy Cleaning
It's hard to give a timeline on how quickly white fascia will get dirty; it depends on the environment. But typically, spraying it down with the hose will remove most of the dirt and debris. For the odd stubborn areas, warm soapy water and a soft-bristled brush will do the trick.
And of course, we recommend washing your deck and fascia once a year to stay on top of cleaning to keep it looking brand new. If you'd like more cleaning tips, check out our post on How to Care For and Clean a Trex Deck.
PRO TIP: Use PVC Fascia
We personally use and recommend installing Azek PVC fascia when you're going with a lighter color like white. Compared to Trex, Azek is easier to clean and stays a true white for longer. 
Conclusion
Hopefully, this post has given you a better idea of whether white deck fascia is for you or not. 
The bottom line is white will appear dirtier quicker than a darker-colored fascia. But, if you're willing to put in a little bit of effort to hose it down once in a while and give it a yearly wash, it'll be well worth it.  
What Next?
Are you in the market for a new deck? We'd love to chat.
At Custom Deck Creations, we work with clients to design and build composite decks across Southeast Michigan. We handle the entire process from getting permits to inspections and can complete your project in as little as a few weeks. Feel free to check out some of our most recent builds or get in touch.
If you enjoyed this article, share it with a friend. If you want to keep reading, check out these posts next: