Does Trex Decking Scratch Easily? Here's What You Need to Know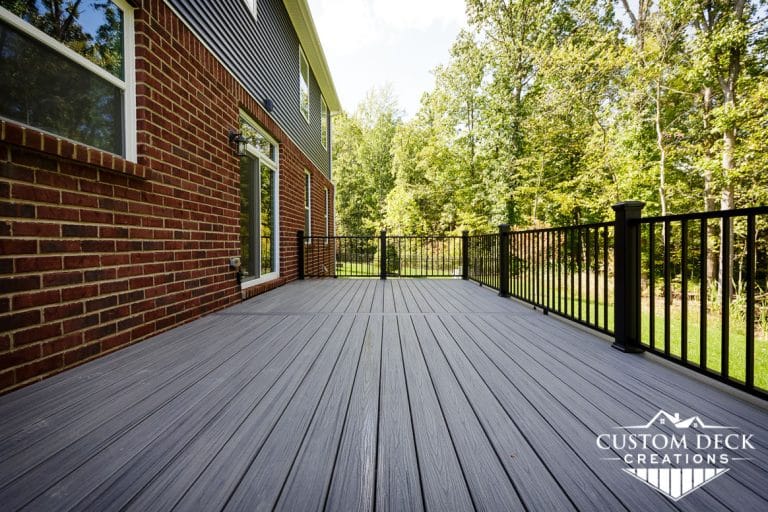 Will Trex decking easily scratch, becoming an eyesore every time you walk outside? We've spoken to many homeowners who have the same concern; they ask questions like:
Will patio furniture or dogs scratch Trex decking?
How do I prevent scratches on my Trex deck?
How to get scratches out of composite decking?
What's the best scratch-resistant composite deck?
These are all great questions and valid concerns; keep reading, and we'll give you the answers to put your mind at ease.
Built to Resist Wear and Tear
Unlike painted wood decks, Trex or any composite decking won't scratch or scuff easily. It's also highly resistant to marring (the disfiguration or sheen that you sometimes see after dragging a heavy object across a wood deck).
Beyond that, Trex decking is also resistant to fading, staining, mold and mildew. There's no need to worry about guests spilling drinks or using a grill mat while BBQing on a summer day. Because, unlike some PVC options, there's no chance of a chemical reaction between water, rubber, and Trex. 
What's gives it this durability?
You see, modern composite decking is made from 95% recycled material and is "capped" with a hard coating of plastic that resembles wood. The resulting board is textured and highly durable, helping withstand scratches while looking great for many years.
Preventing Scratches on Trex Decking
It's important to keep in mind that while Trex is scratch-resistant, it's not scratch-proof. You generally don't have to worry about moving patio furniture around or your dog racing across your deck. But it's always a good idea to play it safe.
Here are a few tips to help protect your deck from scratches and surface damage:
Avoid dragging heavy furniture, especially if it has a concrete base or sharp edges
Watch for staples and brad nails sticking out from the bottom of furniture feet
Add felt or rubber bottoms to metal 
When buying new chairs or tables, opt for plastic or rubber feet, if possible 
Lay down outdoor rugs or other floor coverings
Use plastic shovels to remove snow
Avoid pressure washing above 3100 psi
Fixing Scratches and Surface Damage
Fortunately, most scratches don't dig deep enough to get to the core of the composite board itself. Therefore most scratches are purely aesthetic, meaning you won't end up with a rotten or faulty board just because it's scratched. 
To fix a minor scratch or marring, here are a few of the options we'd recommend.
Repair
The most practical way to repair a scratch in your Trex deck is using a heat gun. It takes patience and isn't guaranteed to be a 100% fix, but we've seen success with minor scratches. 
Start by grabbing your heat gun and a heat-resistant glove. Staying back a few inches from the board, slowly run the heat gun over the scratch a few times using low heat. Now use your finger (don't forget your glove!) and mold the area as best you can to fill in the scratch. Always be careful not to burn yourself or your deck. Using a heat gun may result in a slight sheen at the repair site.
Replace
If repair work isn't your forte, then replacing your scratched board is the next best thing. If you have a new generation of Trex decking (post-2009), you can simply replace the damaged board. The new capped composite style doesn't fade in the sun or stain, so you won't have to worry about the new board looking out of place. 
If you have an older generation deck, you can still replace the board and match the color as close as possible. Keep in mind that Trex no longer manufacturers early-generations composite decking, but you can still use capped composite boards as replacements.
If you aren't keen on replacing the board right away, you can also hide scratches by covering them with furniture or an outdoor rug.
Out of sight, out of mind, right? 
What's the Most Scratch Resistant Trex Decking?
There are three different tiers of Trex; the capped composite differs slightly between each line. While they'll all resist surface damage, they do vary in durability. Here's a quick guide:
Transcend is the most durable but also the most expensive
Select comes in second for its durability and price range
Enhance is the least durable out of the three but most cost-effective
Although Enhance is considered the least durable, it's significantly better at hiding mars and scratching than Trex Select decking. For that reason, Enhance gives you the biggest bang for your buck and is one of Trex's most popular decking choices.
Final Thoughts
Trex decking will stand up to the wear and tear of using your deck to its fullest potential. Its unique, durable build effectively resists scratching and weathering, and replacing damaged boards is simple. These reasons are why it remains one of the best options for a low-maintenance deck that'll last you for years to come.
Curious and want to learn more? Check out our blog.
Do you live in the southeast Michigan area and are ready for a deck of your own? Get in touch with us at Custom Deck Creations; Trex decking is our specialty. We'd love to chat about your project and answer any questions you have.