How Long Do Composite Decks Last? Here's What to Expect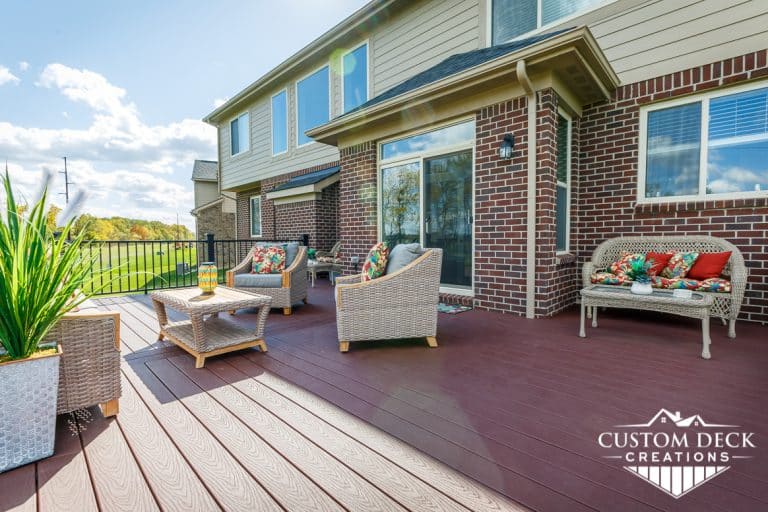 Clients often ask us if their composite deck will look the same from day 1 to year 10. Fortunately, a properly built composite deck will age nicely and still look great in its 10th year and on.
But how long do composite decks last before they need replacing?
I have good news; it's probably longer than you think.
Composite Decking Lifespan 
In our experience building with Trex, a well-constructed composite deck should last you 20 to 40 years or potentially even longer.  
I know that can be hard to believe but consider this.
Trex has been around as an alternative to wood decking since the 1990s. It has a proven track record and proceeds to grow in popularity. The continuous improvements Trex makes to its products have led us to the quality of decking we have today, which is reflected by its warranties.
Composite Warranties
Trex and most other manufacturers of capped composite decking have a 25-year warranty on almost all of their products. Trex also offers an additional 25-year stain and fade warranty on their high-performance decking.  
These companies can offer such an extended warranty thanks to the materials and processes used to engineer their decking.
What Is Composite Decking Made Of? 
Trex decking, among others, is specially formulated with a blend of recycled wood and plastic, which is then capped with an extra-strong plastic shield. This process gives composite decking its superior strength and longevity. 
Composite Decking Durability
Trex holds up exceedingly well over years of exposure to the elements compared to other decking materials. It's tough enough to handle extreme hot and cold temperatures (including brutal snowstorms and torrential downpours) and long days of sun and UV rays.
It has the advantage of not splintering, warping, cracking, or rotting after a freeze and thaw cycle. Also, you won't have to worry about it fading in the sun after a long hot summer or easily scratching from daily use.
Composite Decking Maintenance 
Thanks to the durability of Trex, it's also incredibly easy to maintain. A little goes a long way, and some soap and water or a gentle pressure washing twice a year will do the trick. 
PRO TIP: What do we use to clean a deck after we just finished building it? Trex's recommendation: mild dish soap
Eco-Friendly
It's important to note that Trex is also eco-friendly. They make their decking out of 95% recycled materials, use earth-friendly manufacturing processes, and benefit the environment by reclaiming factory waste and dropping the use of chemicals.
How Does Wood Decking Compare?
When building a deck entirely out of wood, pressure-treated (PT) lumber is the standard. Other types of wood vary but commonly include:
Douglas Fir
Red Cedar
Mahogany
Redwood
IPE (pronounced "e-pay", extremely dense hardwood from Brazil)
While we can't deny the beauty of wooden decks, it also comes with its own hassles you won't encounter using composite.
Chemicals & The Environment
The chemicals applied to PT decking are toxic and can contaminate other surfaces. Consider this if you have dogs or children, as it can easily rub onto their paws or feet.
Maintainance
All types of wood decking will fade over time if not stained or painted every couple of years or so. The frequency it needs to happen depends on exposure to the weather and sun and how often it gets used. Regardless, it's a time-consuming process, and an essential one.
Without maintenance, you'll eventually have to deal with rotting wood that'll split and splinter. Insects can also "move-in" and cause extensive damage to your deck and its structure. All of which can quickly become a safety hazard.
How Long Does Pressure Treated Decking Last?
The potential lifespan of PT decking varies, and it mostly comes down to how well it's maintained. 
You can expect PT decking that's been taken care of and adequately treated every year or two to last 15-20 years. But if you don't keep it maintained, the boards will need replacing after about 5-10 years. 
All things considered, when it comes to long-lasting deck material, composite decking will almost always outlast its wood counterparts. But there are a couple more factors that will affect its lifespan.
Strong Foundations & Experienced Builders
Even though composite decking can last decades, it won't matter if the foundation and framing aren't solid. You'll end up having to replace them sooner than you hoped.
Experienced deck builders know the ins and outs of the trade, and they'll construct your deck to give it the strength to last for decades. They do this by correctly installing proper concrete footings, using the correct exterior-grade fasteners, choosing the best framing materials, following industry best practices for installation methods, etc.
And that is where wood comes back into play. 
PT lumber is excellent to use for the framing underneath the decking because it's resistant to rot and termites. Unlike PT decking boards, lumber for framing is larger and heavy-duty. They can last up to 30 or 40 years with proper maintenance. The framing components of a deck's structure are also not installed horizontally/flat, so water doesn't sit for extended periods of time unlike flat decking boards installed on the horizontal plane.
The Botton Line
Trex or other composite decks can last for 20-40+ years when they're built on solid foundations, framed with the right size and type of lumber, and constructed by expert builders with years of experience.
And because maintaining a composite deck is quick and easy, that means you can spend more time enjoying it with friends and family, and less time (or money) sanding, staining, painting, fixing nail pops, replacing warped boards, pulling splinters out of your feet, etc.
Custom Deck Creations have built more than 200,000 feet of composite decking in Southeast Michigan. If you live in the area and want to add a deck to your home, feel free to give us a call.
For more information on composite decks, you can visit our blog or check out our gallery to see our recent projects.