How to Care For and Clean a Trex Deck (And What NOT to Do)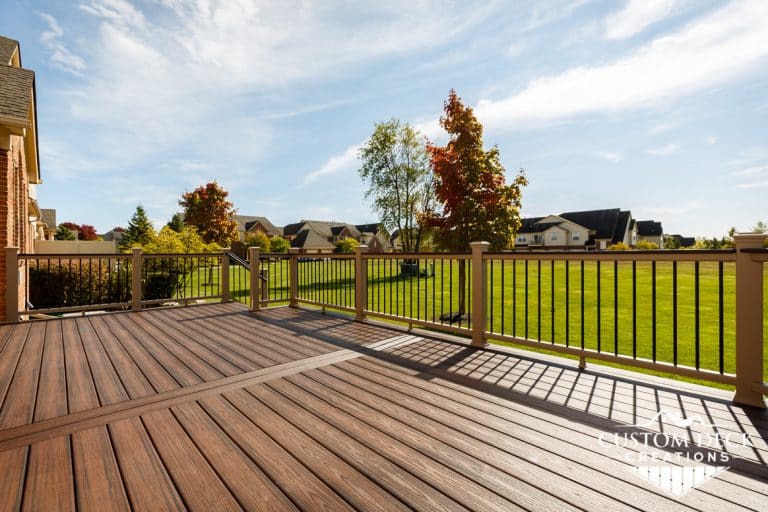 I know what you're thinking…
The reason you chose composite decking was so you didn't have to deal with maintenance, right?
Well, even Trex (or any composite decking) needs a little TLC sometimes – but not so much in terms of maintenance, more so in terms of general care of an outdoor surface. But let me put your mind at ease; keeping your deck in top condition and looking brand new couldn't be any easier.
So let's jump right into it. 
Here are the best ways to care for and clean a Trex deck, so you can get back to enjoying your time lounging outside.
How to Clean Dirt & Debris
Your deck is bound to get a little dirty from everyday substances like dirt and debris; that's the nature of being outside. But in most cases, you can clean your deck in two simple steps:
Get rid of loose leaves using a broom or leaf blower. 
Spray loose debris off your deck using a hose.
What About Grime Buildup?
It's not unusual to find grime buildup from dust and dirt in the grains of the boards. In that case, use a deck scrub brush (soft or stiff bristles) and Dawn dish soap to get into the grooves and remove the grime. 
Alternatively, we recommend using a mild dish soap, which Trex also recommends for their decking. It's safe for any washable surface such as decking boards, composite or aluminum railings, fasteners, pressure-treated frames, etc. 
Cleaning your deck is easy:
Mix a mild dish soap in a bucket of water (no specific ratio, but make sure it's plenty sudsy)
Using a soft bristle brush, scrub the grime out of the grooves in your deck
Hose off your deck after you're finished
Clean in smaller sections, maybe 10×10 sections or so, to ensure any grime doesn't have time to settle on the surface before spraying it off with a hose
Can I Power Wash Trex Decking?

If the steps above didn't do the trick, you might wonder if it's safe to use a power washer on your composite deck?
While using one usually isn't necessary, you can use a power washer, as long as it's under 3100 PSI. You'll want to use the fan blade attachment and stay about 8-12 inches away from the surface of the deck. 
For the best results, follow these steps:
Soak the deck and spray with soap.
Gently scrub each deck board with a soft bristle brush.
Rinse each deck board thoroughly. If any dirty water dries, it will leave a film on the decking surface. 
Spills, Stains, and Mold
Trex is stain and mold-resistant, so even the best of us can slack on cleaning our decks sometimes. But waiting too long can lead to staining and mold growth from leftover food, drinks, dirt, pollen, etc. 
Fortunately, Trex is still easy to clean even when things start to get a little messy. 
Oil, Grease & Food
You're bound to have a few incidents involving food, drinks, or grease from a BBQ. But you can easily clean these spills by spraying your deck down with a hose, then using warm soapy water and a brush to scrub the surface and in the grains of the boards.
Try to clean all spills ASAP. Trex offers a 25-year stain warranty on all its high-performance decking, but only if the substance is removed within seven days. 
Mold & Mildew
During the spring, pollen begins to fly, and homeowners start to enjoy meals and drinks outside. But any pollen or food left on the deck's surface can lead to mold that feeds on the biofilm. 
Once again, all it takes is a hose, warm soapy water, and a soft-bristled brush to remove any growing mold and remedy the problem. 
Hard Water Stains
Hard water has high amounts of minerals in it, and when it's left to dry, it leaves deposits of these minerals behind. Unfortunately, they show up as less than desirable spots on your deck's surface.
Usually, you can easily clean these deposits using white vinegar, then rinse the surface after. However, avoid using hard water to rinse if possible, or you'll be back at square one. To be safe, you can also dry the boards with a cloth. 
Snow & Ice

If you're blessed (or cursed) to live somewhere that experiences cold winters, you'll have to deal with ice and snow. You likely plan on using your deck in the winter, or at the very least, you'll want to create a path to your backyard or grill.
In that case, only use a plastic-tipped shovel when removing snow from your deck. Shovels with metal edges will scratch and damage composite decking. 
Note: Do not use salt or calcium chloride to melt snow or ice on your deck. While safe for Trex composite boards, salt will corrode fasteners and connectors used to build decks, which may result in a needed repair or deck failure.
Additional Questions About Trex Care
How Do You Make Trex Decking Look New Again
Keeping your deck clean from dirt and grime buildup is the best way to keep it looking new. And it's also the solution when it's starting to look worn. 
Giving your Trex deck a thorough clean by scrubbing it with warm soapy water, white vinegar, or a gentle power wash should do the trick. But if not, a deck brightener is also effective at removing tough stains and tannins. 
What if I Have an Older Generation Of Trex?
The cleaning recommendations for the early generations of Trex (Accents, Origins, Contours, Profiles, and Brasilia) are roughly the same. A deck cleaner, warm soapy water, and a brush will do the trick in most cases.
However, you should also do a semi-annual cleaning in spring and fall using a composite deck cleaner. Because the older Trex generation boards (installed prior to 2009) weren't as durable (there was no cap on the composite core of the board like there is today), pollen and debris buildup are more likely to grow mold. 
What About Railings and Fascia?

Fascia
Trex (and Azek) makes it easy. You can go ahead and clean your deck's fascia the same way you would clean your decking boards. 
Railings
Scuffs and marring are likely to appear on your railings at some point. When this happens, Mr. Clean Magic Eraser will be your best friend! 
How NOT to Clean a Trex Deck
While using some of the methods below may be tempting, it's not a good idea. They'll likely end up causing more damage and will void Trex's warranty.
Don't use any harsh chemicals without checking to see if they're safe to use with Trex or your brand of composite decking. Doing so can lead to discoloration or damage.
Avoid using products containing bleach or acid, as they will lighten the surface of your deck. 
Never use acetone or any other solvents on Trex railings; it will make them dull or cause damage.
Stay away from using a power washer on any of the older generation Trex products. They aren't as durable as the new, current high-performance lines.
We don't recommend sanding your Trex decking; it will change the appearance of the deck's surface.
Caring for PT Wood Framing
For pressure-treated (PT) wood framing, there's nothing more you need to do! PT lumber is already resistant to mold, rot, and pests. 
However, you can paint or stain it for aesthetic purposes if you'd like. But before you grab your brush, there's a couple of different methods and things you need to know before you get started. 
Method 1: Let The Wood Dry Out
First, we recommend letting the wood dry out for at least a season after the treatment process before painting or staining it. By waiting a year, you allow the chemicals to dry out completely. 
After that, you're in the clear and can go ahead and directly stain the wood or prime and paint. 
Method 2: Removing the Wax
If you don't want to wait a season, you can still prime and paint it, but there's a process to go through first. You must remove the paraffin wax, which is added to preserve the wood from warping before it's installed.
If you try to prime or paint without removing the wax, the paint will fail because it's trying to adhere to the wax, not the wood.
Here's the process:
Clean the surface with a mill glaze cleaner. The cleaner will take off the wax and open up the pores of the wood. No dreaded sanding involved!
Wait 30 days for the wood to open up and dry.
Use an oil-based primer and latex water-based paint to finish the job.
Conclusion
Thanks to its durability and low maintenance, cleaning and caring for your Trex deck is an incredibly simple process. In most cases, a hose, warm soapy water, and a scrub brush are all you need!
That doesn't sound too bad, does it? 
A little care goes a long way when it comes to keeping your deck looking its best, even years down the road. 
What Next?
Are you thinking about building a Trex deck? We'd love to hear from you.
At Custom Deck Creations, we build composite decks for clients across Southeast Michigan. We work with each customer to design and build the deck matching their vision and budget. Feel free to get in touch or check out some of our most recent projects.
Do you already have a deck? Then you might be interested in some of our other posts: