What You Can Expect From Our Warranty (And the 7 Types of Calls We Receive)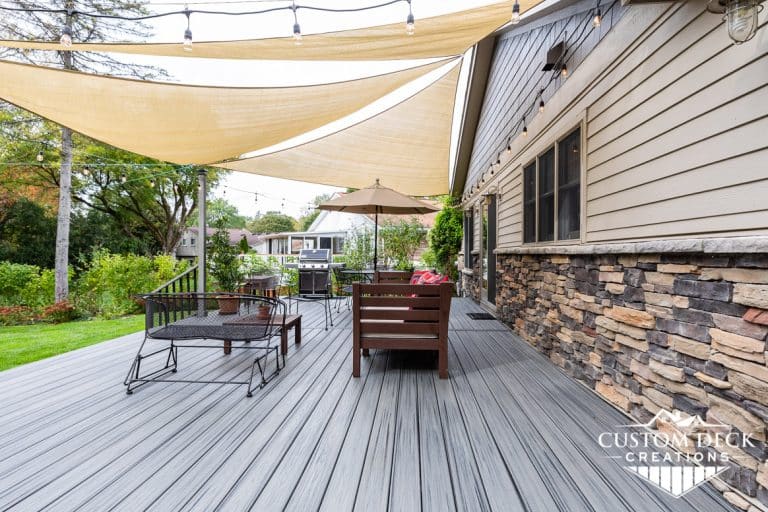 As a homeowner looking to build a deck, we're sure it's common to hear every contractors pitch on why you should trust them and how they can help you. 
But in our opinion, it's also important for companies to be humble and open about when things haven't always gone as planned—sharing how they overcame these issues, what they learned and how they're a better company because of them.
Because I'm sure, we can all agree that even when a project runs smoothly, sometimes issues come up after it's complete. But transparency and taking action when things go wrong is what builds real trust and what matters most. 
So today, we're going to share the top seven warranty calls we've received over the years and how we've handled them (although we truly don't get many). And with the hope of demonstrating that we stay true to our word and want our clients to be 100% happy with their new deck. 
We want you to be confident that if you build with us, we'll fix any issues that come up, not disappear and leave you hanging. 
So let's dive in!
Our Work
First off, we'd like to highlight that Custom Deck Creations has a 10-year workmanship warranty. We stand behind everything we build to the extent that for an entire decade if anything goes wrong on your deck, you can give us a call, and we'll take care of it for you. 
PRO TIP: We have a 10-year workmanship warranty. This is different than Trex's included 10-year labor warranty that all TrexPro Platinum builders offer. Trex's 10-year labor warranty covers the labor cost to replace any defective materials only. Our 10-year workmanship warranty covers our workmanship on what we install. Standard in the industry is a one year workmanship warranty.
Secondly, all of our carpenters are craftsmen, and they're very detailed in their work. We're fortunate and proud to be working with individuals with such a high level of skill (love you guys!). 
Every member of our team takes pride in their work, and that's how we're able to build quality decks and keep our clients happy. Even when an issue occurs and we get a call to come back, we're immediately there to address the concern.
The 7 Most Common Warranty Calls
"My Lights Went Out"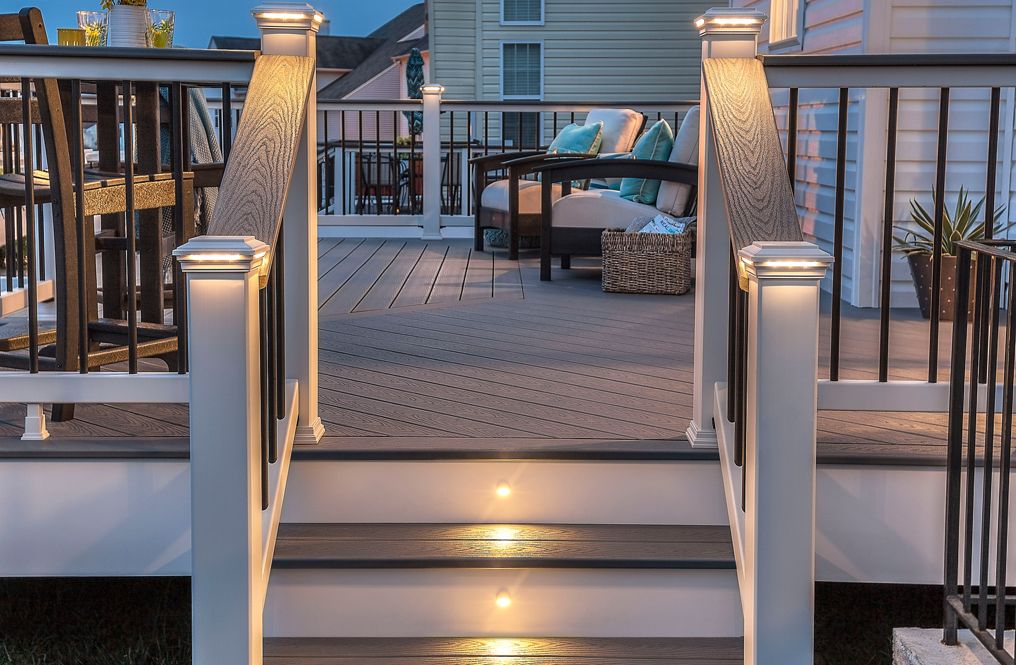 By a mile, the most common callback we've received is the client's lights have stopped working, or one of them has gone out.
Maybe 10% of decks that we install Trex lighting on, we'll get this call, and it usually comes around March or April. But in our experience, there are generally only two reasons for this:
A Rodent Chewed Through a Wire 
Trex wires have soy in them (I know, it's strange, and we still don't understand why they aren't PVC-based), and unfortunately, soy attracts rodents. 
So we install our wiring as high off the ground as possible, but sometimes rodents still get to it. We've also tried protecting the wire with stainless steel mesh and a conduit, but still, they find a way. Rodents are very determined; we'll give them that.
So if rodents damage any lights, we're happy to fix them once at no cost. But unfortunately, rodents remain a factor outside of our control. So better yet, if your deck is low to the ground (say, less than 2 feet), we recommend installing solar-powered railing post cap lights by LMT Mercer. We've used these lights on many projects and they're awesome, and you won't have to worry about wires under your deck.
The Trex Transformer or Photocell Went Bad
Issues with transformers or photocells only happen occasionally, and Trex covers it under their warranty. So just give us a call, and we'll replace it at no charge. 
PRO TIP: Trex Transformers
Trex manufactures two transformers: A black 2.5A and a silver 8.3A transformer. The cost difference between the two is negligible. We always install and recommend the 8.3A transformer. It's built entirely different than the 2.5A and is much more durable. We actually stopped installing the black 2.5A years ago; after all, there's one way to end up with a cheap deck, and that's to build a deck on the cheap.
Accidents Happen
While this isn't common, we once had a homeowner weed wack through the wiring (behind the lowest step). It's an easy mistake to make, especially when your grass gets long. We understand that accidents happen, so it wasn't a problem, and we repaired it at no charge.
"My Cocktail Railing Is No Longer Straight"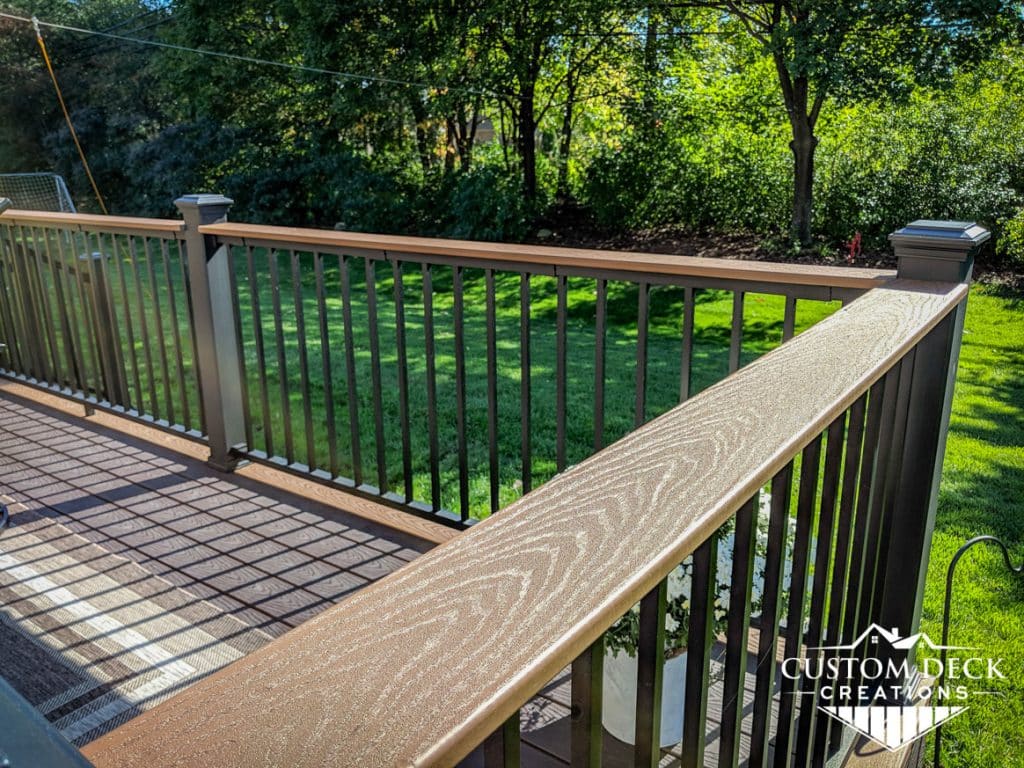 It's important to keep in mind what happens when your deck is exposed to the environment. Lumber swells when wet and shrinks when it dries, which happens width-wise. And composite decking expands when warm and contracts when cool, which happens length-wise. 
These are powerful forces happening in opposite directions. So slight movements will happen, and you should expect it. Not a lot, nothing should break, of course! But sometimes, the expansion and contraction are most obvious where we look most, which is often the cocktail railing.
But have no fear, we'll make these repairs at no cost. 
"My Gate Won't Close Properly Anymore"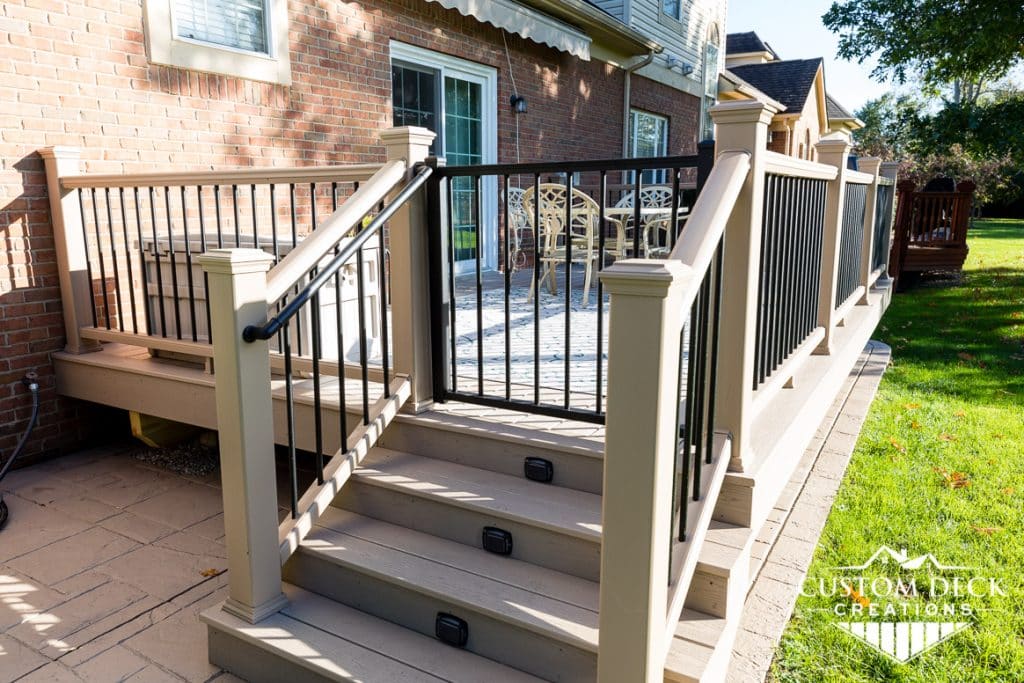 As we discussed above, with wood swelling and shrinking and decking expanding and contracting, there is bound to be slight movement.
We had a call where this movement caused a deck gate's latch bar to start knicking the edge of the latch, and it was slightly difficult to close. But we replaced the gate at no charge, and it solved the problem. 
"Some of My Decking Boards Are Now Higher Than Others"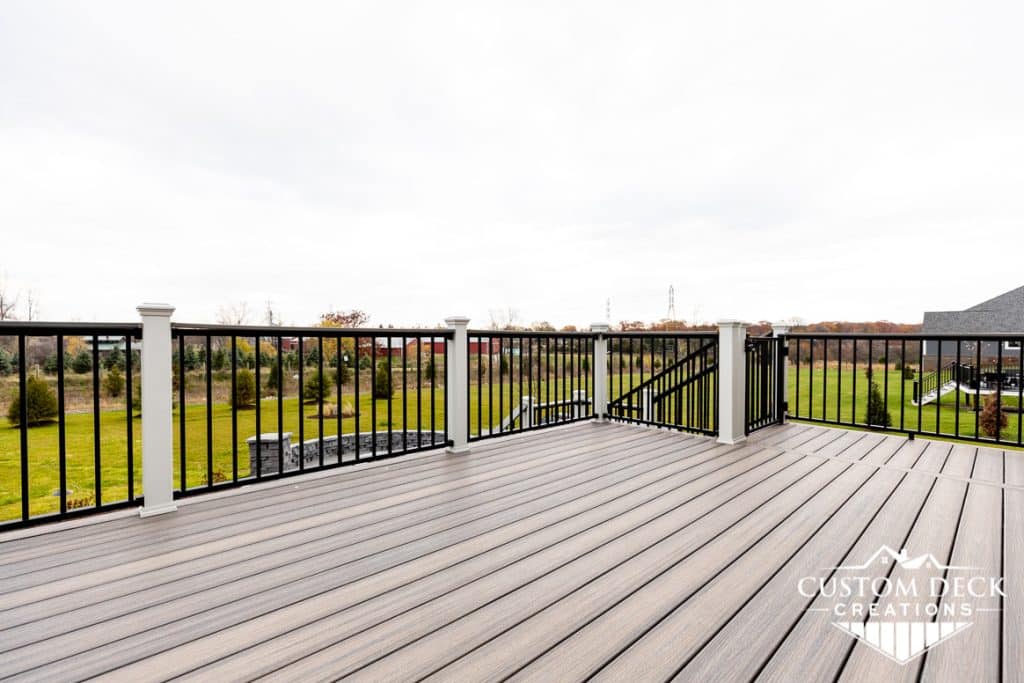 Sometimes pressure-treated lumber comes more saturated (wet) than ideal (but it's impossible to tell visually). And PT lumber won't always dry evenly due to weather. In these cases, the pattern of lumber drying causes some boards to rise slightly compared to others. 
For this callback, it took some time to repair the deck properly. But the client was thrilled that we came back and honored our warranty – no cost to the homeowner of course. And in the end, we fixed the problem, and she was back to loving her deck!
"My Deck's Fascia Started Bowing"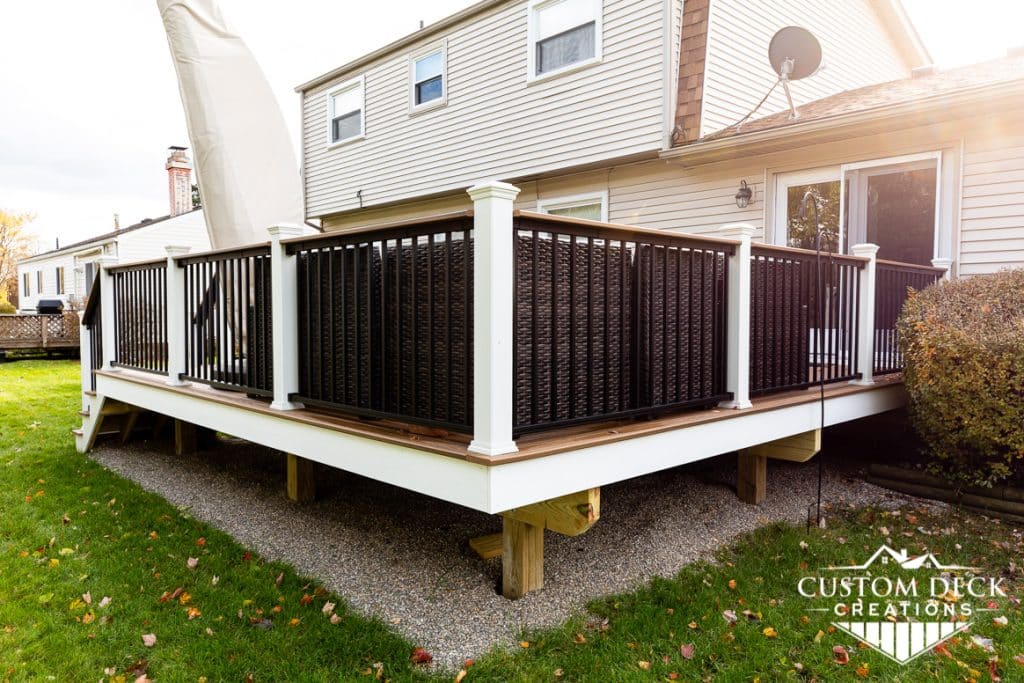 In this example, we received a call to repair a Trex deck built not by us but built by another contractor just one year prior. The fascia was installed flush with the rim joist and not protected by a picture frame board (which we never recommend leaving your fascia unprotected).
Sure enough, after being exposed to the elements for too long, the fascia started to bow. While the homeowner was unable to get a callback from the original builder for them to fix the issue, we worked with the homeowner to rectify the issue.
"My Trex Transcend Railing Has Started to Rattle"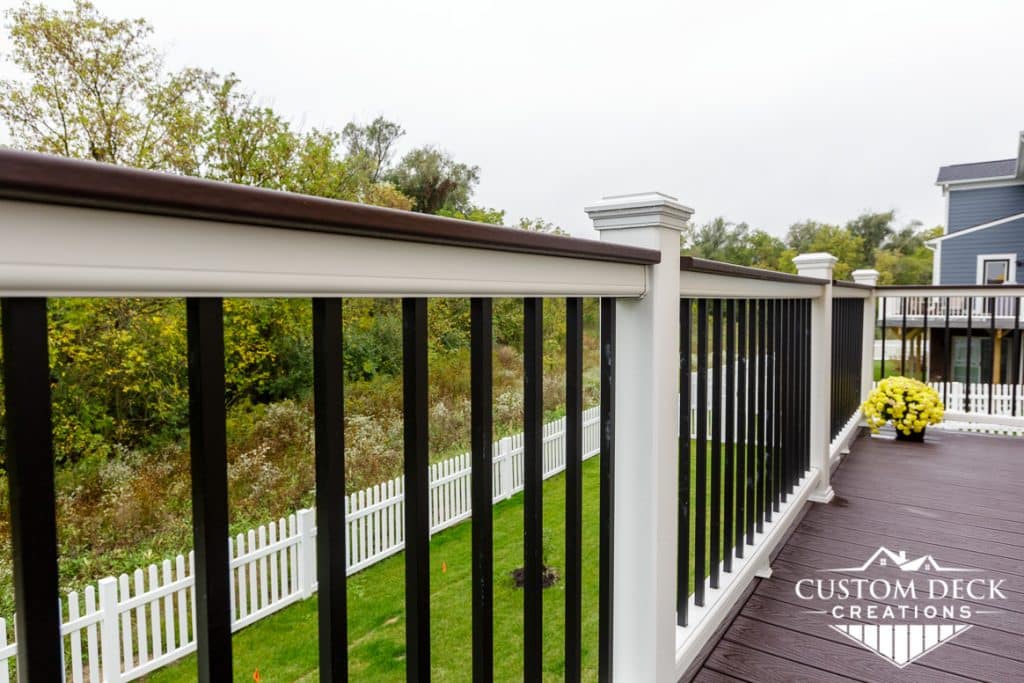 Trex Transcend railings should have a "silencer" installed within them (this doesn't apply to other Trex railings). It's what stops the aluminum balusters from rattling. 
On one of our projects, the "silencer" had somehow become loose. But we were quick to respond – we headed over right away to make the repair. And the balusters were silent once again! 
Note: You can't easily look and see whether a "silencer" was installed or not. But we've witnessed many times on other projects built by other builders that the silencer part was never ordered and installed. And unfortunately, homeowners may never realize it. So it's something to be aware of when you're hiring a deck builder.
"I Hit the Railing Post Skirt With My Shovel and Broke It"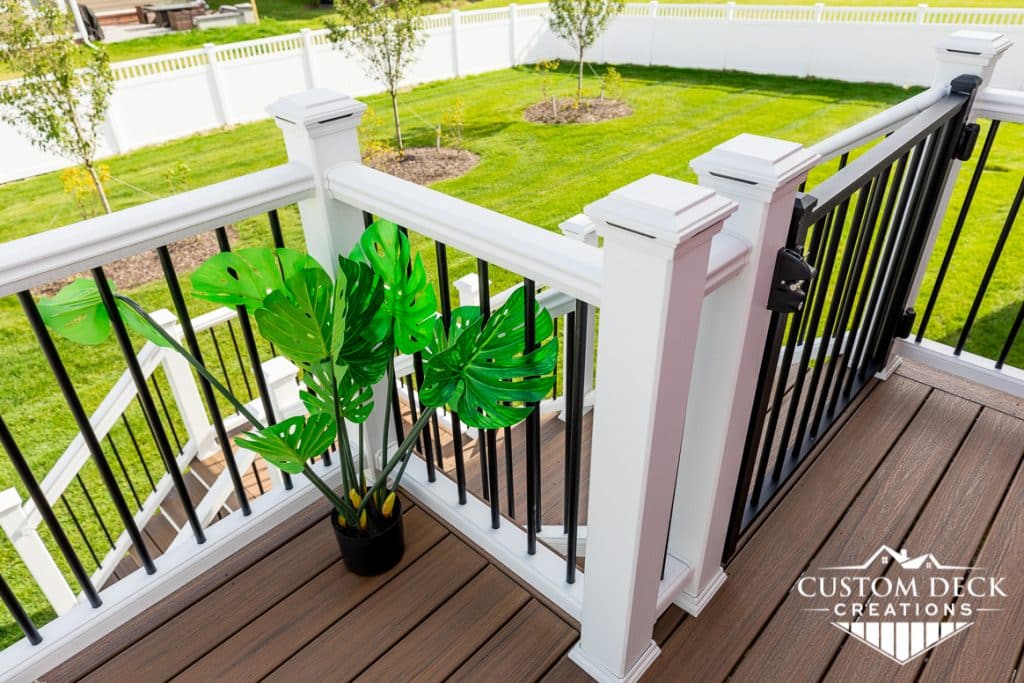 We've had this call a couple of times. The homeowner is shoveling and hits the skirt around their railing post, breaking it. It's an easy mistake to make.  
Although it requires removing the railing to fix, we understand that accidents happen and have replaced post skirts at no cost to our clients. 
Conclusion
There you have it! The seven most common warranty calls we've received over the years and how we've handled them. We hope this post has given you some insight into how important our clients and our quality of work are to us. 
You can trust that we'll take care of your home like it was our own and that we'll always come back and fix any problems that emerge. 
What Next?
Are you ready to move forward with your project?
At Custom Deck Creations, we design and build composite decks for clients across SE Michigan. We'll work with you to design your dream deck, stay within your budget and answer any questions you have. Go ahead and give us a call for a free over-the-phone estimate; we'd love to chat! Or, if you'd like some inspiration, feel free to check out our most recent builds. 
Did you enjoy this post? Share it with a friend! Want to keep reading? Check out these posts next: