5 Deck Building Problems That Can Happen On Your Project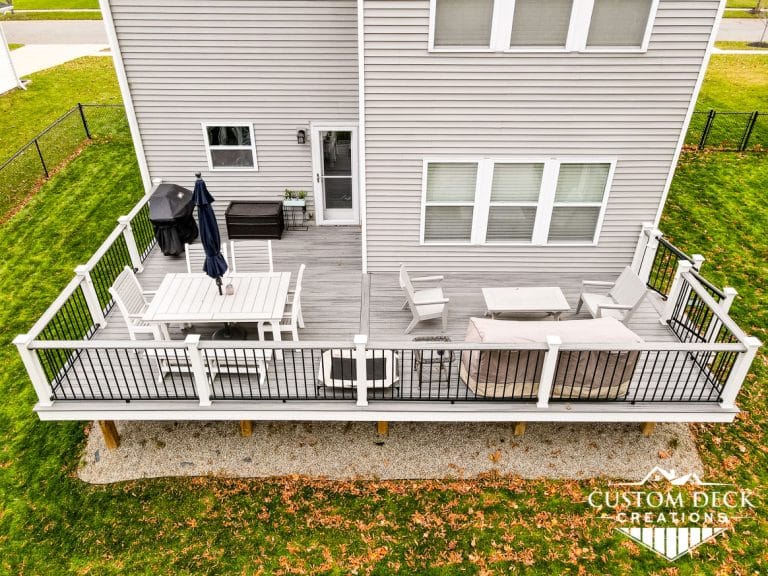 Building a deck can be very exciting and rewarding. It's an extension of your home into the outdoors, where you can easily spend hours unwinding or spending time with friends and family. 
But it isn't without its challenges. Several unforeseen problems can occur during the build, even with the most experienced builders. These issues can quickly become a significant source of stress and frustration if you don't know how to handle them.
So we want to prepare you for some of the problems that can unexpectedly come up during your deck build, whether it's a DIY job or you've decided to hire a pro.
Here are five of the top deck building problems that can happen during your project. 
1. Concealed Damage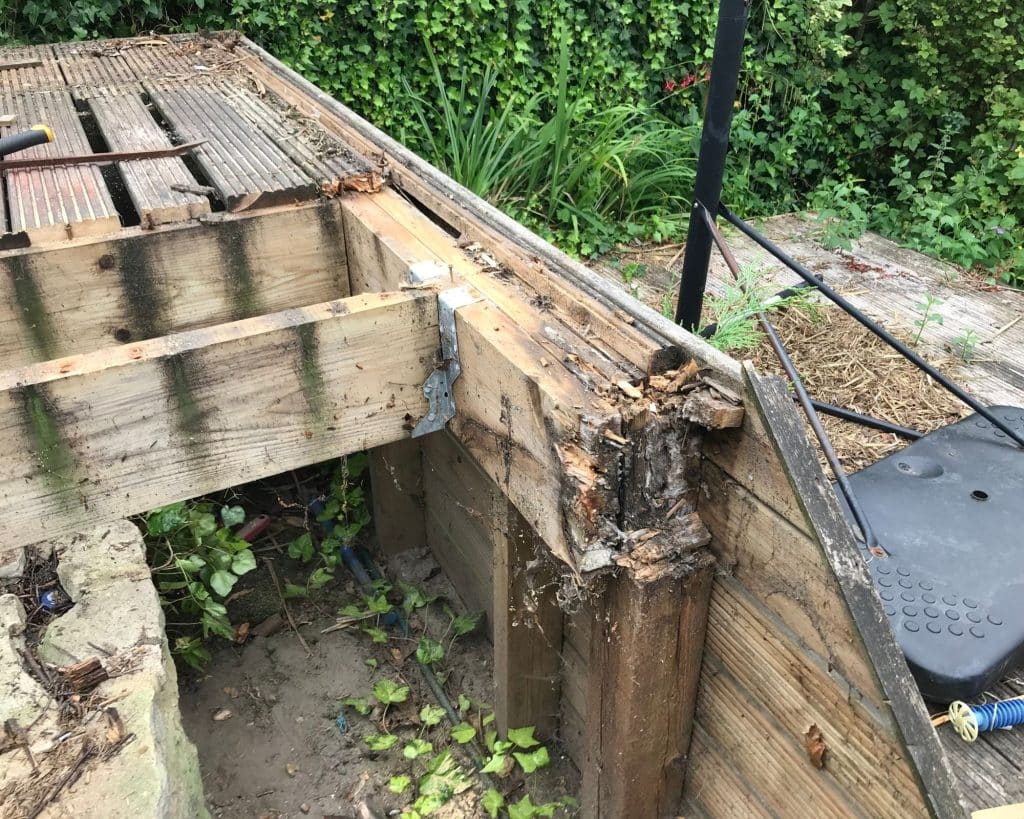 Have you (or someone you know) ever remodeled a kitchen, only to tear off the drywall and find that a pipe was slowly leaking for years, leaving you with rotten studs and a lot more work?
The same thing can happen when you're rebuilding a deck; only it's a bit easier because you can see much of where you're working. Still, some areas may be more tricky to see what's going on and need special attention.
Framing
It's common for homeowners to reuse their original deck frame and resurface it with Trex. It can be a great way to save money on a build, but you must be careful of the structure's condition. Checking this can be easier said than done because sometimes the framing is completely concealed (for example, if deck skirting is installed, or it's a very low deck). In this case, your builder won't be able to correctly determine the condition of your deck framing during a non-invasive visual inspection. 
What Can Go Wrong?
Once work begins and the builders start pulling off the decking boards, they can discover that the framing is deteriorating or the structural posts are rotten. Not a fun surprise, especially if your quote was only for resurfacing. 
That's why it's critical to communicate with your deck builder beforehand and ask for a "worst-case scenario" quote. It should include resurfacing and the total cost to replace the frame if they find rot or other damage. That way, the price won't shock you, and you and your builder can decide together on how to move forward. 
Other Areas of Concern
With low to the ground decks, we sometimes find dirt in-between all of the joists. While this may not seem like it could cause any problems, it can actually prevent the proper air ventilation needed under a deck. If this is the case with your project, it will require additional time to properly remove and regrade the dirt. 
Home Structure
If you're demoing your entire deck and starting fresh, it's also essential to check your home for damage. If your old deck (or even a door or siding) wasn't installed correctly, over time, it could have caused rot in the structure of your home. And you could find damage to the following:
Rim joists
Floor joists
Wall sheathing
Cantilevered (bumped out) door wall
Depending on what you find and the condition of your home, you should consider replacing any areas with rot before building your deck. 
2. Underground Obstacles
Another place we can't easily see on any project is underground. Hidden objects buried beneath the surface can get in the way of properly setting structural posts for your new deck. These could be:
Large rocks
Parts of an old underground pool
Old septic tanks
Dried bags of concrete from the initial home build
An entire bulldozer blade (yes, that has been found!)
Fortunately, you can work around these. Your deck builder can devise a plan that usually includes removing the object. In the worst-case scenario where you can't remove the obstacle, your builder can work with the local inspector to determine a workable plan for your project. 
Sprinkler Systems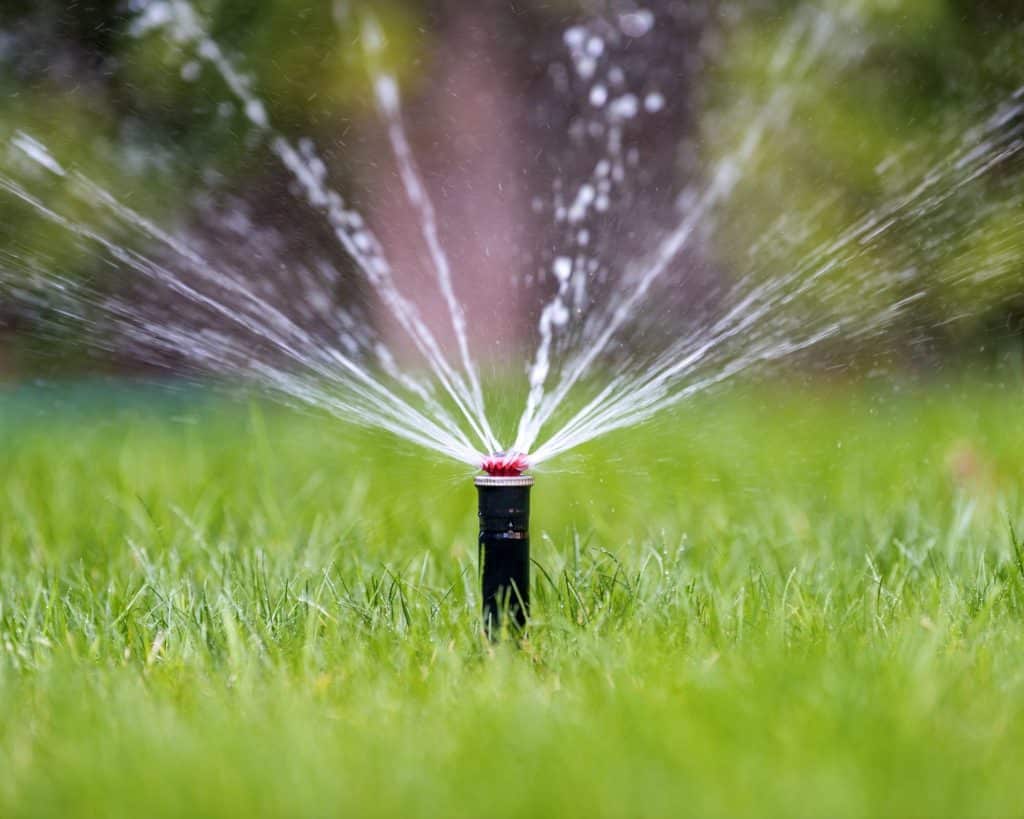 One of the more common underground obstacles we come across is sprinkler systems. Building around these can be a little more complicated than navigating around rocks or old materials because you likely want to use the system still.
If you're rebuilding a deck with the same design, then you don't need to worry about the sprinkles interfering. But if it's a new deck or one with a different footprint, you'll likely want to get your irrigation specialist involved. They can help figure out where the lines are and reroute them. But sometimes, it's actually better to have them come out after your deck is complete. If you plan on building a deck around an irrigation system, check out our full post on building a deck around an irrigation system.
Public Lines
Beyond sprinklers and any other private utility lines you have, it's critical that you're aware of any public lines too. 
Every state has a "call before you dig" hotline; here in Michigan, it's Miss Dig. But if you live elsewhere, you can find out what number to call using Click Before You Dig.
3. Solid Ledger Board Connections
If you're attaching your deck to your home, code requires that you'll need to use a ledger board to create a solid connection. The board attaches your deck to your home's internal framing, and it must be easy for a local inspector to examine. They usually do this through the basement, which can be tricky.
If your basement has a drop ceiling or it's unfinished, then it's easy to get a look. But if your basement is already complete with a drywall ceiling, part of it may need to be cut. Fortunately, drywall can easily be repaired and painted in most situations.
Now, depending on the construction material of your home's joists, you may face another problem besides cutting up your drywall. You may be required to install additional lumber and metal connectors to ensure a strong and stable connection. 
4. Driveway Cracks
Contractors accidentally cracking or causing damage to driveways is a problem not often considered, but it's possible. Fortunately, most builders won't use equipment or steel-bottomed dumpsters without protecting your driveway with lumber, so it's unlikely to happen. But, if you recently had your driveway poured, you should mention it to your builder so they can take the necessary precautions.
5. Material Cost Increases
When working with a deck builder (or any contractor), make sure you understand what parts of the contract can rise in price throughout the project. 
Starting with 2020 and the coronavirus, we've seen material costs jump around a lot. Many contractors have it in their quotes that they can charge the homeowner more if the material costs increase. While we believe this is reasonable, we also believe in providing accurate and fixed proposals. At Custom Deck Creations, we don't have any such clause in our contracts. We'll eat the costs even if material costs go up, so your deck investment price is locked in. That's our guarantee.
Note: We also recommend finding out how long a quote is good for when you receive one from a contractor. 
Final Thoughts on Deck Building Problems
We've given you a lot to think about in this post, but don't let it scare you. If you work with a trustworthy and reputable builder specializing in decks, none of what we discussed today should become an issue. 
A thorough, non-invasive inspection will catch most of the deck building problems we've discussed. But communicate with your builder so you both understand what concealed damage or hidden obstacles could affect your project.  
Ready to Build?
At Custom Deck Creations, we specialize in designing and building composite decks. We're also certified deck inspectors, approved by the North American Deck and Railing Association. If you're in the SE Michigan area, please give us a call! We'd be happy to come by and inspect your deck and discuss your project and what hidden obstacles or existing damage may come into play.
Did you enjoy this post? Share it with a friend! Want to keep reading? Check out these posts next: