Do You Need to Be Home for Any Part of the Deck Build?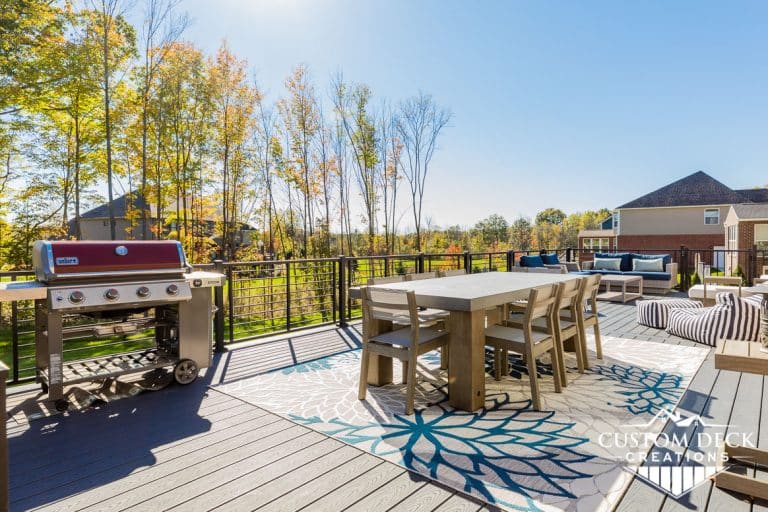 You're ready for a brand new deck. But do you have to be home during the build? 
Schedules are tight these days. But have no fear that the project could interfere too much with your schedule. Aren't there a lot of inspections and things that could set back the process? You and your family have busy lives! So as much as you'd love a new deck, you keep putting it off until the "timing is better."
Does that sound familiar? If so, you're in the right place. Today, we're going to address these concerns and put your mind at ease!
Do You Have to Be Home During the Build?
The short answer is no.
At Custom Deck Creations, we try to take care of everything on the backend for you. We have in-house full-time deck designers and provide a dedicated project manager to take care of everything for you, including:
Handling homeowner or condo association approvals
Obtaining the builder permits
Creating the construction drawings
Drawing a plot plan (if you don't have one)
Ordering and managing the materials
Scheduling our crews
Coordinating and preparing all necessary inspections
You will be able to go about your schedule without having to worry about anything from us. If you have to be at work or have other commitments, it won't interfere with your deck build at all. And we will happily send you daily photos of the progress — just ask! 🙂
You are, of course, welcome to stay though! Heck, even pop up a lawn chair and have a watch if you're curious about the process.
PRO TIP: Taking a Vacation?
We all know how exciting vacations can be! So if you'd like to be home but have some vacation time planned, let us know ahead of time. We can schedule your deck build around your trip if you'd prefer. 
Will We Need Access to Your Home?
Now, you may also be wondering if we ever need access inside your home. For most deck builds, we stay outside. We don't ask to use your restroom or need to be inside your home at all. And in most cases, the building department inspectors won't need access inside your home either. 
The exception is if your deck will be ledgered, which makes it structurally secured to your home (for both siding or brick veneer). In this case, we'll need access to your basement to make the proper code-required connection from your home to your deck. And the inspector will need to verify that everything looks right.
Conclusion
In most situations, you never have to be home during the deck build unless you choose to be. No missing work or having to sacrifice your free time; we've got you covered! We'll take care of everything for you throughout the entire process, so you can sit back and relax. 
And with the exception of building a ledgered deck, we'll never need access inside your home. Remember, most of our decks are built freestanding: read more on freestanding vs ledgered decks here.
What Next?
Are you looking for a deck builder? Let's chat!
At Custom Deck Creations, we work with clients across SE Michigan to design and build their dream decks. We want to hear all your thoughts and ideas for your deck so we can bring your vision to life while you go about your day.
If you're ready to get started, give us a call! We'll chat about your project and give you a free-over-the-phone estimate. Or, feel free to check out some of our most recent projects first.
Did you enjoy this post? Please share it with a friend who might find it helpful! Want to keep reading? Check out these posts next: