Can You Make Changes During Your Project? Here's What You Need to Know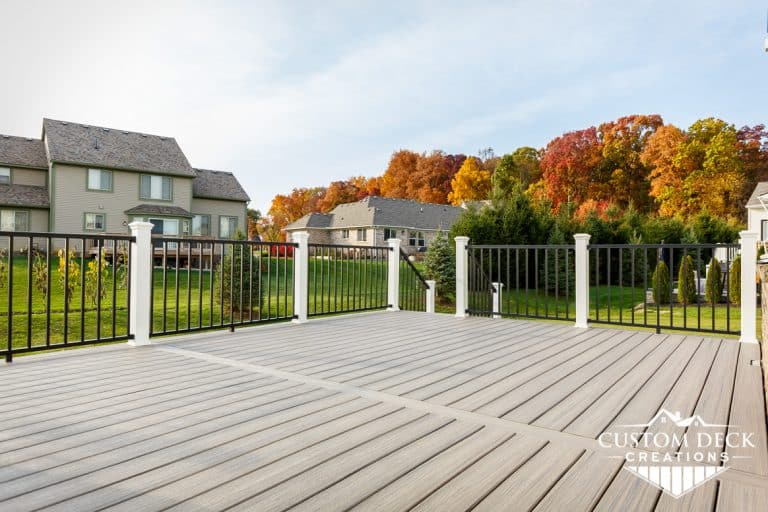 As humans, it's only natural that we change our minds once in a while or get a little indecisive. Especially when it comes to big decisions, like the design or layout of a deck. After all, it's likely going to last you for decades before it needs replacing. 
But what happens if you want to make changes after signing the contract, getting the permit, or the crew has already started building? You may be second-guessing a decision on color or just discovered a type of lighting you'd love to add.
We're here to clear up the confusion!
Here's what you need to know about making changes to your deck design, even if the project is already underway. 
Making Changes to Your Deck
The good news is, you can absolutely make changes. But depending on how far along the project is, certain modifications may be more difficult than others. 
Let's explore this in a little more detail.
Decking Color and Railing Changes
We can easily swap railing styles or the color of railings and decking as long as we haven't installed them yet. Previously cut or installed materials aren't returnable to the lumberyard, so to replace them with a new color or style would be an added expense.
Lights
If you've realized after we've started what a fantastic decision lighting is, we can almost always make it work. However, the level of difficulty will come down to these factors:
The brand and style of lighting (check out our post on deck lighting)
The phase of the deck build
Trex Lighting
Railing Post Lighting
Trex railing post lighting is always best to add before we install the railings. This type of lighting is hardwired, so installing it afterward would require us to disassemble most, if not all, of the railing.
If this is the case on your project, another option we recommend is using solar-powered post cap lights. Aesthetically, they're equally as beautiful and create a similar light. 
Stair Risers
Trex riser lights are more straightforward, and we can usually install them just as easily after the deck is complete. 
If your deck is more than 3 feet off the ground, we shouldn't run into any problems. Considering riser lights are often one of the last things we do on a deck build anyway. If your deck is lower, it may require a little more work.
PRO TIP: Budget-Friendly
If you're targeting a specific budget, sometimes you'll need to pick and choose between upgrades. Consider installing riser lights at a later date to free up more of the budget for the initial build.
Deck Design
Changing the layout or structure of your deck can be a little more challenging, depending on permits and how significant the change is. 
Are the Building Plans and Permits Approved?
If we (or your deck builder) haven't completed or submitted the construction drawings and permit for the project, changing the design is easy. And no additional "change fees" are necessary, in our opinion. 
However, if the plans are complete and we've applied for the permit, we'll need extra time to re-engineer the drawings. And many building departments charge a fee for making changes once they've received the permit application or have already issued it. 
Minor Changes
If the change is minor (which is project-specific), like adding 1 foot to the depth of the deck, some building departments won't charge a fee. We can simply make the changes after having a verbal conservation with the inspector. 
Other departments will require a new drawing, a change fee, a permit resubmission, and time to review the changes. In many cases, it can take weeks to approve through the proper channels, which are usually the zoning and building departments.
Also, keep in mind that changes to the design may adjust the materials needed for your project—such as the number of structural posts, the sizing of beams or joists, etc.
Easy Upgrades
The good news, there are some upgrades we can easily add anytime after the build. These include:
Cocktail rails (depending on the railing style you chose)
Deck skirting or lattice
Gates
Solar-powered lighting
Work With Your Builder
It's always a good idea to work with your deck builder during the design process to reduce or eliminate the chance of making changes once the project starts. They should walk you through all the available options for: 
Decking
Railings
Fascia
Lighting
Stone 
Skirting
Any other design options offered
This way, you know all of your available options ahead of time and have time to consider them. But, if you still end up wanting to make changes, that's completely fine, as long as we're on the same page about the process.
The Bottom Line
Generally, there's always a way to make changes after the project has started. It's a question of how difficult it will be and how long it will take rather than how possible it is. 
But we hope this post has answered your questions and given you a good idea of what should ideally be decided before the build and what you could change or add either during the build process or after your deck is complete.
What Next?
Are you ready to take the next step and get started on your deck?
At Custom Deck Creations, we build composite decks for clients across Southeast Michigan. We'll work with you on a design that meets your vision and stays within your budget. We also create multiple 3D designs, so you get a visual of your deck before moving forward, just in case!
If you're looking for some inspiration, feel free to check out our most recent builds. When you're ready, give us a call for a free, over-the-phone estimate. 
Did you enjoy this post? Share it with a friend who may also find it helpful! Want to keep reading? Check out these posts next: