Trex vs. Wood Decking: 5 Reasons to Go Composite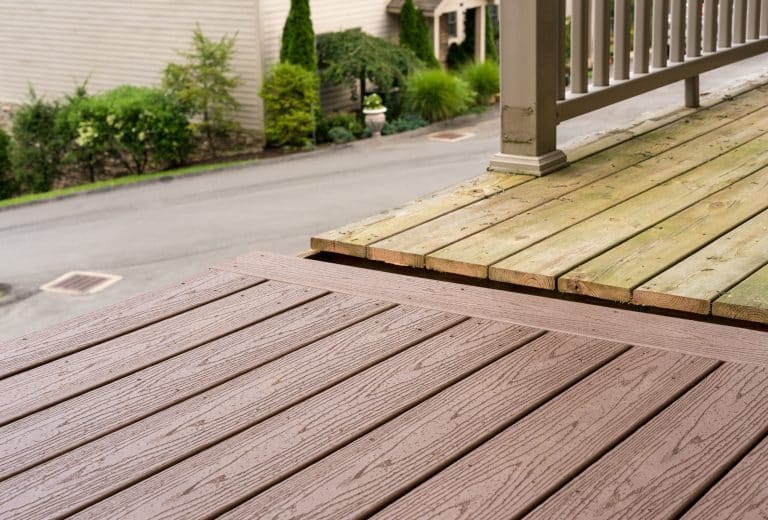 Decisions can be hard. Especially ones that involve something as permanent and long-lasting as a new deck. And one of the more challenging decisions to make comes down to materials. 
Since composite first came on the scene, the battle between Trex vs. wood decking has been around. While wood used to dominate the market, composite has improved exponentially over the years, increasing in popularity for homeowners and contractors alike. 
And as seasoned custom deck builders, we've had our fair share of experiences using both. However, we choose to use Trex on nearly every project, and today we'll share our five reasons you should too.
Eco-Friendly
Trex
One of our favorite things about Trex is its eco-friendly practices. 
Its decking is made of 95% reclaimed wood and plastic film, which is no surprise considering it's one of the largest plastic film recyclers in the U.S. Every year Trex saves 500 million+ pounds of plastic and wood from landfills and has won many environmental awards for its efforts. 
Wood
On the surface, wood decking may seem like the better, more eco-friendly choice over using a plastic composite. But take a moment to consider the thousands of wood decks built each year. At that scale, cutting down trees destroys entire animal habitats and contributes to deforestation.
And while wood can usually be recycled or repurposed relatively easily, you'll need to consider any stains, paints, or sealants that's been applied to it. 
Maintenance
Trex
Trex and most capped composite decking have $0 ongoing maintenance costs (it can't get much better than that!). The little maintenance it does require comes down to a bit of simple cleaning when necessary, which is usually as straightforward as hosing down your deck or using warm soapy water and a soft-bristled brush for stubborn areas with grime buildup.
Wood
If you choose wood decking, you can expect to pay between $250-$1,000+/year on maintenance costs. These costs can include:
Spring or annual cleaning using a deck cleaner
Scraping and sanding boards that need refinishing
Replacing rotting boards
Painting, staining or adding a finish to old and newly installed boards
During the first few years you have a deck, your maintenance costs will likely be minimal. But as it's exposed to the elements over time, expect those costs to increase throughout the years. 
Durability
Trex
If you compare a 20-year old Trex deck vs. a wood deck where both have had little maintenance, you'll see a big difference. 
Trex continues to look the same year after year. Its boards won't rot or warp, be eaten away by termites, and you won't have to deal with splinters or nail pops. And better yet, you won't see patches of Trex fading from exposure to the sun or stained from food spills from the many get-togethers you plan on having. 
Wood
On the contrary, wood doesn't handle the elements or normal wear and tear as gracefully. It naturally greys and fades in the sun, making every grease, wine, and ketchup stain more easily seen.   
And beyond the superficial, aging boards can become hazardous with nails and splinters. Or by warping, popping up, and creating a tripping hazard for everyone walking by. 
Warranty
Trex
Trex offers warranties that wood decking just can't beat. Its 25-year limited warranty guarantees its products will be free from material defects and won't split, splinter or rot. It also ensures its decking resists structural damage from termites or fungal decay. 
On top of that, Trex has a 25-year limited fade and stain warranty on its high-performance decking, including its universal fascia. These products are fade and stain resistant (though not stain proof), so there are a couple of details and measures to follow to maintain the warranty:
You must clean all spills or appearance of mold or mildew within seven days.
The decking will not fade by more than "5 Delta E units", which is barely perceptible without close observation. 
Note: We wrote a whole post on Trex warranties that goes into more detail.
Wood
You won't find many instances where wood comes with a warranty, with the exception of PT lumber. And even then, look closely at that warranty: it's usually only a warranty against termites. Generally, pressure treated lumber is used for framing, even with composite decks, because of how durable the treatment makes the wood for structural framing. However, there are limitations and guidelines even with PT lumber. Such as properly resealing any critical cut ends during the build.
Cost & Investment
The total investment of a deck will vary depending on its size and the type of wood or composite chosen.
The upfront cost is generally greater with composite decking, however, the better financial choice in the Trex vs. wood decking debate all comes down to perspective. While a wood deck is generally more affordable upfront, when you start to think long-term the tables start to turn. With wood, there is the ongoing maintenance of sanding, staining, nail/screw pops, and replacing boards. And as we know, composite decking requires very little maintenance.
So, consider the ongoing cost of wood vs. the upfront cost of composite and do the math. After about four years, a cedar deck will roughly cost you the same composite. After that, a cedar deck will actually cost more as more maintenance is needed. Meanwhile, based on the National average of the 2020 Cost vs. Value Report, you'll recoup 67% of your investment if you choose to use composite. 
Price of Lumber
The prices of lumber are constantly changing. But with the recent price increases we've seen, the gap is quickly closing between wood and some composite brands. For example, the Trex Enhance Basics line of composite decking is now less expensive than cedar. And once you add in the maintenance costs, the total investment of a wood deck over the years can be significantly more than composite. 
When You Should Choose Wood
There is one scenario where we may recommend wood over Trex. That's if you plan on moving within four years or so of building your deck. In that case, investing in a composite deck may not be worthwhile. But you'll still want to consider the prices of wood decking and also how much value each option will add to your home. 
Trex vs Wood Decking Conclusion
While both wood and Trex make beautiful and functional decks, Trex is the clear winner in our eyes. Its decking has superior durability and is easy to maintain for the busiest of families. Plus, you can feel good about choosing a greener option and have the confidence it will last you decades.
Are You Ready to Get Started?
If you've decided it's time to get the ball rolling on building a new deck, we'd love to hear from you!
At Custom Deck Creations, we build composite decks for clients across Southeast Michigan. Our team will work with you to design and build the deck of your dreams with the line of Trex decking that's best for you and your budget. Feel free to check out some of our recent builds and get in touch for a free, over-the-phone estimate.
If you found this article helpful, share it with a friend! Want to keep reading? Check out these posts next: