6 Questions to Ask Before You Resurface Your Existing Deck With Composite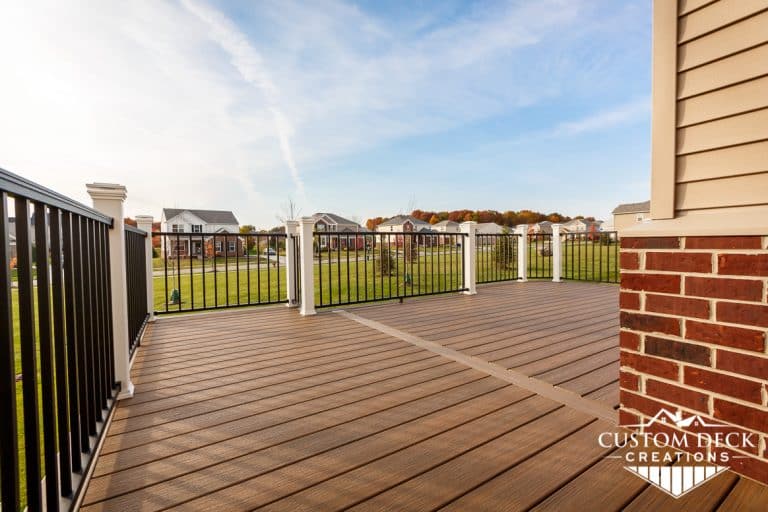 We get a lot of calls from customers asking if we can resurface their deck with composite deck boards. Their frame appears to be in good condition; they just want Trex decking instead of wood. (Who can blame them?)
But, contrary to what many homeowners might think, there's a lot to consider before refinishing an existing deck. Things that go beyond the surface level aesthetics and affect the safety and longevity of your new deck.
We've laid out six questions to help you determine if you can jump right into resurfacing or if your frame needs some TLC before the fun begins. 
Let's get started.
1. What's the Current Condition Of Your Deck?
The first thing to do is figure out the condition of your existing deck. Have a licensed deck inspector (such as Custom Deck Creations) come out and do a thorough inspection to determine the structure's condition and its weight capacity.
You can reach out to NADRA (The North American Deck and Railing Association) to find a list of local deck builders who are licensed to inspect existing decks. 
Here are the three main problems or factors they'll want to check:
Signs of Deterioration
PT (pressure-treated) lumber is the most common and regarded as the best material used for deck framing. While it's resistant to many types of damage caused by the elements, it will deteriorate over time. Usually, moisture and rot are the leading culprits. 
Unfortunately, if your frame shows any signs of deterioration, it's in your best interest to rebuild. It's not always apparent on the surface, so it's best to bring in a licensed inspector to help you make the final call. 
In general, it's worthwhile to have a professional come in every three to five years to inspect your deck. That way, you can be aware of any problems before they become a safety hazard or a more expensive fix.
Damage to the Concrete Footings
The next thing to check is the concrete footings, if possible. The condition of these concrete foundations may affect whether or not you need to redo the framing. 
If two or three are not up to par, but the framing is sound, it may be possible to pour new concrete footings under those existing posts. However, if most or all the foundation needs replacing or the deck is low to the ground, removing (and thus rebuilding) the entire frame may be necessary for the upgrades.
Overall Structural Capacity
Both the foundation and framing will determine the structural capacity of your deck. And they need to be able to support the weight of the new composite decking. 
Composite decking is a heavy material. Much heavier than wood. For example, the heaviest Trex 1″ x 6″ standard board weighs about 2.5 pounds per linear foot. Cedar, for comparison, weighs about 0.9 pounds per linear foot. That's makes composite about 2 and ½ times heavier than wood! 
To safely handle that kind of weight, your structure needs to be sound but also have enough lifespan left.
2. How Old is Your Existing Deck?
While age isn't the most critical factor, it's worth considering as it usually relates to the deck's overall condition. 
Typically, a wood frame will last 20-40 years. But more often than not, if your deck is already 15 years or older, it doesn't make sense to resurface it with new composite boards but not a new frame. 
You want to be sure the frame will last just as long as the composite decking. And considering Trex offers a 25-year manufactures warranty, your deck's structure should hold out for at least that long. 
3. Is the Deck Attached to Your Home?
Many times decks that are 20+ years old are attached to your home, considering it was the most common building practice at the time.
If you want to keep your existing frame in this scenario, you need to be 100% sure the ledger board (the board that connects the deck to your house) has proper flashing installed. If not, it's likely water has been pooling in behind for years and causing the board to rot from the inside. 
Unfortunately, no flashing is almost a sure-tell sign that you should replace your deck's frame. You can bore holes into the ledger to check for damage, but it isn't the best practice and not what we'd recommend. 
It's best not to take any risks here, as an improperly installed ledger board is the number one cause of deck failures.
4. What's the Height & Design of Your Deck?
How high up is your existing deck? Is it almost ground level? Close to the second story? Or even higher?
You want to be extra cautious with higher off-the-grade decks. The framing and foundation need to be in excellent condition and meet the minimum safety recommendations set by your state's residential code. This advice is especially important if you want to change the layout or design of the space.
Many homeowners who update their deck also want to make changes like:
Adding a new tier
Making the deck larger
Adding or widening the staircase
Installing a hot tub
Building a pergola
Changing the design of the railing
Installing an outdoor kitchen
It makes sense to want to switch up the design or add a new feature to your deck. However, each of these changes can affect whether or not the framing underneath needs altering or replacing to add the necessary support. Almost every time, if the desire is to alter your deck's existing design, it is best (aesthetically, financially, and for safety) to replace the entire deck's frame.
5. Was There a Permit for the Original Build?
This last question may not be one that immediately comes to mind. Still, it's important to find out if your original deck had a permit. If you're unsure, you can call your local building department to check.
Just a heads up, if your deck wasn't permitted, there's a slight risk the building department will require you to pay a permit fee and a small fine. They may also want to schedule an inspection that could involve digging down to your deck's footings. While this is rare, it can happen. 
The reason this is important is that having or not having a permit on your existing deck can affect how the project moves forward. Your deck builder will need to pull a permit (check with your local municipality as this varies across the country) if you're working on any one of these three components:
Even if you only plan to resurface a deck, it's likely to involve the railing and almost always includes a new set of stairs. Stairs are usually the first part to show signs of deterioration, and building new stairs requires to pull a new permit. 
If your existing deck wasn't permitted, consider replacing the frame altogether rather than making modifications. That may seem excessive, but regulations state that any adjustments require you to bring the entire structure up to the current code. While the materials needed to do this are inexpensive, often the labor costs are comparable or possibly higher than just demoing and rebuilding the frame. 
If your existing deck was permitted, the process is a lot less complicated. Your deck is essentially "grandfathered in," and you can move forward with resurfacing (as long as the frame is safe to do so, and you aren't modifying the deck's design). But make sure to confirm this with your local municipality as the laws can vary between regions. 
6. How Much Will It Cost to Resurface My Deck With Composite?
The cost to resurface a wood deck with Trex composite decking by reusing the existing frame will depend on many factors, including:
The deck's height off the ground
The materials for the decking and railings
Overall deck design
Any additional options or upgrades
Needing to replace the stairs
We're usually able to save clients roughly $5,000 to $8,000 if we can keep the existing frame. Many resurfacing projects we do end up being in the $12,000 to $20,000 range (that's total investment). 
So naturally, the cost to replace the frame averages about $7,000, but the current lumber costs will heavily influence the total price.
The Bottom Line
Resurfacing your wood deck with composite boards is an excellent choice, considering it's much more durable and low maintenance. But the lifespan of any deck depends on the structure underneath. 
The first thing to do is have a professional come out and inspect your deck. Then make your decision from there, keeping any design changes, permits, and your budget in mind.
At Custom Deck Creations, we build composite decks for clients across Southeast Michigan. We work with each customer to design and build a deck that matches their vision and budget, including looking into the possibility of reusing the existing frame of their current deck.
If you're in the market for a brand new deck, give us a call, and we'll provide you with a custom quote based on your specific project.
Also, feel free to check out our gallery to see our recent projects or visit our learning center to learn more about composite decking.