Stair Riser Lights: Should You Install One or Two per Step?
Stair riser lights are one of the best add-ons you can install on your deck. 
If you're sitting in your backyard on a patio or next to your deck, they create a beautiful, warm, and inviting glow. Also, riser lights make it exponentially safer to use deck stairs at night. In our eyes, there's no doubt that lighting up your deck stairs is a worthwhile investment. 
But the real question lies in how many lights you should install per step. And what other customization options do you have when it comes to design and budget? 
Let's dive in. 
A Word on Building Codes
In many cases, adding stair riser lights isn't required by code but many municipalities require that you illuminate the top and bottom of your deck's stairs. But more often than not, a single wall sconce on the back of your home near your door will do the trick. Of course, you'll want to check in with your local municipality to find out the laws in your area.
Even if there's no requirement, there's still a safety factor to consider. And adding riser lights makes your stairs and deck safer for everyone who uses it.
Multi-Levels
Also worth mentioning, if you have a multi-level deck, we highly recommend installing riser lights between the connecting stairs. That way, when you and your guests are out at night, you'll safely know where the steps are between the tiers. And this is particularly handy when you're not yet familiar with the layout of your deck.
One Vs. Two Lights Per Step
Now we have that covered, let's jump into the common question of installing one or two lights per riser. What we recommend depends on the width of your stairs. 
One Light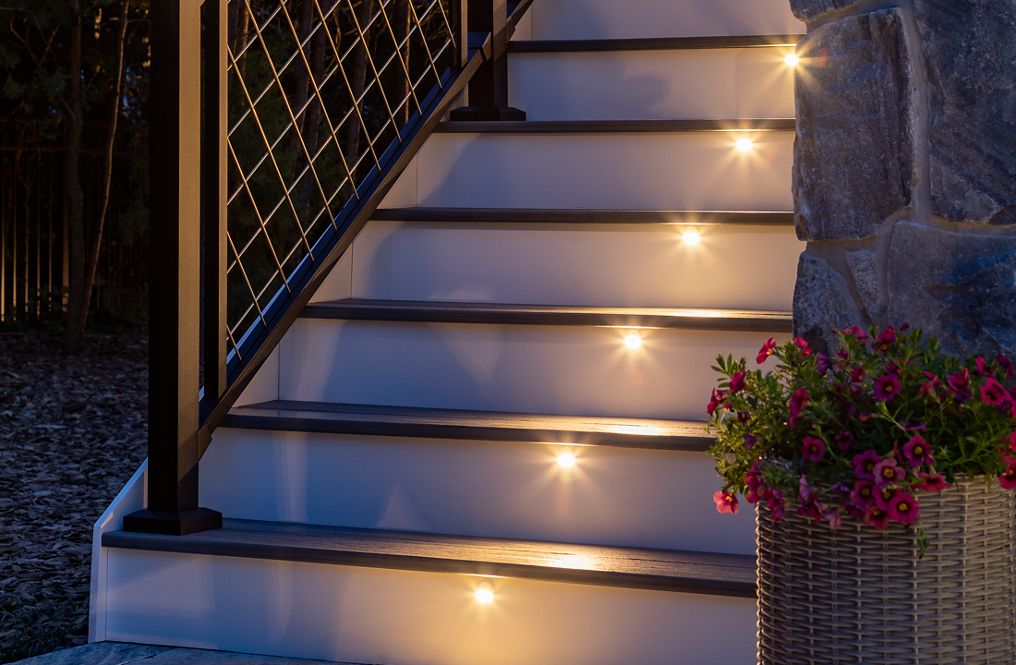 It's most common to install a single light per riser on any standard 4-5 foot wide set of stairs.
Two Lights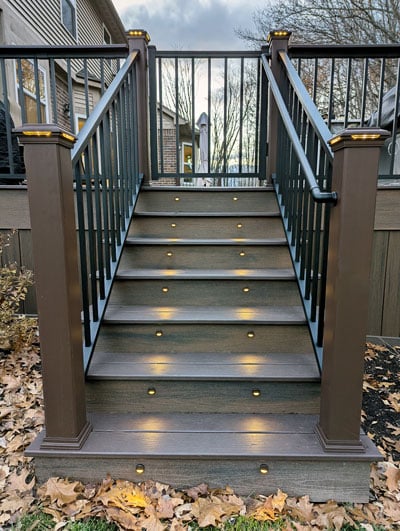 Any stairs wider than 5 feet, we typically recommend installing two lights. Not only for aesthetic reasons but again for safety and to ensure proper illumination of the entire step.
But if we're strictly talking visuals, two lights per riser on any width of stairs looks absolutely stunning! (The photo above with two lights per riser is a 4′-wide set of stairs.) If the investment is within your budget, it's one of the best upgrades to your deck to make it "pop" and stand out. 
Lighting Every Second Step
Another common question homeowners ask is if we can install riser lights on every other step instead of every step to save a bit of money.
While this is possible, it's not always ideal. Riser lights are designed to illuminate their respective step, but not the next one down. So the angle of the light won't quite reach the step below, and it will remain dark. 
Double Lights
Interestingly enough, we also get asked about installing two riser lights on every other step; in these cases, it's usually more about design than budget. But for the safety concerns we spoke about above, we still recommend installing one light per riser. Considering it would be the same investment as two lights every other step. 
However, if your heart is set on skipping steps, we recommend also installing railing post cap lights or post sidelights. That way, your stairs will still have plenty of light at night.
Colors & Brands
Continuing with aesthetics, most manufacturers of stair riser lights make the housing (the visible part that the bulb sits in) available in shades of white, black, and brown. We typically recommend matching the color to a component from your railing to tie the entire design together. But, if your fascia is white, opting for white housing is also an excellent choice for a clean and sleek look.
PRO TIP: Light Brands
When your contractor offers you stair riser lights, be sure to have the brand written into your proposal. It's not uncommon for builders to install an off-brand light that may be cheaper and lower quality. 

The two brands we use and recommend are Trex and LMT Mercer, but there are plenty of other good companies out there. 
Conclusion
Stair riser lights contribute to both the safety and the overall aesthetic of your deck design. While there are general guidelines we recommend following, the "correct" amount of lights per step isn't set in stone. Work with your deck builder to find a lighting design you love that also keeps your stairs fully illuminated and safe for you and your guests.
What Next?
Are you planning on building a new deck? Let's talk!
At Custom Deck Creations, we build composite decks for clients across SE Michigan. We'll work with you to design a deck that meets all of your needs and stays within your budget. We'll cover everything from lighting to other common upgrades you might want to consider. 
Go ahead and give us a call; we'd love to hear from you! We'll chat about your project and provide you with a free over-the-phone estimate. And for a bit of inspiration, feel free to check out our most recent builds. 
If you enjoyed this post, share it with a friend! Want to keep reading? Check out these posts next: