The Best Types of Deck Lighting To Brighten Up Your Space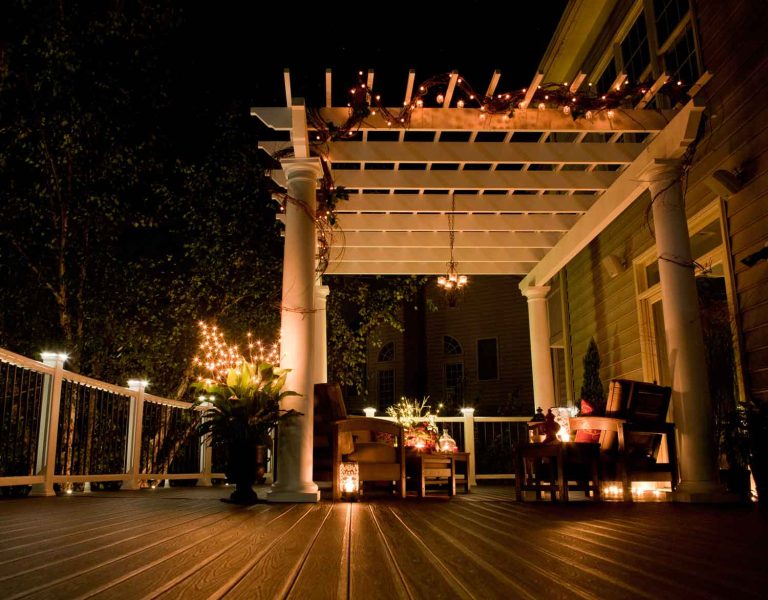 Lights are by far the most popular upgrade you can add to your deck and an essential one if you plan on using it during dusk or at night. 
Typically, deck lights won't be bright enough to read a book at night, but they illuminate the space with a soft and warm glow. This type of lighting is especially nice if you don't have any lights at the back of your home.
Today, as the title implies, we're going to walk you through the many styles and types of deck lighting. All of which will give your deck a very warm, elegant, and inviting touch that makes your outdoor space feel complete.
Types of Deck Lighting
Hardwired Lights
First off, when we refer to hardwired lights, we mean any lights that are plugged into your home and have physical wires. 
There are plenty of brands that offer hardwired deck lighting, and you can find many similar styles across the various brands. Considering we build with Trex and can stand behind their quality, we'll talk about their specific products.
Trex Deck Lighting
Trex offers high-quality, low-voltage LED lights and makes it a breeze to add them to a new or existing deck.
With Trex lighting, you get:
High-quality LEDs that last for years
75% less energy use, keeping energy bills low 
Durability to withstand years of harsh weather
Components that are easily replaceable if needed 
Trex also has many different lighting styles or profiles, which work well with decking, railings, or pergolas. Pick one to satisfy your needs or combine them for more light. 
Stair Riser Lights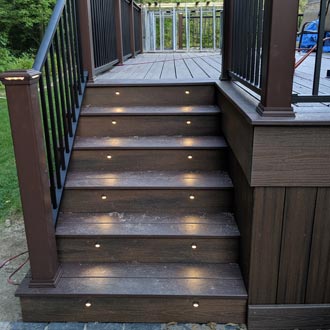 One of the most popular lighting choices we install is stair riser lights. It's no surprise; we all know what it's like trying to walk up steps in the dark. Beyond the added safety measure, Trex riser lights add a welcoming feel and handle years of foot traffic.
Railing Post Cap Lights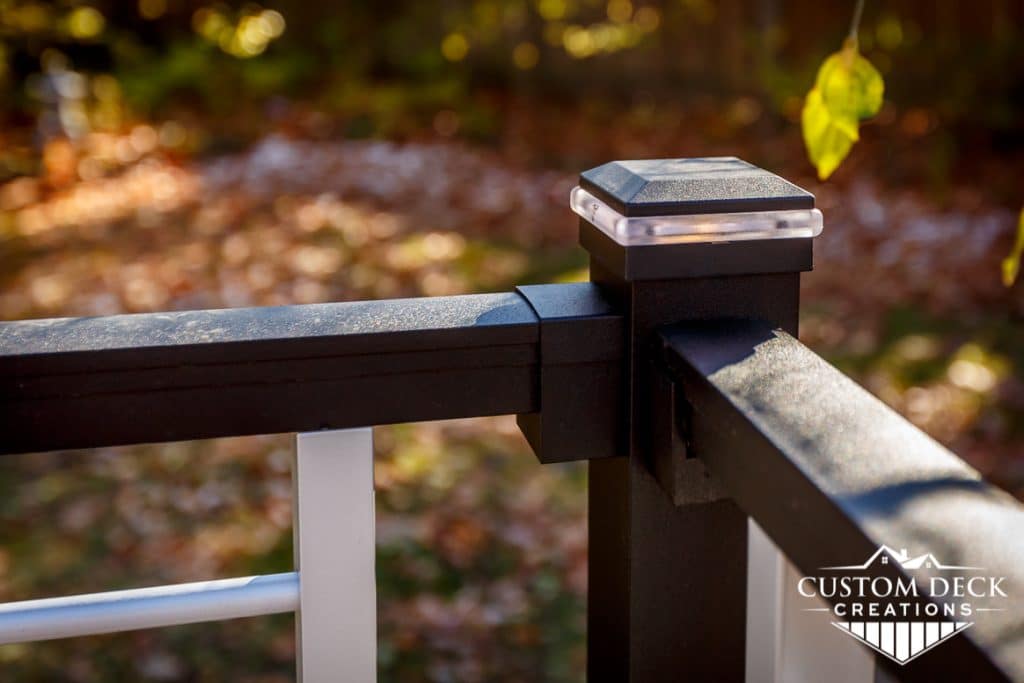 Another one of the most popular lighting choices is railing post cap lights. They're discreet but add a warm downwards glow that illuminates your deck from your railing posts—making it a breeze to find your way around at night. 
Railing Post Side Lights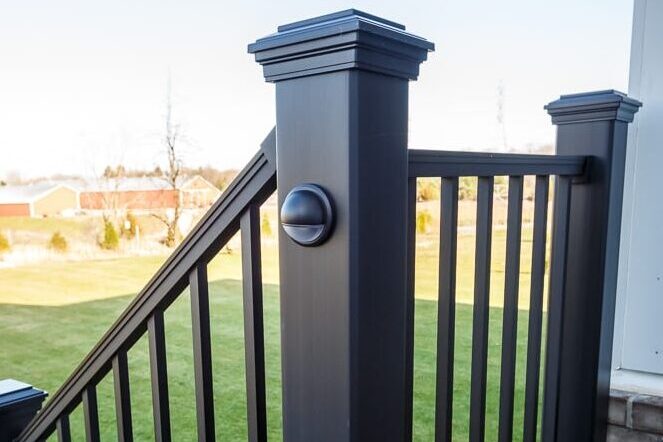 Perfect for brightening up the deck below each railing post. It's another great feature to have for adding light to stairs or the border of your deck. 
In-Deck Recessed Uplights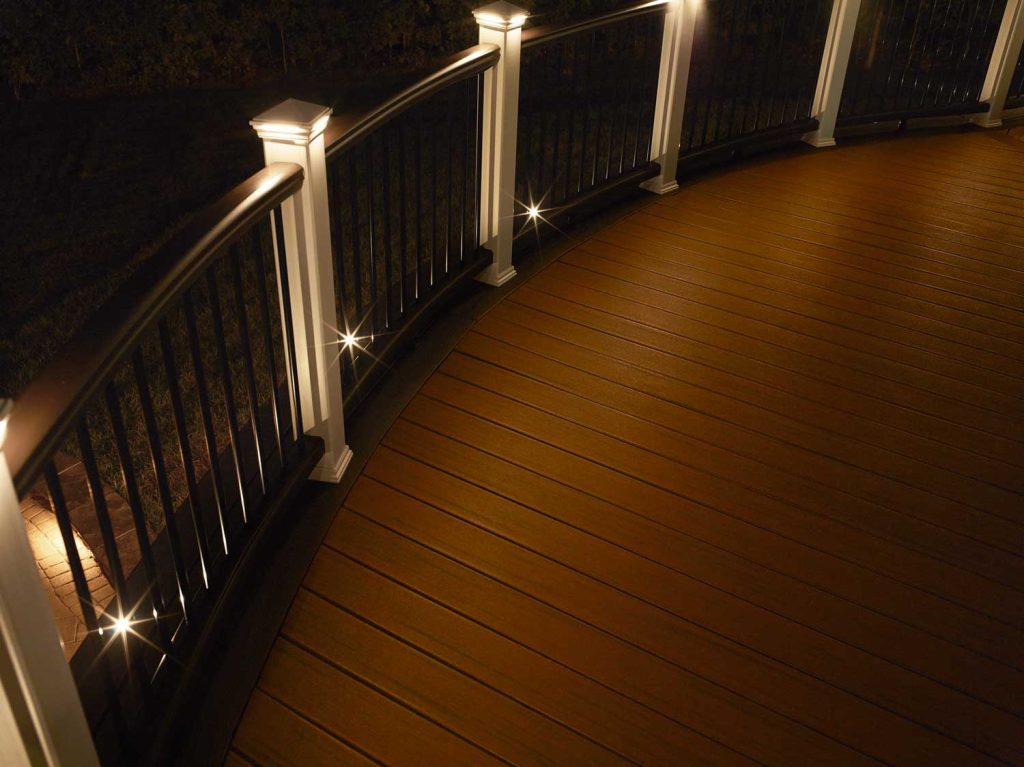 This design is subtle but will efficiently brighten up the perimeter of your deck. These small lights install flush onto the deck board; we usually install one or two per railing section.
What You Should Consider with Hardwired Lights 
Outlets
Trex lights need access to one electrical outlet, which isn't a problem for most homeowners. About 95% of our decks don't require an additional outlet, so this is largely a non-factor. But, if you don't happen to have one near your deck, or would like a new outlet installed at just that perfect location, a licensed electrician can usually install a new one for about $1,000 or so.
Height
You'll also want to consider the height of your deck for a couple of reasons.
First off, the wiring for Trex lights is soy-based, which can attract rodents from time to time who may chew through them. Even if you take preventative steps, it can still happen. After all, mice and other rodents are notoriously good at getting into places they shouldn't. 
Secondly, while accessing wires on very low-grade decks is easy for rodents, it can be challenging for us. If crawling around on the ground or dealing with potential critters is something you'd like to avoid, then solar might be the better type of deck lighting for you.
Solar Powered Lights
The biggest benefit of going solar is that each light stands alone, with no wires to be damaged. There's no chance of dealing with them overheating, electrocution, or other associated risks.
Solar lights also eliminate the extra cost of lighting your deck. Beyond reducing your energy bill, you'll also be minimizing your carbon footprint by moving towards renewable energy sources.
When it comes to lighting styles, it's usually pretty easy to find solar lights that fit specific brands of decking products—for example, Trex railing posts. Solar lights can offer the same warm, inviting light as Trex does. 
If you're leaning towards solar, we've had great success with LMT Mercer solar lights. Our clients love how these lights look and the difference they make on their decks.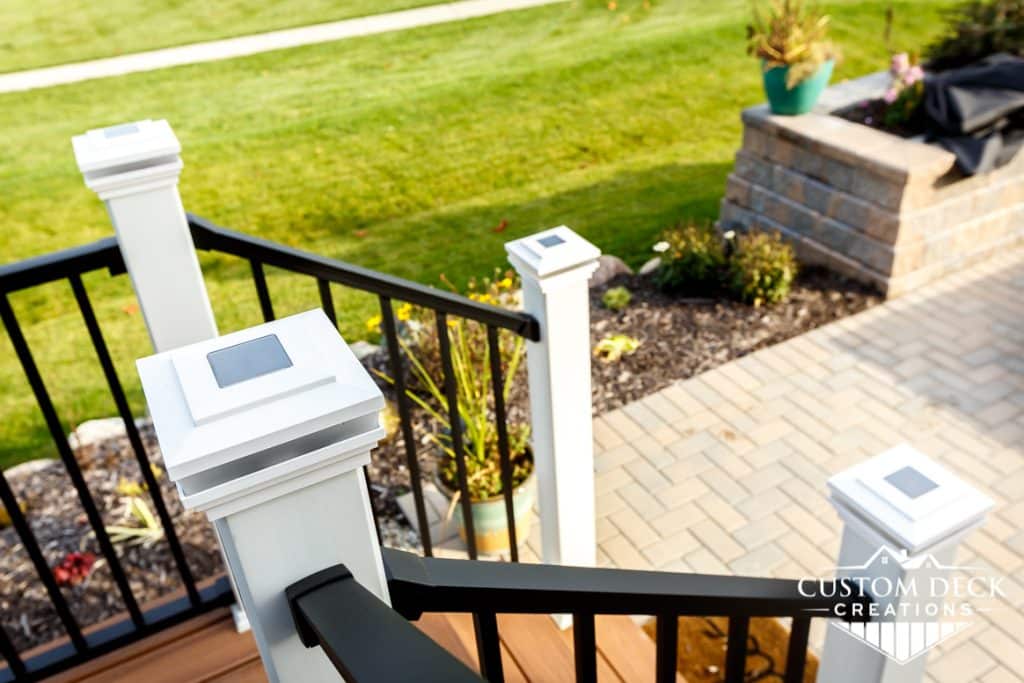 What You Should Consider With Solar Lights
Of course, no product is perfect, and there are a few things to consider when you're thinking of going solar. 
Battery Life
There's some maintenance with solar-powered lights, considering each one has an individual battery. While they are long-lasting, you'll likely need to replace the battery within the light every couple of years or so.
Sun Exposure
If your deck doesn't get much sun, your lights may struggle to charge adequately, which means the lights may not stay illuminated all night. Some less expensive solar light brands may not be as bright as some homeowners would like.
After-The-Build Lighting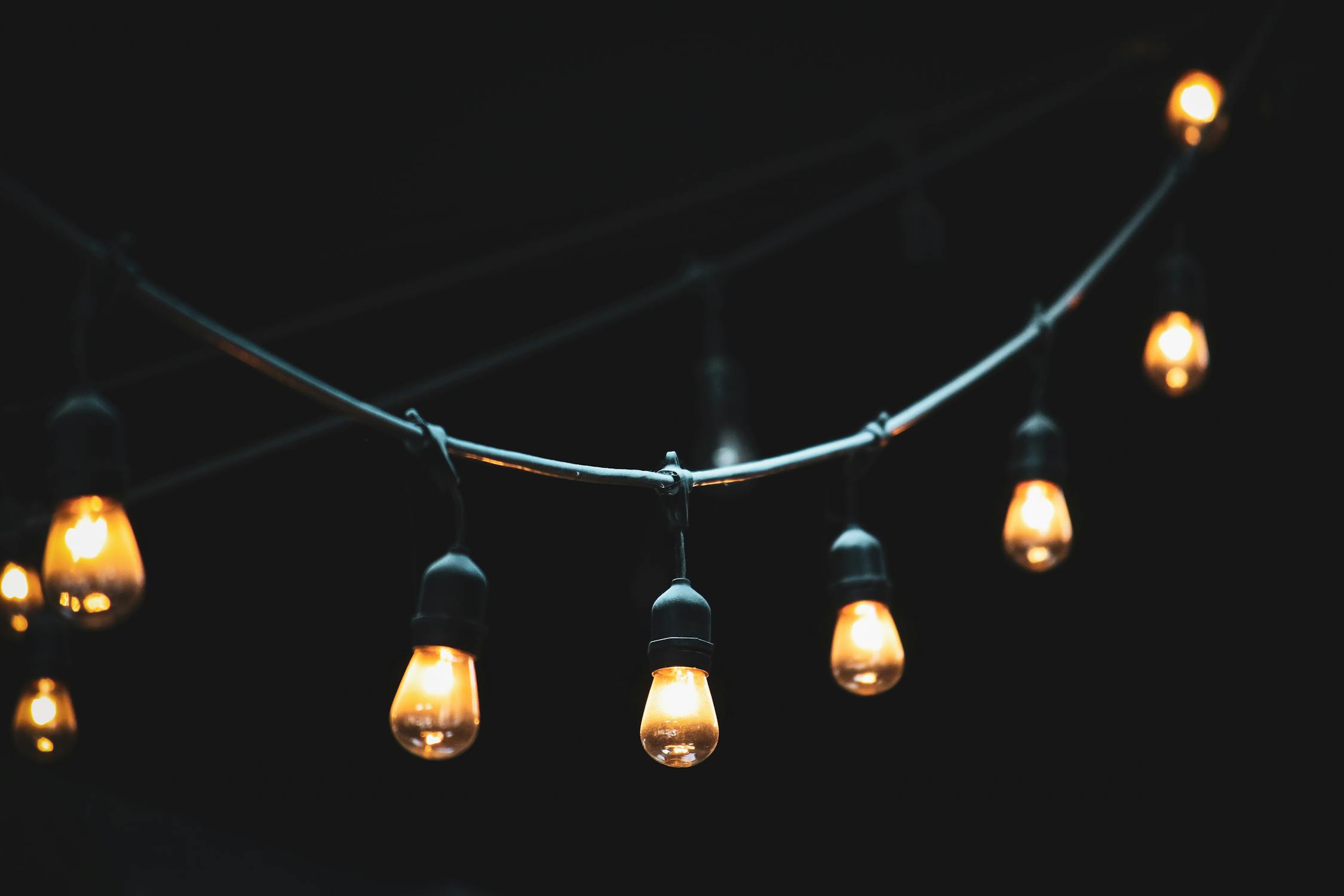 Suppose you're undecided or don't want to add lighting to your initial deck build for financial or other reasons. In that case, another popular option is to hang string lights above your deck after it's built. 
String lights generally aren't very bright, and so they too add warmth and create a beautiful ambiance, which is great for social gatherings or spending a relaxing night on the deck. 
Most string lights use LEDs and consume very little power. Alternatively, you can find those with solar panels for charging. 
What Type of Deck Lighting Should You Choose?
Both Trex and solar lights use light-sensitive sensors (called photocells) to automatically turn on at night and turn off in the morning. And both types of lighting can be built into your deck and generally offer the same styles of lights.
You really can't go wrong with either choice. But here are a few questions to ask yourself:
How low is your deck from the ground?
Is replacing batteries every 2-3 years a deal-breaker?
Are you looking to go green and eliminate the extra lighting cost?
What's your budget and expectations on quality?
Do you want to add lights during the build or down the road?
PRO TIP: If you're still designing with your deck builder, ask them what brand of lighting they're quoting. Lighting costs can add up quickly. So to offer lower bids, some contractors will quote off-brand lights (oftentimes of poorer quality) without discussing them with the client. 
Are You Ready to Brighten Up Your Deck?
We hope this post has shed some light on the styles and types of deck lighting available to you. 
At Custom Deck Creations, we design and build composite decks for clients across Southeast Michigan. We can help you create a custom deck and choose the best lighting for your space. 
Feel free to look at our recent projects or contact us today for a free over-the-phone estimate; we'd love to talk about your project and answer any questions you have.