Deck Upgrades: 9 Improvements and How Much They Cost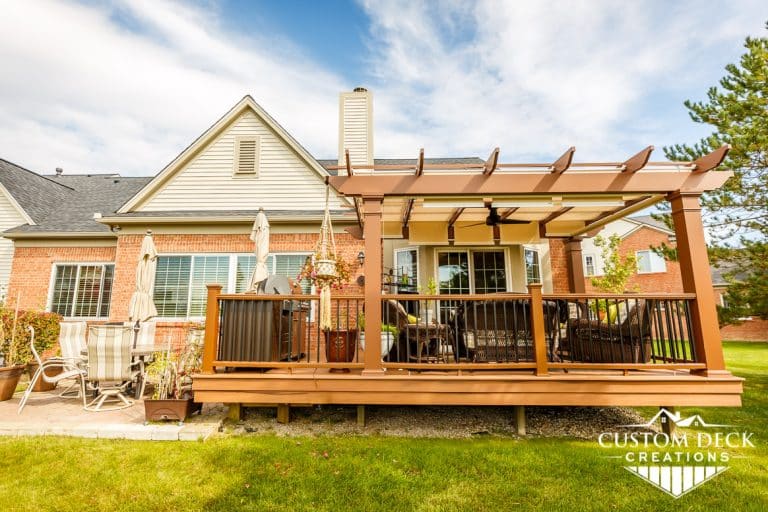 Deck upgrades are how you turn a good deck into a great one. 
Whether you're building brand new or updating an existing one, creating a custom deck that suits your needs has never been easier. 
From improving functionality to simply making your deck look better, here are nine deck upgrades you should consider and how much they cost.
Double Picture Frame

Not the picture frame you might be thinking of. The one we're talking about is the board that runs around the perimeter of your deck (typically excluding along your house). 
A single picture frame is always included in a deck build. That's because:
It creates a beautiful, aesthetically pleasing finished look.
It protects the gap between the fascia and the deck frame's rim joist. 
Without it, the area is exposed to the elements where leaves, dirt, and grime can get trapped. Moisture will also find its way into the gap between the framing and fascia, causing the fascia to expand and contract with the weather. Eventually warping your fascia, leaving it looking much like a wavy slice of bacon.  
Single Vs. Double Picture Frame
The thing to keep in mind with a single picture frame is it's mainly hidden from view by your railing. This is why a double picture frame is our most recommended upgrade to consider. Doubling up those perimeter boards will make them much more visible and offer a bolder look.
You have the option of making the picture frame the same color or a color darker than your decking board, giving you a bit more creative freedom when it comes to the design. 
Price
The price to upgrade to a double picture frame will vary by deck design and materials. But on average, you can expect it to cost approximately $600-$800.
Double-Tier Fascia

A single-tier fascia is also included on every deck and hides the structural joists of the frame. However, depending on the height of your deck, neither single or double fascia will completely hide the beams.
Now, double-tier fascia isn't a common upgrade we see here in Southeast Michigan. Homeowners tend to gravitate towards a more simple, single-tier look. 
With that being said, double-tier fascia is still a very visually appealing upgrade. It's customizable to match any architectural features on your home. You can also have it custom-crafted, for example, a 9-inch top tier and a 2-inch bottom tier. Or, more commonly, 6-inches on top and 5-inches on the bottom.
Cost
Two-tiered fascia comes at a lower investment compared to the others on this list. On average, the cost to upgrade will run you about $500, depending on the size and design of your deck. 
Cocktail Board

A cocktail board (also referred to as a drink rail) is an exceedingly popular upgrade to add to your railing. It's a total hit with friends and family!
When you're entertaining, it's common for guests to stand and socialize while having drinks. A cocktail board gives everyone an extra spot to lean against and put their glasses on. It's also useful for the grill master, giving them more space for plates of food next to the grill. 
Price
Cocktail boards can be added to any of Trex's three railing lines (Select, Transcend, and Signature), and can be built using Trex Select or Trex Transcend decking boards, either 2″x4″ or more commonly 1″x6″. On average, the cost to upgrade will be about $1,200-$1,500, depending on your deck's design and materials used. 
Deck Skirting

The main benefit of adding skirting to your deck is to hide everything underneath, like the framing, rocks, gravel, etc. It brings everything together and gives your deck a finished look, which is great if you spend a lot of time in your backyard or have neighbors close by. 
You can install the skirting boards vertically or horizontally, whatever suits your vision. However, it's more common for decks that are 5 feet or less off the grade (or off the ground). 
As a bonus, you can add access panels or doors to the skirting, so you have an easy path for maintenance or if you want to use the space as extra storage.
Price
Deck skirting looks amazing but isn't a common upgrade because of the investment. Depending on the deck, you can expect the upgrade to cost approx. $3,000-$6,000.
Egg Rock or Crushed Marble Under Dec

It's standard for us to install premium weed barrier and pea gravel under every deck. (We always recommend using higher quality products, not the cheaper big box brands).
The premium weed barrier and stone will slow down the growth of grass and weeds under your deck. It keeps everything looking clean and is easy to maintain. Also, animals don't like burrowing or nesting on top of stones, so it'll prevent them from making their home under your deck. 
You'll reap these benefits from any stone you choose. But, from a visual standpoint, egg rock or crushed marble might be more appealing than the standard pea gravel.
Egg Rock
Both egg rock and pea gravel are considered river rock. However, egg rock is larger, at about 1 to 2 inches in size. These smooth stones easily catch the eye due to their various shapes, sizes, and earthy colors.
Crushed Marble
The name speaks for itself; it's white marble that's been crushed down to the size of large gravel. This stone looks terrific with any deck or landscape, but note that marble has a high pH level that can leach into the soil over time. 
Cost
You can upgrade from pea gravel to egg rock for about $200. If you're looking for a more luxurious feel, you can also upgrade to crushed marble for around $1,000.
Gate

Trex offers a high-quality swinging and lockable gate that fits any opening up to 48 inches wide. It's a great upgrade if you have young children and don't want the fear of them wandering too far or falling down the stairs. 
It's not just beneficial for kids, though. If you have adventurous dogs, a gate is a perfect way to contain them on your deck so you can keep an eye on them. But keep in mind, there is about a 4-inch space between the balusters, so tiny dogs still might be able to make the escape. 
Cost
You can add the Trex aluminum gate to their Signature, Transcend or Select railing lines for about a $900 upgrade.
Lighting

You've already invested in building a beautiful deck to spend your days relaxing and socializing. Why not also install lighting so you can enjoy it at night.
Beyond extending the use of your deck, lights add to the aesthetic appeal and create a warm and inviting atmosphere. On top of that, they add an extra layer of security which is well worth the investment.
If you'd like to learn more about lighting options, check out our post about the best types of lights for your deck. 
Hot Tub

A hot tub is on the wish list for many homeowners; after all, nothing is better than soaking and unwinding after a long day. It adds value to your home and on top of that, if you ever plan on putting your house on the market, a hot tub is usually a selling point. 
If you think a hot tub is in your future plans, the most important thing to make sure of is that your deck's frame can support it. A hot tub filled with water can easily weigh 4,000 to 6,000 pounds or more. That's a lot of weight! 
Typically, that means your deck will need more structural joists installed closer together, more structural posts and heavier beams, all with additional metal fasteners.
Design Options
Instead of setting the hot tub on your deck, another option is to place the tub "inside" so the decking boards wrap around it. But there are additional considerations here, including how you'll access the hot tub for maintenance. 
There are a couple of ways you can solve this maintenance problem:
Add an access panel that's built into the deck.
Design a lower to the ground deck with the hot tub at one of the deck's edges. That way, one side of the tub is accessible from the outside.
Price
The cost to upgrade your deck to accommodate a hot tub can vary. It all depends on your vision for the space and what improvements need to be made. On average, you can expect it to range from $1,000 to $5,000. But typically, for a sit-on-top hot tub, it's closer to $1,000 to $2,000.
Pergola

Pergolas are a fantastic upgrade to revamp your deck, giving it a brand new look and feel. Besides the visual appeal, it's a practical way to provide shade on those hot, sunny days.
Fortunately, there are multiple different brands and manufacturers of pergolas. So you have an option, no matter your budget. 
Pergola Options & Costs
Big Box Brands
The most popular choice for pergolas is usually from one of the big box brands, considering they're the least expensive. Typically, one of these will cost you between $400 to $2,000.
While they can be bolted down to your deck, they usually aren't customizable. These pergolas also won't last you as long as some of the other, higher-quality brands we'll mention next.
Trex 
You know how much we love Trex! Compared to the big box brands, their pergolas are of much higher quality. They're highly durable, made from fiberglass, and come in matching colors to your deck, which looks strikingly good. 
Trex has many different styles to choose from, but typically, one of their pergolas will cost between $10,000 and $20,000.
StruXure
If you want the best that money can buy, then StuXure is the brand for you. Custom Deck Creations is an authorized and trained installer of StruXure, and we can confidently say you won't be disappointed.
Their pergolas combine beautiful design with modern technology for a state-of-the-art product. The aluminum louvered roof can open and close to protect you and your deck from both the sun and rain.
However, StuXure pergolas aren't as common due to the hefty price tag. The typical investment is between $30,000 – $50,000, depending on the design and size.
Pergola Alternatives
Maybe you aren't quite ready to invest in a pergola or aren't sure if it's necessary for your space. In that case, we have a couple of ideas for you to try first. 
The most popular alternative to pergolas are umbrellas, specifically a table or a cantilever umbrella. Typically, you can find a decent quality one in the range of a few hundred dollars.
Another alternative is to install a rollout shade and hook it up to the electrical in your home. That way, you can roll it out with a flip of a switch when you want shelter from the weather, whether it be rain or shine. 
Conclusion on Deck Upgrades
There you have it, the nine deck upgrades we'd recommend considering and about how much each investment will cost. These finishing touches can make a world of difference in improving both your deck's functionality and visual appeal. 
Pick and choose which upgrades work for you, or add them all if you're feeling ambitious. After all, if you invest in a beautiful outdoor space, it should be practical for your needs and be an area you absolutely love.
What's Next?
Are you planning on a deck build of your own? We'd love to hear from you.
At Custom Deck Creations, we build composite decks for clients across Southeast Michigan. We work with each customer to design and build the deck matching their vision and budget. Feel free to get in touch or check out some of our most recent projects.
If you've enjoyed this article, share it with someone you know who's planning on building a deck. Want to keep reading? Check out these posts next: