Should you Install Sod Before or After Your Deck?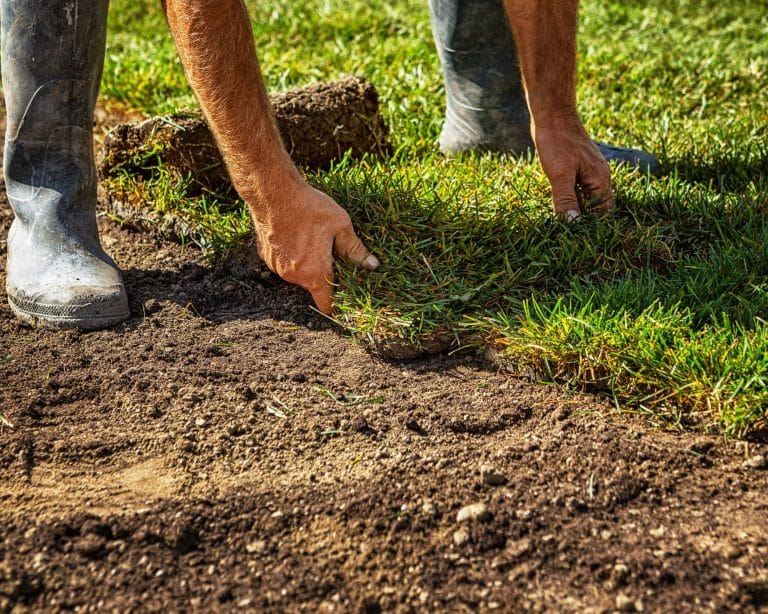 Building a new home is exciting, especially if you've had a hand in designing it to be perfect for you and your family. But you may face a couple of decisions that you wouldn't have otherwise if you were moving into an already built home. And a big one has to do with the outside space.
Not all newly constructed homes come with sod, but eventually, every new home will need a new lawn. And if you're also planning on installing a deck, which should come first – the sod or the deck? 
Is One Option Better Than the Other?
The short answer is the decision comes down to your personal preference and timeline. 
The Deck First
If you want a new deck ASAP, there's no harm in investing in one right away. We encourage it! A deck extends your home into the outdoors so you can make the most out of your entire property. A place where you can relax, breathe in the fresh air, and invite friends over to enjoy the beautiful weather. 
The Sod First
If you won't be installing a deck for at least another year or so, go ahead and put in the sod. You should enjoy it! Set up the sprinkler for the kids, mow your lawn and be proud, get it in a deeper green than your neighbors, and have an unspoken competition; love your home! 
For the deck builders, sod won't cause any extra work because, typically, builders don't remove it before the deck installation. Experienced professionals will put down a commercial-grade weed barrier and stone under your deck. Naturally, this will kill off the sod and deter it from growing under your deck. 
And what's great about adding stone under your deck is the many varieties you can choose. Some stones are simple, some have a more luxurious feel, but all will add to the overall aesthetic of your yard. If you'd like, you can learn more in our article: Landscaping Under a Deck: Our 3 Options After the Build. 
An Opportunity to Save Money 
Sticking with sod first, if you're building a deck in the near future, you can save some money and let your landscapers know not to install the sod where your deck will go.
If you don't know exactly where that will be, that's okay! You likely have an idea of where at least part of your deck will go, so you can probably still save a little bit. However, if the price will be the same regardless, you might as well install the sod everywhere and enjoy your lawn.
PRO TIP: Also Consider Sprinkler Heads
If you know the design of your deck, talk with your home builder or irrigation specialist before you install your irrigation. Ask them not to install any sprinkler heads or irrigation lines where the deck will go so you can avoid moving water lines down the road. 
If you want to learn more about working around irrigation, check out our Simple Guide to Building a Deck Around an Underground Irrigation System.
The Potential For Damages
If you recently installed sod (within the last four weeks), let your deck builder know. New sod tends to be very moist from all the watering, and large equipment could damage it. Some deck builders use smaller equipment than others, so it may not be a problem, but it's always a good idea to mention it.
In the case that any sod does get damaged, any reputable deck builder will sprinkle grass seed and rake in fresh topsoil (would you look at that – that's what Custom Deck Creation does!). Fortunately, we make it a priority to go easy on our client's yards.
Our Equipment
We don't use large equipment during our deck builds. The biggest machine we have is a stand-behind, wide-track skid steer, not the huge Bobcat type with wheels and a cab to sit in.
The wide tracks displace the machine's weight, making it fewer pounds per square foot than the impact of someone walking across your lawn. And we only use it to dig holes for the deck footings. After that, it's all foot traffic and wheelbarrows, which won't easily damage an existing lawn or new sod. 
But please keep in mind that building a deck is messy, and some grass may look a bit trampled or yellowing in some cases. Don't worry; this grass isn't dead. It's either gotten a little muddy, was stepped on or went dormant. But grass can endure a lot and does a great job at springing back up within a short period of time. 
The Area With the Biggest Risk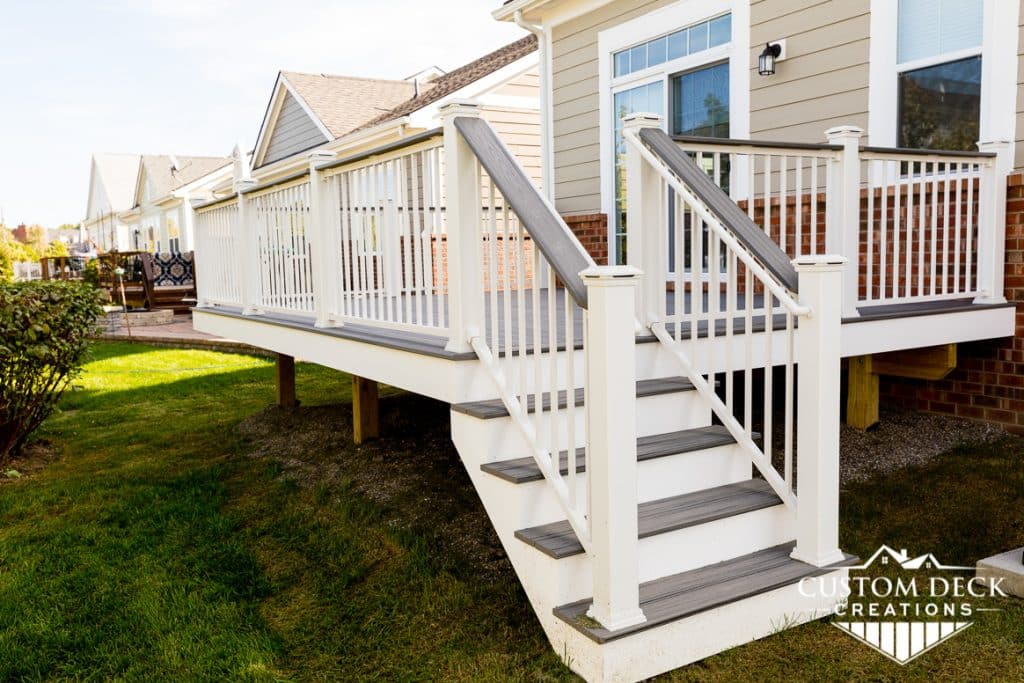 There is one place that has the most significant risk of damage for both new sod and existing lawns, and it will be right around the deck stairs. 
Because backyards are often not perfectly level (for water draining purposes), we need to level the landing in front of the stairs to meet code. But there's no need to worry; At Custom Deck Creations, we will always rake this area out and plant new grass seed. Some other deck builders will do the same but always ask if it's a concern. 
Conclusion
Regardless of whether you install sod or your deck first, you'll end up with the same result. A beautiful lawn and deck to enjoy alongside your new home. A place to unwind after work, throw dinner parties with your friends, and spend valuable family time. 
What Next?
Are you ready to start the build? We want to hear your ideas!
At Custom Deck Creations, we specialize in building all shapes and sizes of composite decks. We'll work with you to design a custom space you'll love while sticking within your budget. If you're in the SE Michigan area, please give us a call; we'll chat about your project and give you a free over-the-phone estimate. And if you'd like a little inspiration, feel free to check out some of our most recent builds. 
Did you enjoy this article? Share it with a friend who might find it helpful. Want to keep reading? Check out these posts next: