Should You Install a Trex Deck Gate? Costs & Considerations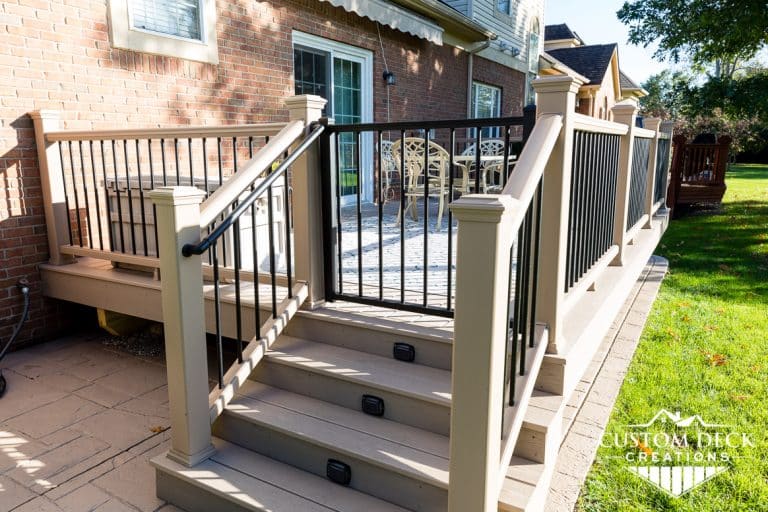 You're planning on building a new deck and realized just how many upgrades you could add to your build. It can be overwhelming at first to know what to choose, but while some upgrades are for pure aesthetics, a deck gate also serves a functional purpose.
So today, we're going to talk all about Trex deck gates. We'll cover why may want to consider installing one, what to expect for costs, and go into more detail about the popular Trex Signature all-aluminum gate!
Why Add a Gate to Your Deck
First, if you have pets, kids, or friends and family with kids that often visit, adding a gate to your deck will quickly become something you'll never want to live without! Gates are a great way to make sure young children and pets stay on your deck and don't wander off, giving you some peace of mind. 
Can You Just Use A Baby Gate?
An alternative way to keep kids on a deck is to put up a temporary baby gate. However, please keep in mind that baby gates aren't designed to be outside, and if left exposed to the elements for too long, they can drip rust onto your deck. And metallic rust is an exception to Trex's stain warranty, so you won't be covered under this circumstance.
But if you choose to use a baby gate and notice rust drips, all hope is not lost! You can check out Trex's fantastic cleaning guide on how to care for your Trex deck and remove rust. And in the worst-case scenario, we can replace a couple of deck boards with no problem.
Although, it's cheaper to invest in a gate ahead of time, which brings us to our go-to choice.
The Trex Signature All-Aluminum Gate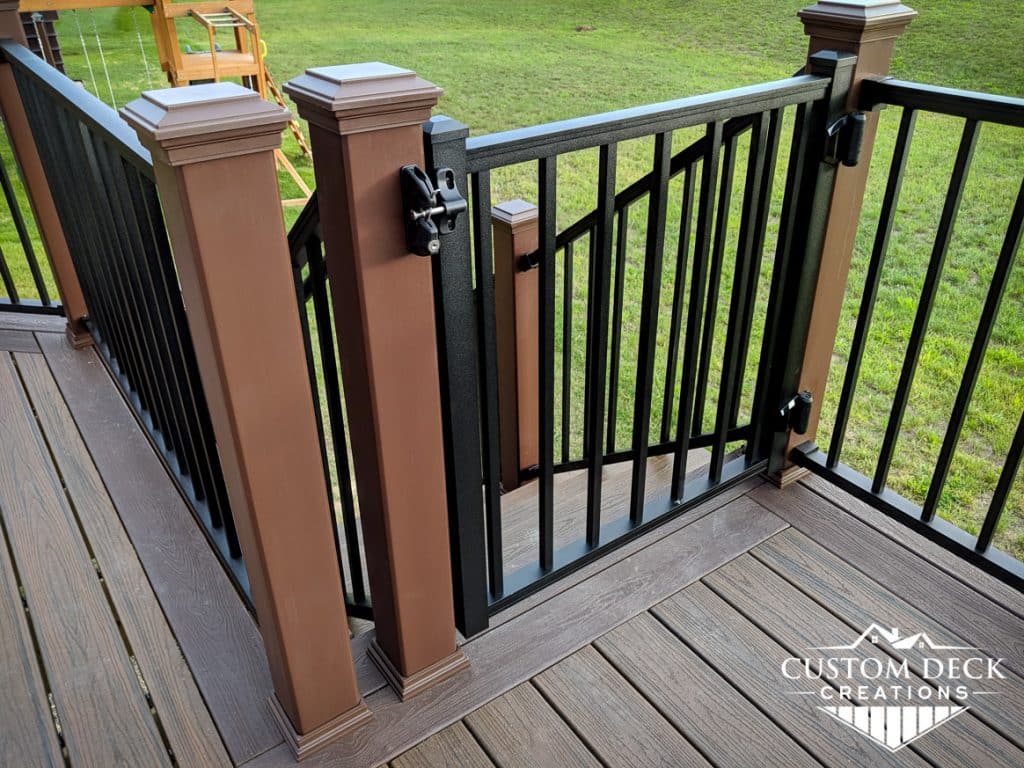 There are many different gate options on the market. But the most commonly installed gate we offer is the top-of-the-line Trex Signature all-aluminum gate. It comes in black, white, or bronze, with square or round balusters and 2.5-inch gate posts.
Most importantly, the Trex deck gate is lockable and has two keys, which is a must as some toddlers are little escape artists!
Installations
You can install a Trex deck gate on any railing: composite, aluminum, and even wood. It's constructed so you can install one on any stairs with a maximum opening of 48 inches. So keep that in mind when designing your deck because it won't work with wider stairs. 
Of course, the gate looks fantastic on any of Trex's railings, including both Trex's 2.5-inch aluminum railing posts and Trex's 4.5-inch composite railing posts. For the composite 4.5-inch railing posts, even though the gate posts are 2.5 inches and made from aluminum, the combination next to composite looks beautiful.
Price 
Now for cost, the average price to install a Trex deck gate is $970. But if you have a tighter budget during the initial build, it's easy to install one at a later date.
Also, you can remove a Trex gate at any time in the future. They're simple to install using two hinges screwed into the railing posts. But if you decide to take out the gate in the future, your posts will be left with two holes. However, we can replace the railing posts with a bit of work if you've decided to let the gate go for good.
PRO TIP: Set Up Alerts
One of our clients was concerned about security and wanted to hear an audible alert if their gate was open unexpectedly. They had a Ring Alarm system already installed, so they added a Ring exterior gate sensor and connected it to their Alexa (within the Alexa app). Now, Alexa immediately says, "The deck's gate has opened" whenever their gate opens. Cool!
Conclusion on Trex Deck Gates
Adding a gate to your deck is almost always a good decision if you have kids or pets. And the Trex Signature all-aluminum gate is the perfect addition to any deck and railing combination. It's easy to install anytime, remove if it's no longer needed, and lockable for that extra layer of protection. 
What Next?
Are you looking for a deck builder? Let's talk!
At Custom Deck Creations, we work with clients across SE Michigan to design and build their dream decks using Trex. We'd love to hear all about your ideas for your deck and how you want to use the space. And we'll handle all paperwork and permits so you can sit back and relax while we bring your vision to life! 
Please get in touch! We'll chat about your project and give you a free-over-the-phone estimate. Or, feel free to check out some of our most recent projects first!
Did you enjoy this post? Please share it with a friend who might find it helpful! Want to keep reading? Check out these posts next: