Will My Grill Damage Trex Railings? (And What's a Safe Grill Distance?)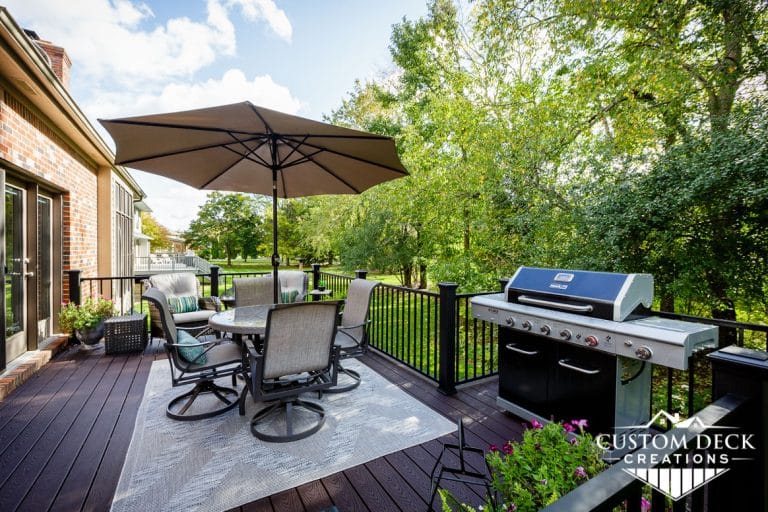 Grilling on the back deck is a favorite pastime for many homeowners. You get to enjoy the fresh air and the smell of delicious food cooking while spending time with friends and family. 
But safety around a grill is important. For you, your guests, and also your deck. One of the most commonly asked questions we get is will the heat from a grill damage Trex railing?. And if so, what's a safe distance to grill at?
Let's find out. 
Can the Heat From My Grill Damage Trex Railings?
The short answer is – it depends. 
If you have an aluminum railing, then it's not a huge concern. But, if you've built your deck with composite railings or railing posts, there's a consideration to keep in mind with your grill and the distance of it to your composite railing. 
Generally, more heat comes out of the back of the grill than the sides, especially if you're cooking food that requires a higher temperature. Be mindful that some grills will also burn hotter than others or heat up much quicker.
If you aren't careful, it can lead to irreversible damage to your railings.
What's a Safe Grill Distance From Trex Railings?
It's crucial to consider your grill placement when designing a new deck. To be safe, position the grill between 6-12 inches away from your railings or posts. Or, pull the grill away from composite railings or any combustible materials while the grill is in use.
Another good rule of thumb is to leave that same amount of room on the sides of the grill as well. That leaves a sufficient amount of airspace to prevent damage to your railing, such as charring, staining, or even melting.
Other Areas of Concern
Unfortunately, we've heard a few horror stories about what happens when a grill isn't being watched. And railings aren't the only thing you should keep a close eye on when you're grilling. 
Be aware of your home's siding too, or any other combustible material on your home. If the grill is too close, it can melt or even catch on fire, releasing toxic gases. Or at worse case, catch your home on fire. Many grill manufacturers advise keeping a grill at a minimum of 3 feet away from your home. However, the U.S Consumer Product Safety Commission recommends keeping any grill at least 10 feet away from your house or other building. 
Final Thoughts
Fortunately, Trex products are extremely durable and we haven't heard from our clients about their grill damaging their railings. But the possibility of heat damage is very real and should be taken into consideration when you plan the design of your deck.
The bottom line is you should always make sure your grill is at a safe distance from your Trex railings, or any combustible material.
What Next?
Are you ready to start building a deck or thinking about doing some upgrades? We'd love to hear from you!
At Custom Deck Creations, we design and build composite decks for clients across Southeast Michigan. We work with each customer to design and build the deck that matches their vision and budget. Feel free to get in touch or visit our FAQ if you have any more questions!
If you've found this article helpful, share it with someone who could also benefit from it. Want to keep reading? Check out these posts next: