The Top 5 Deck Improvements Customers Regret Not Doing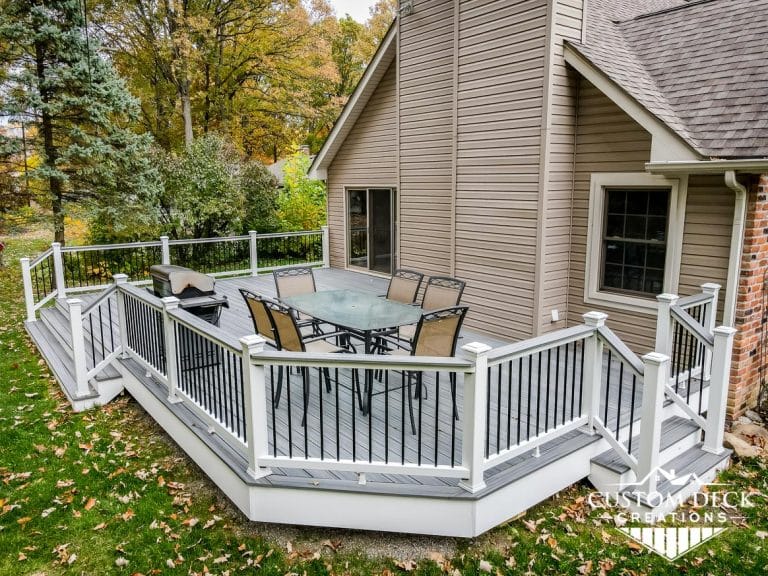 It's always the "what ifs" and "if only's" in life that gets to us.
These concerns are more common in new construction homes (should have installed more windows, a bigger closet, different baseboards, a larger kitchen island, etc.). But we're no stranger to them as deck builders. 
Now and again, we hear from customers about deck upgrades they wish they went for. We've been keeping track and today, we're going to share with you the top 5 deck improvements customers regret not doing.
1. Not Building a Larger Deck

One of the more common regrets we hear is customers wishing they had made their deck larger. Usually, it's to meet their needs for entertaining. 
Deciding on the best size deck is tricky because you want to balance functionality with your budget. 
Often, homeowners have a decent sense of how many people they want to accommodate and the layout of their deck. But as time goes on, they spend more time entertaining, and their needs change. Suddenly a separate space for a BBQ or a hot tub sounds very appealing. 
While you don't want to go overboard, we've never heard someone who wishes they built their deck smaller.
2. Not Installing Lights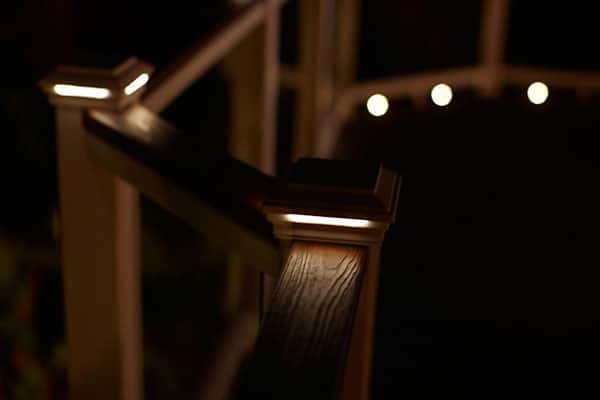 If you never plan on spending time on your deck at night, I can understand why you might skip the lights.
However, you may be surprised how often you find yourself wanting to relax outside during the evenings when you have a new deck. After all, warm summer nights are best spent outdoors!
But stumbling around in the dark or relying on bright wall sconces makes the experience far less enjoyable. Lights add an aesthetic appeal and create a much more cozy and inviting environment.
Railing post cap lights and stair riser lights are the two most popular choices. For hardwired lights (such as Trex), they're best to install while building the deck. You never want to run the wires between joists and deck boards after the fact. 
Fortunately, there are also lights that are easy to install after the deck is done, such as: 
Solar-powered railing post cap lights
Stair riser lights (depending on the height of your deck)
You can learn more about Trex deck lighting and other options we offer on the Trex website.
3. Not Installing a Cocktail Board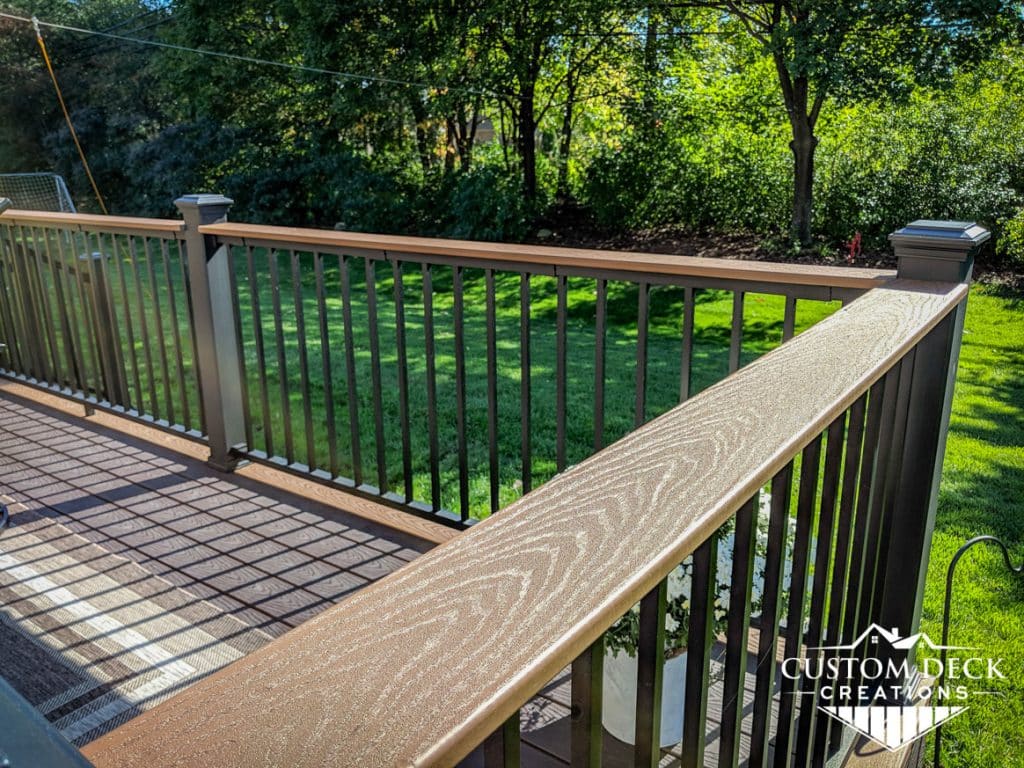 A cocktail board (also known as a drink rail) is one of the handiest improvements you can make to your deck. It gives you and your guests an extra place to rest your drinks or plates while socializing. It also doubles as the perfect spot for décor and potted plants.
If you aren't sure if it's something you'd like to invest in right away, time is on your side here. For the Trex signature railing, you can have a cocktail board installed anytime after the deck is complete. It's one of the last things we finish on a deck build, so you have time to decide. 
However, with Trex Transcend and Trex Select railings, the drink rail should be installed during the initial construction. 
4. Not Investing in Deck Skirting
Installing skirting creates a very polished look to a low-level deck. It hides joists and any belongings you've placed underneath for storage, making the space look tidy and complete. Another big bonus is it deters unwanted critters from getting too cozy and making a home under your deck.
With that being said, it's not a popular deck upgrade considering its investment. But, if it's in your current budget, it's a beautiful added touch. 
If you're not ready for the extra expense, have no worries! For most decks, adding skirting (and the framing required to support it) is done at the end of the project. That means it's usually not a problem to install down the road, even years later. However, we recommend installing skirting during the build for decks that are very low to the ground. 
5. Not Adding a Gate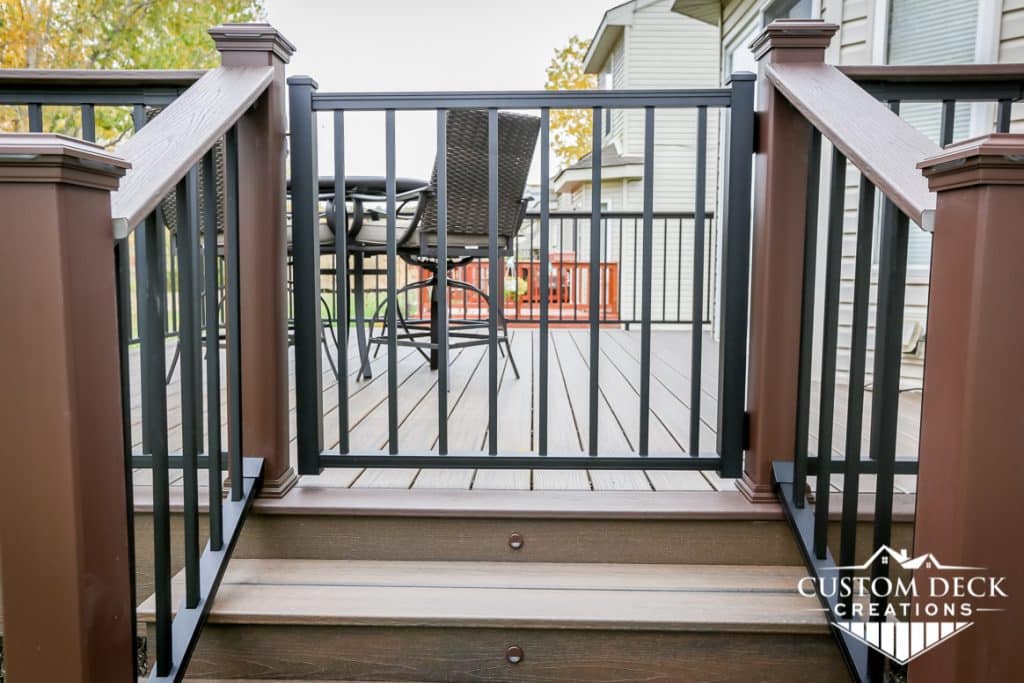 Gates add that extra layer of security you didn't know you needed. It's helpful if you have young adventurous children and want extra peace of mind. Or at times when you'd prefer to contain your dog instead of them taking off after the squirrels. 
Like some of the improvements on this list, adding a gate after your deck is built isn't usually a problem. If you change your mind, you can install a Trex gate on any of their railing lines. You can customize their gates to fit nearly any opening up to 48 inches wide. Just keep that space restriction in mind when you're designing the width of your deck's stairs.
Final Thoughts on Deck Improvements
Hopefully, we've shed some light on a few deck improvement ideas you might not have considered before. Or put your mind at ease if you'd like to make some of these changes to your existing deck. 
Fortunately, most of these improvements can be made anytime after the build, even if it's years from now. 
If you've enjoyed this article, share it with a friend or family member who's planning on building a deck.
Are you in the Southeast Michigan area and are planning on a deck build of your own? Feel free to get in touch.
At Custom Deck Creations, we build composite decks for clients across Southeast Michigan. We work with each customer to design and build the deck matching their vision and budget. We'll gladly help you decide which improvements you should make now and what can wait.