All-Inclusive Guide to Stair Handrail Building Codes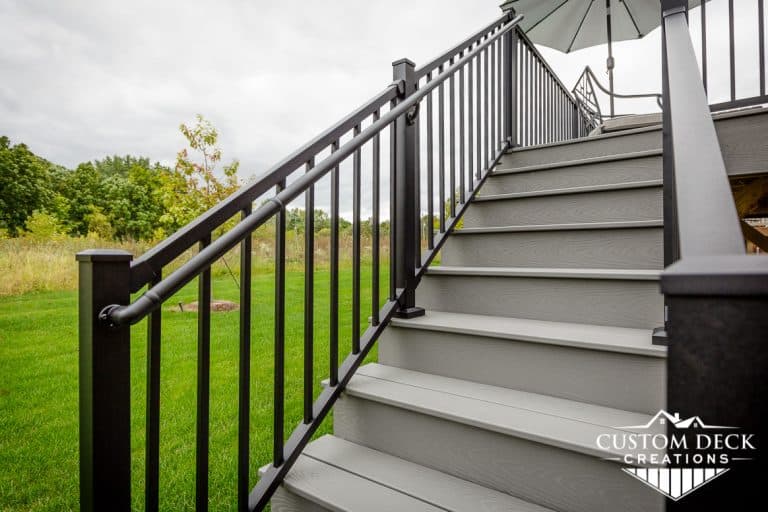 When you're designing a deck, building codes regarding handrails and stairs can seem a bit mysterious at first.
Fortunately, you don't have to give yourself a headache trying to figure it all out on your own. As deck builders, we deal with the rules and regulations on a daily basis.
So today, we're going to share what we've learned in the most simple and straightforward way possible so that you can move on to building your deck.
Handrail Building Codes
The laws for handrails will vary based on where you live and the codes in your area. It's best to call your local building department to confirm the requirements before building.
Each state mainly determines its Residential Code from the International Residential Code book, also known as the IRC. And while the IRC updates its codes every three years, the time it takes each state to update will vary. Here in Michigan, a new codebook is adopted typically every six years. 
States will largely adopt the IRC codes, but with their own adjustments. That's because a lot of things vary from state to state that needs to be accounted for: such as temperatures, frost depths, soil conditions, and extreme weather patterns.
Local municipalities then follow their state's code. While you shouldn't be running into different flavors of the code from municipality to municipality, it does happen. What this means is that you may have a specific municipality be more stringent than their state's code, but by law cannot be more lenient than what state code requires.
Handrail Requirements
Let's get clear on the type of handrail you need to meet these codes. Handrails are found on stairs, it's what you grab on to when using stairs. Typically, handrails are small in diameter and not irregularly shaped. They need to be graspable, simply meaning you must be able to grip them easily.
Handrails must also be continuous, running uninterrupted from the bottom step to the top of the deck. Longer rails that are "broken up" with another railing post won't meet the code. Jump to the below section for a solution: "Trex ADA Handrail".
When is a Handrail Required?
According to the IRC, any stairs with four or more risers require a continuous and graspable handrail. 
Keep in mind that the number of risers isn't the same as the number of steps. In actuality, stairs with three steps generally have four risers, but it's easy to overlook the last riser that leads to the surface of the deck. 
What's the Necessary Handrail Height on Stairs?
The handrail code for stairs requires you to install the handrails at a specific height. The top of the rail must be between 34 inches and 38 inches above the nosing of the stair treads. 
Are Handrails Required on Both Sides of Stairs?
You aren't required to install a handrail on both sides of your deck stairs. They can be placed on either side as long as it runs uninterrupted the entire length of the stairs. 
But the height of your deck will bring another similar code into play—this one to do with guardrails.
Guardrail vs. Handrail
Simply put, handrails are for hands to grasp while walking up or down your deck stairs. But railings (also referred to as guardrails) are designed to prevent anyone from falling off the sides. 
The code states that when a deck is 30 inches or more off the ground, you're required to install a guard rail on the open sides of your stairs and the deck's surface.
Trex Handrails
When you're looking for the correct handrails, Trex has you covered!
Out of Trex's three railing options, their Signature railing is considered graspable. Even so, this is dependent on your local municipality or sometimes even the individual inspector. Before moving forward, it's best to call your building department or work with a local deck builder who's familiar with the local regulations. 
But if you've decided on using the Trex Select or Transcend railing, you can always add a separate handrail. The same goes for any option where you've added a cocktail board. Unfortunately, a cocktail board won't pass the "graspable" test and you'll need to add a separate handrail.
Trex ADA Handrail
Once again, Trex has you covered. They offer an elegant and beautiful solution they call their "ADA Continuous Graspable Handrail." It's a round powder-coated aluminum rail that secures to your existing stairs' railing posts. 
The cost to install the ADA handrail will vary based on the design of the stairs. For example, how long the stairs are or if there's a landing, etc. On average though, it will cost you roughly $200-$250 installed.
Conclusion
There you have it! While the handrail codes for stairs vary by location, you should have a good idea of when you need to install one.
Remember, a graspable and continuous handrail is required when you have four or more risers. And you should install them between 34-38 inches above the stair nose tread. Also, railings (or guardrails) are necessary when your deck is 30 inches or higher above the grade. 
These codes and regulations are in place for a reason. And you can have peace of mind knowing you're taking the necessary steps to keep yourself and your friends and family safe. 
At Custom Deck Creations, we build composite decks for clients across Southeast Michigan. We'll work with you to design and build the perfect deck for your yard, including making sure all the railings are up to code! If you're ready to take the next step, give us a call, and we'll provide you with a custom quote based on your specific project!
Also, feel free to check out our gallery to see our recent projects or visit our learning center to learn more about composite decking.