Trex Decking Colors & Railing Styles: What Do We Offer?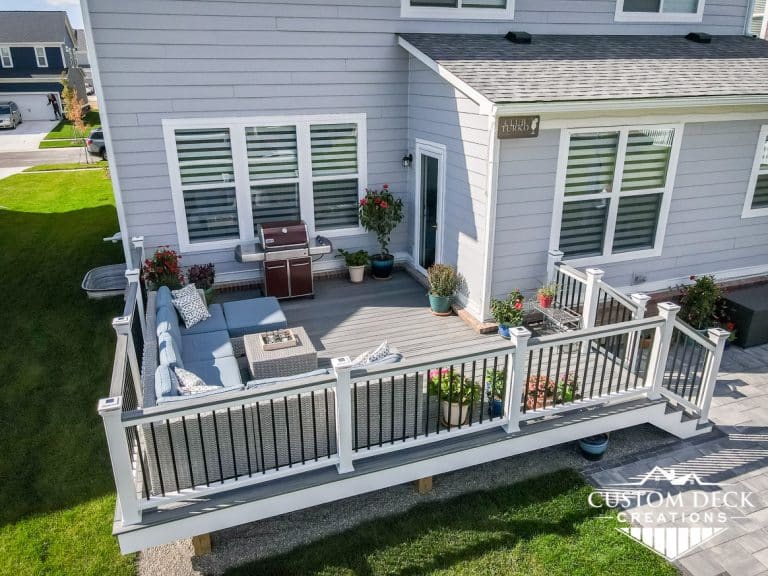 Congratulations! You've decided it's time to build a composite deck, or you're at least entertaining the idea. 
We're here to help you through the process.
Custom Deck Creations specializes in designing and building composite decks, specifically using Trex. While we get many questions from clients, one of the most common we hear is:
Which Trex decking colors and railing styles do you offer?
Deciding on colors and railings can be more challenging than building the deck itself. There's a lot to consider: the design you're going for, you're budget, and of course, if you want those handy drink rails. 
So today, we're going to switch it up from our usual educational posts and discuss something more specific to Custom Deck Creations.
Even though this post is exclusive to our business in Southeast Michigan, our goal is to give you insight into these products. Whether you're a local client or one of our readers across the country.
What Colors Does Trex Decking Come In? 
Trex offers a wide array of colors, each unique to the specific line of decking you choose (Transcend, Enhance, or Select). You can check out their available decking colors, all of which we offer at Custom Deck Creations. But know they often switch up their names each year.
Our Most Popular Trex Deck Colors
The most popular Trex decking colors also change year to year. But we see a select few come out on top in Southeast Michigan. 
These winning colors include:
Transcend Island Mist
Transcend Spiced Rum
Transcend Tiki Torch
Enhance Naturals Rocky Harbor
Enhance Naturals Toasted Sand
Enhance Basics Clam Shell
Trex Railing Styles
Railings are the finishing touch of a beautiful deck, and we work with you to find a style that's perfect for your space—which you can see in the Trex railing guide.
But there are two styles in particular that we find ourselves building repeatedly, and our clients love. 
Let's talk a little more about them in detail.
Trex Signature Aluminum Railing
The Trex aluminum railing is as luxurious and durable as they come. The design adds a modern flair to your deck while still being customizable to suit your style.
Posts
Composite Railing Posts (4.5″ Wide)
This option is by far the most popular to pair with the Signature railing and comes in six color choices (Classic White, Charcoal Black, Gravel Path, Rope Swing, Tree House, and Vintage Lantern). The mixed material design of composite posts and aluminum railings look great and create contrast.
Aluminum Railing Post (2.5″ Wide)
Alternatively, choose the powder-coated aluminum posts to keep everything consistent and have the option of three timeless colors (Charcoal Black, Bronze, and Classic White).
Railings
The powder-coated aluminum railing comes in the same three colors as the posts.
Infills
It gets even more fun being able to customize the infill of your railing. If you want a classic look, go for the round or square balusters. 
But if you're looking for something a little different, Trex's RodRail (horizontal aluminum balusters, instead of vertical) infill is a great way to add an industrial touch to the design. Or, if you have stunning views you'd like to show off, choose the glass panel for an unobstructed look at your landscape. 
Trex Select Railing
The Trex Select Railing is the more simple and affordable choice while still being tough as nails. It's perfect for those who don't want to be bothered with too many design options but want railings that look crisp and compliments any color of Trex deck.
Posts
The Select line offers traditional 4.5″ wide composite posts. You can use Trex post sleeves, caps, and skirts to personalize the design with the same six color choices outlined above. 
Railings & Infills
Keeping things simple as promised, Select railings combine classic white composite rails with charcoal black round aluminum balusters for a neutral look that compliments any deck. 
Trex Cocktail Rail
Worth mentioning on its own is the additional Trex cocktail rail (also called a drink rail). You can add this handy feature to any Trex branded railing for a finished aesthetic look and added functionality. Trex offers a cocktail rail board in two sizes: 1″ x 6″ (very common, same size as a decking board), and 2″ x 4″ (not as common).
Suppose you have friends or family over. Often, people like to stand by or lean on the railing when chatting or to look at the view—having flat railings to place your drinks is convenient and practical.
Beyond holding your cocktails and other beverages (alcoholic or not), they're great for setting down plates when you're BBQing or placing potted plants and other decorations. 
PRO TIP: Ask your deck builder what brand of railing they're quoting when you're in the design process. Considering railings are one of the most expensive items when investing in a deck, it's not uncommon for contractors to offer low bids and use off-brand products without the client's knowledge. 
Let's Get Started
After reading this, you'll hopefully be able to get a good idea of the Trex decking colors and railing styles you like. But for more inspiration, take a look at some of our most recent projects. 
And as always, we're here to help you design your deck and pick the best colors and railings to suit your needs. If you're looking for a deck builder in Southeast Michigan or have any questions, get in touch, we'd love to chat about your project.