Can We Build a Deck Without a Permit? When A Permit Is Required & the 1 Exception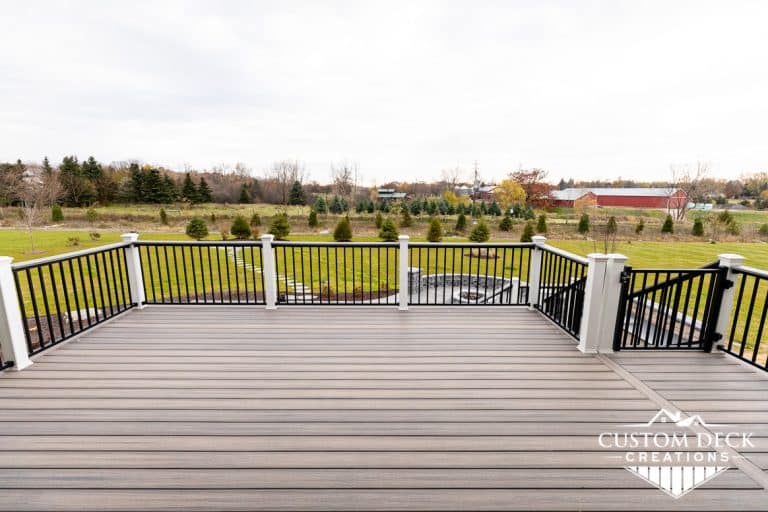 Is a permit required when building a deck?
Knowing when it's necessary isn't always straightforward. You may have heard multiple answers from different people, or that it depends on some specific conditions. While true, the rules are conditional; they will be the same or similar in most places. And deck builders and homeowners alike must follow the codes. 
So today, let's clear up the confusion. Can we (or anyone) build a deck without a permit? Let's look at when a permit is required and the three exceptions.
Building Codes
The code on whether or not a permit is needed when building a deck will vary from state to state. But for the most part, and is the case here in Michigan, building a deck usually requires having a permit.
But, there is one exception. When your deck is ALL of the below, you do not need a permit:
Less than 200 square feet in size
Less than 30 inches off the ground
More than 10 feet away from your home
If your deck meets all three requirements, you won't need a permit to build. But, the structure would be more like a small platform in the middle of your backyard, rather than what you and I would think of as a deck. Of course, there's nothing wrong with that, as long as the space works for how you'd like to use it.
But if that's not what you want, don't let that discourage you! When you work with Custom Deck Creations, we handle the entire permit process, HOA approvals, and inspections so you can sit back and relax!
When a Permit is Required
On the other side of things, there are a few instances where a permit is always required. That's if you want to build or alter one of these three things on a new or existing deck:
The frame
New railing
New stairs
Any licensed and insured residential builder (at least here in Michigan) cannot build or alter any of these without obtaining a permit. If you'd like to go into more detail, we have a more in-depth post about when a permit is required: Why You Need a Permit When Building a Deck.
PRO TIP: Resfuracing Decks
These rules also apply to existing decks that you'd like to resurface (keeping an existing deck frame). Many resurfacing projects require altering or strengthening the frame or installing new railings. And almost every job includes building new stairs. 
Conclusion
In most cases, we can't build a deck without a permit unless they meet the three requirements we discussed earlier. 
But whether you're building new or have a resurfacing project, you want to be sure your deck is built correctly and safely. And the best way to achieve that is to obtain a permit and follow code, even if a permit isn't required. Having a permit means a local building inspector can inspect the work being done to ensure your deck is built safely and properly.
What Next?
Are you looking for a deck builder? Let's talk!
At Custom Deck Creations, we specialize in Trex composite decking and work with clients across SE Michigan to design and build their dream decks. We want to hear all about your vision and ideas for your space, and we'll even handle the entire permit process if it's required for your build.
Go ahead and get in touch; we'll chat about your project and give you a free over-the-phone estimate. Or, if you'd like to get a little inspiration, feel free to check out our most recent builds. 
Did you enjoy this post? Please, share it with a friend! If you'd like to read more, check out these posts next: