Calling Miss Dig & Marking Utility Lines: How Does It Work?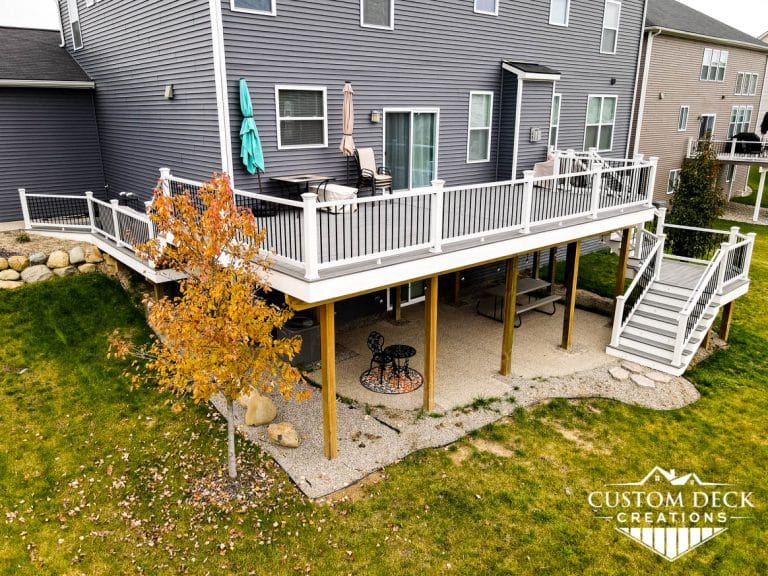 Safety should be the number one concern during any renovation or construction project. And digging around your home without knowing the location of utility lines is risky business.
Damaging one of these lines can affect entire neighborhoods and pose a real threat to the digger and those in the area. Not to mention it can also cost thousands of dollars in repairs. And while most of a deck build is above ground, the first and one of the more critical parts of the job is digging the holes for the structural posts. 
So who's responsible for calling Miss Dig? (The organization in Michigan that operates as the "Underground Utility Safety Notification System for the entire state"). And what is the process of having these utility lines marked before your build?
Keep reading to find out!
Do We Call Miss Dig?
Yes absolutely! We call Miss Dig on all of our projects before starting; it's Michigan law. The responsibility to "call-before-you dig" falls on the contractor doing the excavations, not the homeowner. 
But that's not the only reason why we do it. We like to take care of as much on the backend of the job as possible for you. So that means calling Miss Dig as well as:
Submitting for homeowner's or condo association approvals
Applying for the building permit
Handling any required construction drawings
Coordinating with inspections
Cleaning up all debris after the build, etc. 
How the Marking Process Works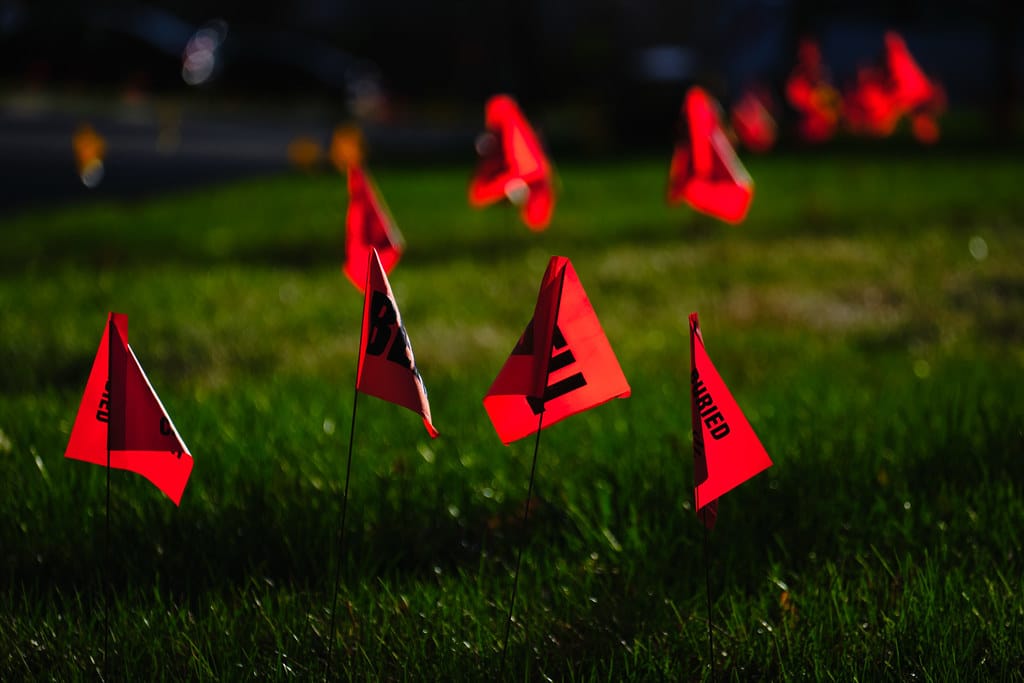 Miss Dig doesn't have employees that come out and mark the location of underground utilities. Instead, they collect the calls from the entire state of Michigan and disperse these requests to the relevant utility companies. These companies (or a company they hire) will then come out and locate their underground lines, marking them with flags or paint. 
What Information Do They Need?
When calling Miss Dig, we must inform them where we will be digging on your property. For example, because we build decks, many of our projects are in the backyard. So Miss Dig will only request that the companies mark lines in that area. 
If a utility company doesn't have lines underground where we'll be digging, they likely won't send anyone out. Sometimes, the case is that all the utility lines are in the front of the home. So even after we call, you may not see any flags or painted lines before we start digging. 
What About Private Utility Lines?
One critical thing to note is that utility companies only mark their public lines, such as:
Main electrical lines
Main water lines
Comcast
AT&T, etc.
But these companies don't know where private utility lines are and won't be able to locate and mark them for you. These could be:
Irrigation lines
Sump pump discharges
Landscape lighting
Electrical ran to a garage or other outbuilding
Buried downspouts
So, unfortunately, the utility companies cannot help you here. But if you know the location of any of these private lines, please let your builder know. Otherwise, there is a good chance one of them could become damaged while digging the post holes. 
On a side note, it's also a good idea to plan ahead of time who will handle repairs if a line breaks during the build. Because your builder also won't know where these private utility lines are until they dig. 
The repair is usually quick and inexpensive for an underground sump pump or irrigation line. And for us, we don't charge for a minor repair like that. If you'd like more information on underground irrigation lines, we recommend reading our post: A Simple Guide to Building a Deck Around an Underground Irrigation System.
Conclusion
Calling Miss Dig at 811 is absolutely free and easy for Michigan homeowners and contractors alike. And because safety is a top priority during all of our builds, we always call before we start any new project.
What Next?
Are you ready for a brand new deck? Let's chat!
At Custom Deck Creations, we build composite decks for clients across SE Michigan. Our builds are all custom-made, so we want to hear all of your great ideas for your new deck!
When you're ready, get in touch! We'll chat about your project and give you a free over-the-phone estimate. Also, feel free to look through our most recent projects for inspiration.
Did you enjoy this post? Please share it with a friend in the area who's considering building a deck. Want to keep reading? Check out these posts next: