Can I Buy the Materials When Hiring a Deck Builder?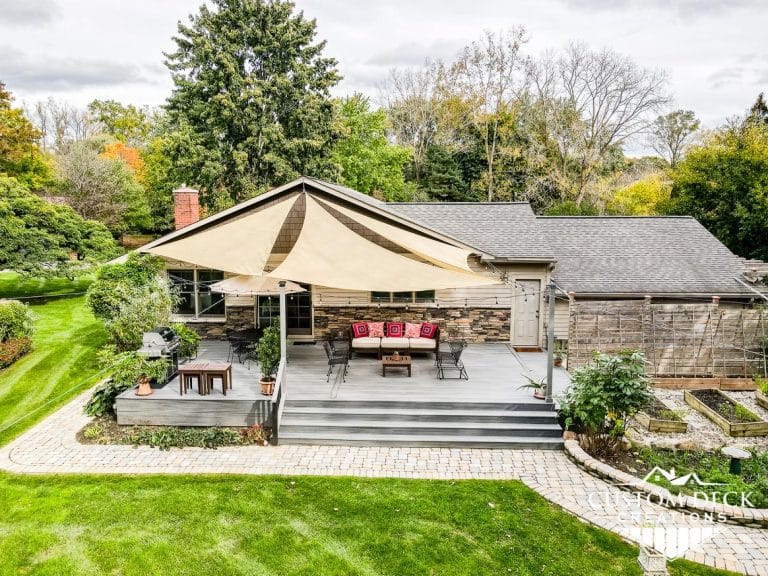 Every once in a while, we come across this scenario: A client plans to build their own deck as a DIY project. They buy the materials, but six months down the road, they realize there isn't enough time in the day with their schedule to get the job done. And now they're looking to hire a contractor. 
If that sounds familiar, we get it! Building a deck can be a fun and rewarding experience. But it's a big and dirty job. And when you combine getting all the materials, the time investment to build, and balancing inspections, installing a deck can sometimes be too demanding as a DIY project. 
So what happens now with all your materials? Can your deck builder use what you already have? Or maybe you never planned on doing the work yourself but want to know if you can supply the materials?
Let's take a closer look at this scenario.
Homeowners Supplying the Materials
First, every builder will have their own policy when it comes to using already purchased materials. But we believe you should look for someone who orders materials themselves. 
 Let me explain why.
Product Selection & Individual Builders
I once heard from a potential client that "a Trex deck is a Trex deck is a Trex deck; it doesn't matter who builds it." But the reality is that couldn't be further from the truth. 
Ensuring a deck is installed correctly requires a lot of planning, including how you'll go about the build. And when it comes to materials, each deck has about 30-50 different SKUs, and every builder approaches a similar build with different products. 
That's the key takeaway, every builder uses different materials.
So we know the quality of a completed deck boils down to the craftsmen who do the building (we refer to our installers as craftsmen because they're incredibly talented in their craft). But they can produce such quality work because of their experience with products they know and trust. 
Issues & Damages
Beyond the problem of using lower quality or unfamiliar products, from a contractor's perspective, having the deck materials already ordered or sitting on-site will bring up a few questions. 
Where did the materials come from?
How long have they been sitting exposed to the elements?
Is there any potential warping?
Depending on the answers, there may not be any issues. But if the opposite is true, how are the inevitable questions answered?
 For example:
There's a scratch on one of the decking boards. Who caused it, and who will be paying for a new $100 board?
The wrong fasteners were ordered six months ago; how will that problem be handled?
There aren't enough boards ordered; how do we deal with the delays? 
Years down the road, it turns out some of the posts weren't pressure-treated; who handles that concern?
A bad cut was made (hey, we're all human!) to a $100 board; who will pay for the new piece?
Who will warranty the material after install?
It can quickly become a very sticky situation when a contractor starts using materials the homeowners purchased. And it's for this reason we believe you should look to hire a contractor that orders their own materials for a deck build. That way, they're accountable for that material, eliminating the possibility of some of the issues.
As a specialty contractor that focuses on Trex composite decks, we won't build a deck with already purchased materials. We stand behind our work, offering a 10 year workmanship warranty, and we want to know what materials we're installing, where they came from (for quality purposes), and that nothing is missing. 
Already Purchased the Materials?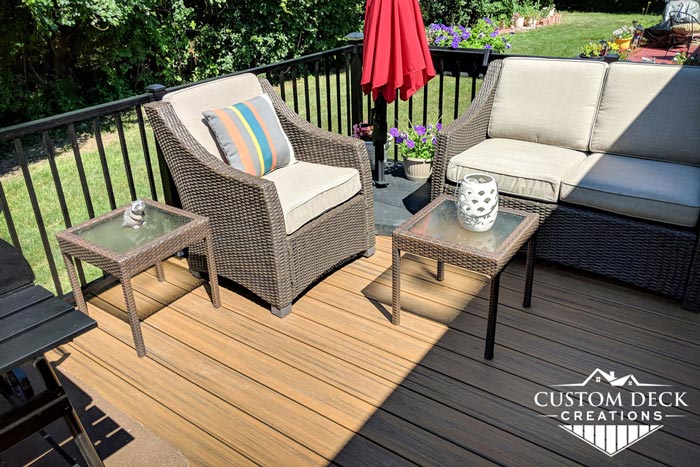 If you have materials from 6 months ago and you're not able to find a contractor who will use them to build your new deck, all hope is not lost. We suggest calling the lumberyard where you purchased the materials. In our experience, many of them are fantastic to work with, and they'll likely understand your situation. Call them up, tell the truth, and they may buy back the materials from you.
The Bottom Line
It'll come down to the individual contractor on whether or not they're open to using materials you've already purchased. But if you decide to go that route, be aware of the potential issues that can come up: handling damaged materials, changes to warranty, delays, etc. 
By letting your builder purchase the materials, they're accountable for the quality and condition. So there's a better chance of the entire project running more smoothly, ending with a beautiful newly built deck for you. 
What's Next?
Are you looking for a deck builder? Let's chat!
At Custom Deck Creations, we build composite decks for clients across SE Michigan. Our builds are all custom-made, so we'll work with you to design the deck of your dreams that fits perfectly into your space. 
When you're ready, please get in touch! We'll chat about your project and give you a free over-the-phone estimate. Or take a look through our most recent projects first for inspiration.
Did you enjoy this post? Share it with a friend in the area whose considering building a deck. Want to keep reading? Check out these posts next: