What is a Good Size Deck? 6 Things You Should Consider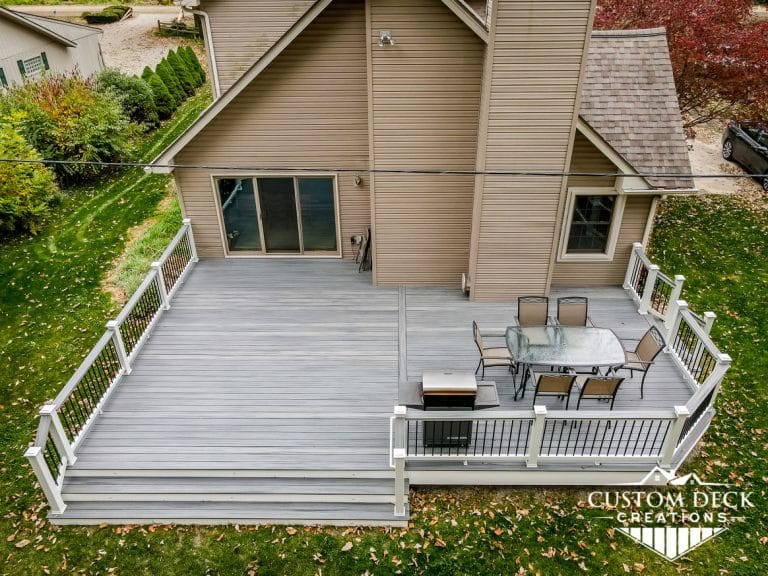 A backyard deck can be your outdoor haven to relax and spend time with friends and family. But the size of your deck will either add to the experience or take away from it. 
That leads us to one of the most common questions we get:
"What is a good deck size?"
There's no one size fits all answer. After all, decks are highly customizable for this very reason. 
Many factors will determine the best deck size for you, but it doesn't have to be stressful or complicated. We're going to discuss the six things you need to consider, so by the end of this article, you'll be able to determine the best option for you. 
1. What Is the Average Deck Size?
While you shouldn't base your decision solely on what others have done, taking a look at what's common can help narrow your choices.
Most backyard decks will range between 144 sq. ft to 700 sq. ft. Here in SE Michigan, the average size deck we build is about 350 sq. ft. For entertaining purposes, a deck that size can easily accommodate gatherings of 10 people. 
PRO TIP: Bigger Isn't Always Better
It's easy to believe that we need (or want) a huge back deck to accommodate any situation that might come our way. But it's important to keep in mind that bigger isn't always better. 
Just because you can build a deck to accommodate the entire neighborhood doesn't mean you should.
Stay practical, you don't want the size of your deck to overwhelm your home, but it also needs to be functional. So a good rule of thumb is to build 20-40 square feet of deck per guest, which brings us to the next and most critical factor.
2. How Do You Plan On Using Your Deck?
To determine how big of a deck you should build, ask yourself how you intend to use your new deck and how many people you plan on having over during social gatherings.
Will your deck be:
An intimate spot for two people to sip morning coffee or a late-night drink?
A place to invite a few friends over to catch up and laugh in front of a firepit?
A spot to host children's birthday parties or graduations?
The go-to place for all your neighbors to socialize and play and eat?
Answering these questions will give you a rough idea and lead us into the next factor. 
3. What Layout & Furniture Do You Need?
Once you know how you'll be spending time on your new deck, you should also plan out the layout for the space. 
Do you need:
A dedicated eating spot with a table and chairs? 
A space for your grill or smoker? 
How about a conversational area for guests to gather around and chat? 
Next, it's time to consult your inner designer and consider the furniture and decor you want or might get down the road. 
Here are some ideas:
Two couches facing each other with a gas-burning firepit in-between them
A U- or L- shaped setup for your furniture
Individual chairs or loveseats
Larger couches or sectionals
Lounge chairs or Adirondack chairs
Umbrellas, space heaters, plants
Pergola
While you're planning the design and furniture placement, always think about access to the stairs. It's best if you don't place furniture directly in front of them, it's a risky game to play, and you don't want a chair or table leg to fall off the top step.
PRO TIP: Cocktail Rails
If you plan on having friends and family come over often, a cocktail rail (also referred to as a drink rail) is a fantastic upgrade to your deck. It gives your guests another spot for them to rest their drinks while they're standing and socializing.
4. Property Size & Deck Shape
The size of your backyard can affect the shape of your deck. Generally, your deck should be wider than it is deep, with the longer side running alongside your house. 
If you have a large property, that isn't difficult to achieve. However, having a smaller yard might mean your builder will have to get creative with the design to produce a functional space for your needs. 
You can also consider a multi-level deck, which can add more space and dimension. The levels create a natural separation between designated areas and can make your deck feel larger. 
5. Your Location
You may encounter more building restrictions if you live in a city. Of course, you need to deal with permits and regulations wherever you live. But city homes often have smaller yards which can produce more obstacles, making it more of a challenge if you're leaning towards a larger deck.
Some of these obstacles can include:
Not being able to build close to your neighbor's property
Proximity to a septic tank or drain field
Location of gas lines (call before you dig)
6. Your Budget
It's no surprise that the bigger the deck, the more costly it will be to build. But did you know that larger decks are less expensive per sq. ft? It works out this way because of the fixed costs you have regardless of the size of the deck you build.
These include:
A permit fee
Costs to haul away debris
Stairs (although you may choose to add a second set on larger decks which adds to the total cost)
Materials (contractors will maximize the materials used to reduce waste, sometimes resulting in materials also costing less for larger decks)
If you're feeling indecisive, talk to your deck builder. You can calculate and compare costs between different sizes to help you make a decision.
PRO TIP: Making Your Deck Feel Bigger
If you end up building a smaller sized deck because of limited space or your budget, there are a few tips and tricks you can do to make the area feel bigger.
Rugs
Use an outdoor rug to create the illusion of separating the space. For example, separating a dedicated conversational area from a grill or eating place.
Reduce Clutter
Any size of deck, big or small, will look more closed-in if it's cluttered. But that doesn't mean you have to go minimalistic. Be strategic about arranging the space and utilizing multi-use furniture with built-in storage.
Decor
Grow potted plants, hang string lights or lanterns and add plenty of color around your deck. Doing so will help draw your guest's eyes up and around the entire space instead of just focusing on one area. 
Conclusion
Determining the best size for your deck comes down to a bit of planning and using your imagination. Carefully consider everything we've discussed today, and you'll surely be happy with your choice years down the road. 
If you live in the Southeast Michigan area and you're ready to get started, Custom Deck Creations will help you design your deck to accommodate how you plan on using your new space, all in 3D. Get in touch, and we'll gladly provide you with a quote and answer any questions you have.