What Are the Benefits of Picture Framing a Deck?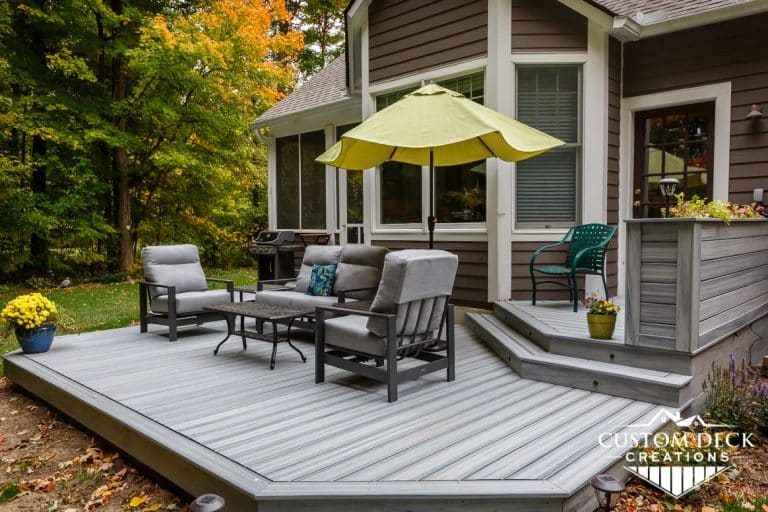 When you invest in a maintenance-free deck, you expect it to be durable enough to last for decades with minimal upkeep. And this is done by building it with exceptional care and quality. 
But, one very important and often overlooked step is picture framing a deck and how it contributes to the finished build.
So what are the benefits of installing a picture frame border on your deck? And what kind of design options do you have?
Let's start with the basics. 
What is Picture Framing a Deck?
Simply put, picture framing a deck means installing one or more boards along the perimeter of your deck to create a border like a "picture frame."
We install this border on every one of our builds. A picture frame is installed on the entire perimeter of your deck except along the edge that borders your home. While you can choose to install it on that side, we typically don't recommend it because:
It creates a visual separation between your deck and your home when your deck should feel like an extension of your home. 
We've heard homeowners say the picture frame almost creates a subconscious barrier. They feel the need to step over it every time they go out onto their deck. 
What Are Its Benefits?
The picture frame is a critical component to any deck build and has two main benefits or purposes:
Fascia & Strucutral Protection
First, understand that your deck's fascia is installed directly against its rim or perimeter joist. And the job of the picture frame board is to cover the gap between those two, protecting it from the elements—rain, pine needles, leaves, pollen, dirt, etc. 
Without it, a few undesirable things can happen:
Water can get trapped in the cracks, not dry out and possibly freeze (and thus expand) in the winter.
Dirt and debris can fall into the gap with no way to escape and hold onto moisture.
The fasteners connecting the fascia can break off when the pressure-treated rim joists swell and shrink due to moisture and temperature changes. 
The bottom line is, without picture framing a deck, water and all kinds of gunk can get into all the places they shouldn't. And over time, your deck's fascia will start to resemble a wavy slice of bacon instead of a clean and crisp border.
PRO TIP: Ask Your Builder 
Unfortunately, not all deck builders install a picture frame border. Sometimes we receive calls from homeowners asking us to come in and fix a recently built deck from another builder. Many times, it's missing this key component and has led to early damage that needs repairing. 
Aesthetics
The picture frame hides all of the cut ends of the decking boards, so they aren't visible when you're standing out in your yard. It creates a much more finished and beautiful look than leaving the cut edge.
On top of that, picture frame borders are installed using "solid boards," meaning there is no groove on the side like typical composite decking. So the board's color wraps around the edges, making it even more visually appealing.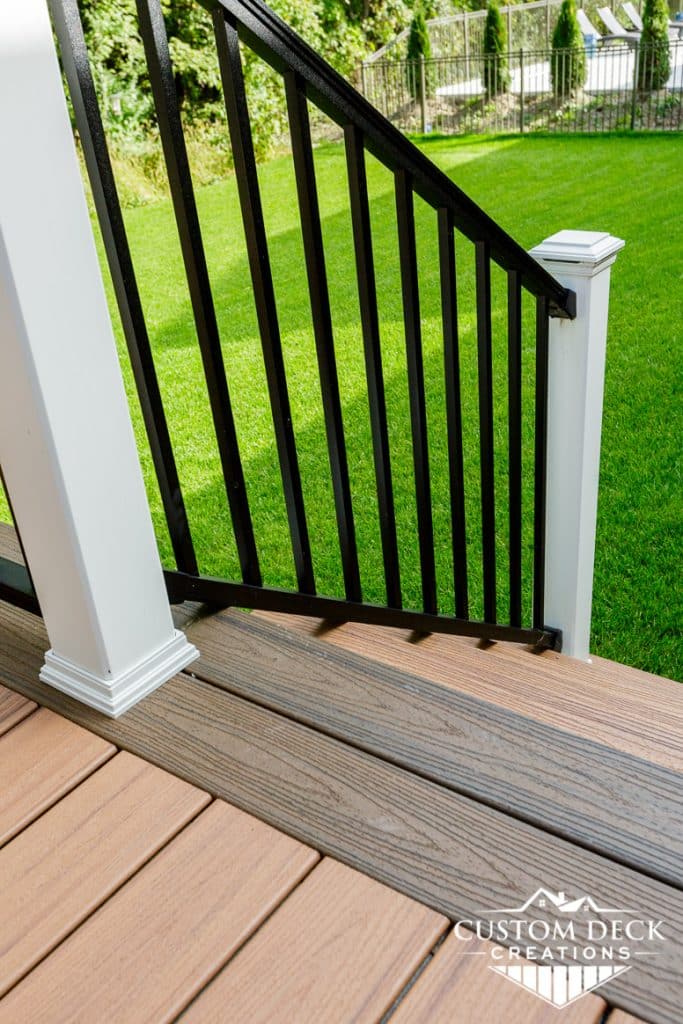 Design
Hiding the cut ends of the decking boards isn't the only way picture framing improves the look of your deck. But you can also customize the design to your liking. 
Double Picture Frame
We install a single-board picture frame on about 80% of our decks. However, a wider, double-board picture frame is one of the most economical and visually impactful deck upgrades you can choose, which is installed on the remaining about 20% of our decks.
Consider this. Almost every deck has railings, and they cover a large portion of a single-board picture frame. However, a double-wide picture frame expands farther inwards on your deck, making it much more visible even with a railing. The result is a bold and beautiful design. 
Colors
Have your picture frame border the same color as your deck boards to create a more subtle design change. Or you can complement your decking with a darker-colored picture frame that adds some contrast. Using contrasting colors will make the border pop and draw the eye. 
PRO TIP: Cocktail Railing
We recommend choosing the same color board for your picture frame and cocktail railings if you decide to install them. Considering both will border your deck, choosing the same color is a wonderful way to tie the two together, creating one seamless design.
The Bottom Line
Picture framing a deck is the key to protecting its fascia and rim joists, helping to keep it in top shape for many years to come. But it's also a simple way to dramatically improve your deck's aesthetic appeal with multiple design options using numerous boards and colors. 
Ready to Design Your Deck?
At Custom Deck Creations, we work with clients across Southeast Michigan to design and build their dream deck. We want to hear your thoughts and ideas so we can create the perfect outdoor space that suits your needs and stays within your budget.
For some inspiration, take a look at some of our most recent builds. When you're ready to move forward, give us a call for a free, over-the-phone estimate. We'd love to chat!
Did you enjoy this post and find it helpful? If so, share it with a friend! Want to keep reading? Check out these posts next: