Fasteners for Composite Decking: What Do We Use?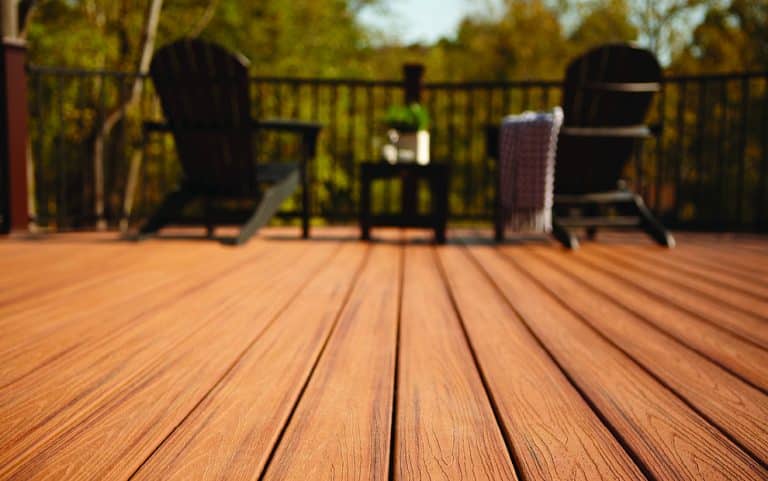 Over the years, we've tested all kinds of fasteners for composite decking. Some were good, some not so much. And over time, we've found what styles and brands work the best.
After all, you want your deck's surface to stand the test of time and be gentle on your feet. And with the fasteners we use, you can count on all of that, plus be confident it will be a beautiful addition to your backyard. 
Let's get into the specifics.
Fasteners & Composite Decking Profiles
Before we go on, know that capped composite decking (such as Trex) comes in two profiles. These determine which type of fastener we can use; here's a quick overview of them both:
Side Grooved Boards
The grooved profile is your main decking board, and as the name suggests, they have a groove on both sides, allowing space to install hidden fasteners.
We don't recommend using them as perimeter boards, such as a picture frame or stair tread. You'll want to use a square edge board profile in those cases: 
Square Edge Boards
Square edge boards (also known as solid boards) don't have grooves. Instead, the color wraps around both sides, making them great for a picture frame, stair tread, or cocktail board. 
But, considering there are no grooves on the boards, this profile can't be installed using hidden fasteners. The only option is to use screws fixed directly into the face of the board.
Types of Fasteners for Composite Decking
Now that we have that covered, know that it's a standard for us to use hidden fasteners on every deck we design and build. Here are our primary choice of fasteners:
For the main decking boards (grooved profile), we use CAMO Edge Clips. They're a 304 stainless steel fastener with a 410 stainless steel screw, and they bite down into the side grooves of the composite decking. In our experience, they have a solid hold, are easy to use, and make installed decking much more secure than the alternatives.
But these types of composite deck fasteners aren't always the standard. It's common for other builders to use friction-only plastic clips that aren't as strong. Why do they do that? Because it's cheaper to use plastic than steel. It's an unfortunate truth, but now you know to ask about it!
Plugged Screw System
When we can't use side-installed hidden fasteners (for example on the perimeter picture frame boards), Custom Deck Creations and other reputable builders will use a plugged screw system. How this works is after installing a screw, we install a plug made from the same material and color of the decking board to plug the hole left by the screw. 
The specific system we use is called Cortex by FastenMaster. They are more expensive than visible, color-matched screws. But, FastenMaster offers Cortex specifically for Trex, so you get a higher-quality install that blends in nicely with your deck. 
A Few Exceptions…
Trex Enhance
There are instances where a visible, color-matched face screw will be the only option. For example, the Trex Enhance Basics and Enhance Naturals line of decking is manufactured with a scalloped bottom (opposed to flat). And unfortunately, there just isn't enough "meat" on these boards to use the plugged screw system.
Fascia
Fascia is another exception. It's much thinner, about half as thick as a deck board. So for a proper install, using color-matched face screws is the only practical solution. 
PRO TIP: Ask Your Contractor
It's not uncommon for builders to opt for the color-matched face screws as fasteners for every composite deck, even if they can use Cortex. Often it's another case of trying to save money and be a cheaper "bid" for your work. Remember to ask your contractor about using a plugged screw system wherever possible!
The Bottom Line
Building a quality composite deck that looks amazing and lasts for decades is important. That's why we use durable, stainless steel hidden fasteners whenever we're installing grooved boards. And when that's not an option, we always choose a high-quality alternative like Cortex or color-matched face screws where necessary. 
Let's Start Building!
If you're ready for a brand new composite deck, we'd love to chat!
At Custom Deck Creations, we help clients across Southeast Michigan design and build their dream decks. We'll work with you to make sure your deck meets your vision, is practical for your needs, and stays within your budget. 
Feel free to check out some of our most recent builds or get in touch for a free, over-the-phone estimate. 
If you've enjoyed this article, share it with a friend who would find it helpful. Want to keep reading? Check out these posts next: