Deck Railing Requirements: When and Why You Should Install Deck Railing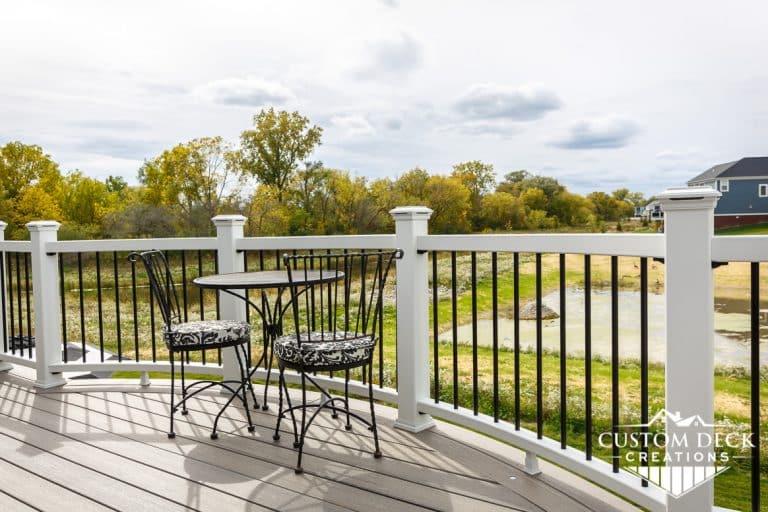 We can all agree that it's common for the codes and regulations to cause a bit of confusion when you're building a deck. It's no different when it comes to railings.
What kind of requirements are there? And does your deck really even need railing? What about stair railing, is that different? 
Today, that's what we're going to talk about in simple, easy-to-understand terms. We're diving into the deck railing requirements you need to know about during your build. 
Deck Height & Railings
Note: These codes and regulations are part of the IRC – Section R312.1
The height of your deck will determine whether or not you're required to install a railing, but the specifics vary from state to state. In most scenarios, you'll need railings (also referred to as guardrails in the codebook) on any deck where the grade around the deck is 30 inches or higher from the deck's surface at any point within 36 inches from the deck's edge. In even simpler terms, if your deck is 30″ or higher off the ground, you need to install railing.
But depending on your project and landscape, it may not be 100% clear if you need to install railings. The local building official of your municipality will have the final say; if they feel your deck would be unsafe without one (even if it technically meets code), they'll require it.
Deck Railing Codes & Requirements
Railings keep you and your guests safe during social gatherings or when you're spending the afternoon on the deck with your family. So it's understandable that you'd want to make sure your deck's railings are up to par. 
If you install a railing, whether because of code or personal preference, it will need to meet these requirements:
All railings/guards must be 36 inches or taller measured from the surface of your deck. 
There must not be an opening where a 4-inch diameter sphere could pass through any part of the railing.   
Must withstand a 200-pound load applied in an outward direction.
Insect screens will not pass as an acceptable guard.
The main concern here is safety. A railing that's too short would be easy for someone to fall over accidentally. And a space that's too wide between the balusters would make it more likely for pets or small children to slip through and fall. 
As for measuring if a railing can withstand 200-pounds, it's a bit tricky. But the easiest way to put it to the test is through railing post-deflection. Essentially, if you can grab the top of a railing post and move it by more than 3 inches, then it fails the 200-pound load test. But if you can only move it less than 3 inches, then it's a pass.
Pro Tip: Small Pets
If you happen to own a small enough pet that could slip through an opening smaller than 4 inches, there's a solution! You can have a custom railing built, or commonly use chicken wire as a temporary measure if needed.
Why You Should Consider Installing Railings, Even if You Don't Need To
Safety is the driving idea behind railings' rules and regulations, and those aren't the only reasons. But even if you aren't required to install them, we still recommend doing so.
Here's why:
Railings offer extra fall protection for children and guests who are unfamiliar with your deck. Even falling from a short distance could break bones.
They allow you to install a lockable gate that provides another layer of security for children or pets.
They provide an extra layer of protection for those aging in place or if you have any older adult guests over who could take a wrong step. 
Railings add to the overall design of your deck and improve curb appeal.
Any deck without railings may not be considered "market-ready" in some situations.
What About Handrails on Stairs?
Note: These codes and regulations are part of the IRC – Section R311.7
Similar to the requirements for railings, there's a separate code for handrails on your deck stairs. It states that any set of stairs with four or more risers must have a continuous graspable handrail on at least one side of the stairs. And the handrail must be installed at a height of between 34 and 38 inches from the nosing of the stair treads.
Also similar to railings, stair handrails must be able to meet the 200-pound load requirement, but this time measured in both an outward and inward direction.
Note: This code is not affected by the railing requirement on decks 30 or more inches in height. Regardless of how tall your deck is, you're required to have a handrail if the stairs have four or more risers. 
Pro Tip: Handrail Vs. Guardrail (Or Railing)
While these terms are often used interchangeably, we thought it would be helpful to specify the difference between the two. 
A handrail is for gripping while you're walking on stairs to keep your balance. It needs to be easy to grasp and continuous along the entire length of the stairs.
On the other hand, the purpose of a guardrail or railing is to prevent you from falling off the open sides of the deck or stairs.
Conclusion on Railing Requirements
These rules and regulations are in place for a good reason. Railings ensure you and your guests will be safe any time you're out enjoying your deck. After all, we all know how lively dinner parties can get sometimes.
Railings can also be an aesthetically pleasing element of your backyard design, which improves curb appeal. And if you decide to sell, your home will be that much closer to being market-ready.
If you have any questions on railing requirements in your area, reach out to your local deck builder or building department. 
What Next?
If you're in the market for a brand new deck, let's talk!
At Custom Deck Creations, we build composite decks for clients across Southeast Michigan. We work with each customer to design and build their dream deck while meeting all the codes and requirements. Feel free to check out some of our most recent builds.
If you're ready to get started, give us a call, and we'll provide you with a custom quote based on your specific project.
If you've enjoyed this article, share it with someone you know who's planning on building a deck. Want to keep reading? Check out these posts next: