What Does "Maintenance-Free Decking" Really Mean?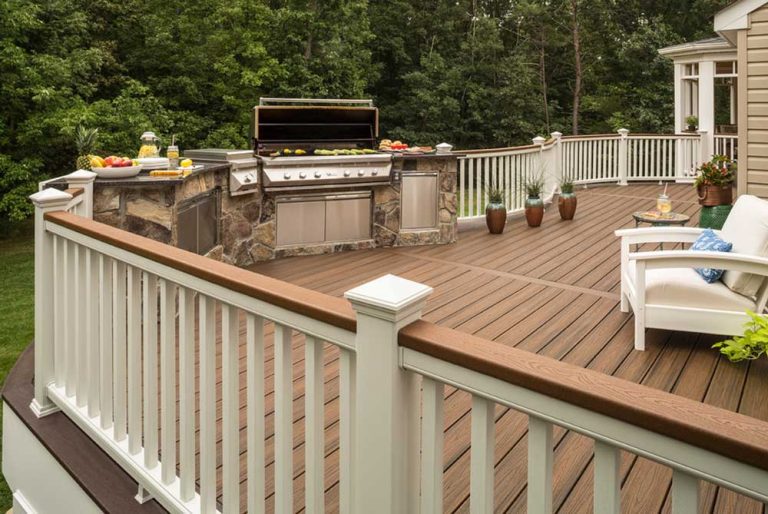 Are you thinking about a new composite deck, but wondering if a maintenance-free deck really is free from ALL maintenance?
When the term "maintenance free" decking first came out years ago, manufacturers, suppliers, and builders all used this common marketing term. And while capped composite decking is still and always will be considered by many as zero maintenance, the legal teams of decking board manufacturers switched to a new term, low maintenance, for one reason: some consider standard cleaning of the deck surface (sweeping & hosing) as "maintenance". Here's a closer look at what it looks like to maintain a wooden deck vs a capped composite deck, and why many consumers choose to install a capped composite, AND how it is actually less expensive to install a capped composite deck over a wooden deck considering the ongoing maintenance costs of a wooden deck.
At Custom Deck Creations, our decks are designed and constructed exclusively with high quality low maintenance capped composite decking (the latest and greatest technology in the decking world) such as Trex, Timbertech, and Azek, among others. We're fairly familiar at this point with what is (or isn't) involved in keeping a composite deck looking like new year after year. Let's dive in.
Wood Decks Require Time-Consuming & Expensive Annual Maintenance
Wood decks look great when they are first constructed. The wood grain patterns are clear and vibrant, and the color of fresh wood is visually stunning and a pleasurable sight to behold.
However, if you have ever had a newly built wooden deck, or know someone who did, you know how short-lived this beauty is. Within one or two seasons of rain, sun, and snow, the glory of a wooden deck starts fading.
By the end of the first year after it's built, the color of a wooden deck starts to turn to a lifeless and unattractive grey, no matter what species of wood was used to build it. The grain patterns and colors no longer pop out in a pleasing way. Instead, the boards begin warping and cracking, and the entire deck starts looking worn and unattractive.
As the seasons go by, sun and wind, heat and cold, and the scraping of snow shovels against the deck surface all contribute to the deteriorating of the fabric of the wood itself. The once beautiful grain patterns start separating and producing dangerous splinters. Ugly cracks develop within the grain, and not only is the deck less attractive to the eye, it now becomes increasingly hazardous when you use it.
Restoring the former beauty of a wooden deck means getting out the belt sander and spending long hours sanding down the wood until the grain patterns and colors reappear. Then, applying several coats of deck sealer to the surface (which really only slows down the process of fading and deterioration, not preventing it).
The other alternative for preserving a wood deck is painting it. But paint covers up the grain patterns and wood color, defeating the very reason for using wood in the first place. Paint also doesn't last forever. A painted deck needs repainting every 1-2 years. Before it can be repainted, old, flaking paint has to be scraped down with a wire brush and then, yup, sanded – no getting away from that.
As wooden decks go through cycles of heat and cold, it is also inevitable for nails or screws to work loose in the wood. The decking then pops-up and curls from the joists below, causing trip-hazards and an unpleasant aesthetic look.
Loose nails and screws also add extra time to the annual maintenance of a wooden deck. Before repainting or sealing the deck each year, you have to carefully inspect the entire surface, pounding down nails or driving new screws, so the decking is once again tight against the joists.
All of this adds-up to hours and hours of time, effort, and expense every single year when you have wood decking.
Capped Composite Decking is Free from Annual Maintenance. Really.
Capped composite decking (such as Trex, Timbertech, and others) are significantly different than wood when it comes to fading colors, splintering wood grain, loose nails and screws, and the time and money needed for keeping a deck looking like new.
Capped composite decking is made with a combination of wood and plastic. Trex's composite boards utilize reclaimed plastic from plastic bag waste blended together with extra-strong adhesives. Finally, a layer of tough resin finish is applied to the surfaces of the decking material, producing truly maintenance-free decks. There is no sanding. No painting. No staining. No splintering. No warping. Ever. Besides the occasional wash with a hose or power washer, there is no annual maintenance. Ziltch. Zip. Nada.
Capped composite looks brand new each and every year, year in and year out. In fact, most capped composite manufacturers include a 25 year warranty, longer than most people own their home for. Capped composite doesn't break-down, splinter, or fade, no matter how much sun, rain, snow, or ice it receives over the years. It also holds fasteners tight, so nails and screws don't come loose over time.
Maintenance-free decks do require a little care and some regular cleaning, but it is nothing like the effort or expense needed for maintaining a wood deck.
How to Maintain a Capped Composite Deck
While this section is specific to Trex decking, the information applies generally across the board to most every capped composite decking brand.
Your capped composite deck will look as new as the day it was installed for years to come. With capped composite decking, a little goes a long way in keeping your deck looking brand new. Because a deck is located outdoors and is exposed to the elements, some cleaning is required for wiping away dirt and debris. However, because capped composite decking is so durable, this process only takes a small amount of time and effort, especially compared to a wood deck.
Sweeping with a good outdoor broom and hosing-down a Trex deck with a garden hose easily cleans away average dirt build-up. If the deck has not been swept or hosed down for some time, or if it gets especially dirty due to heavy use or nearby construction, use of a manufacturer recommended cleaning product quickly gets the job done.
Trex recommends composite deck cleaning products only on the first generation of composites (installed before 2010), otherwise just utilize soap and water. Check with the manufacture or your deck builder for recommendations for your specific decking product.
You can also use a warm, mild, soap and water solution for cleaning dirt on the high-performance Trex products, including Trex Transcend, Trex Select, and Trex Enhance. Pressure washing also works, but be sure to always use a pressure under 3100 psi.
For stubborn stains in small areas, you may need a soft bristle brush for removing the stain from inside the embossed pattern on the decking surface.
Here are a few other do's and don'ts for keeping Trex decking looking like new, year after year:
Do wipe up food spills as soon as they happen by spraying the area with a hose and using soapy water and a soft brush for cleaning inside the embossed patterns. (Though don't worry if something does spill, even mustard or red wine, which will wipe up easily as well – just don't let it sit longer than a few days before wiping it up.)
Do regularly clean away pollen and dirt with a garden hose and soap and water as needed to prevent mold from forming. Mold can form on any surface, including any decking brand, that harbors food for mold such as pollen and dirt. Just hose it away.
Do remove all soap residue after cleaning to prevent a film from appearing on the decking surface.
Do use a plastic shovel for removing snow and ice (if desired), not a metal one which could scratch the surface.
Don't use rock salt or calcium chloride for melting ice or snow on the deck. These types of products will corrode fasteners and connectors used to build decks, which may result in needed repairs or deck failures.
Don't use solvents like acetone for cleaning your Trex deck or railings.
Don't use a pressure washer with pressures above 3100 psi.
Trex low-maintenance decks are truly free from all expensive and time-consuming yearly maintenance because they never need sealers, painting, sanding, or re-nailing. Ever. Trex decking does not warp, crack, splinter, or fade. All a Trex deck needs for retaining its original luster is a little regular cleaning and care, and your deck will keep on looking as new as the day it was built.
For more information about how to maintain a deck built with capped composite Trex products, or for a free deck design in Southeastern Michigan, contact Custom Deck Creations, anytime.