Under Deck Ideas for Maximizing Your Unused Outdoor Space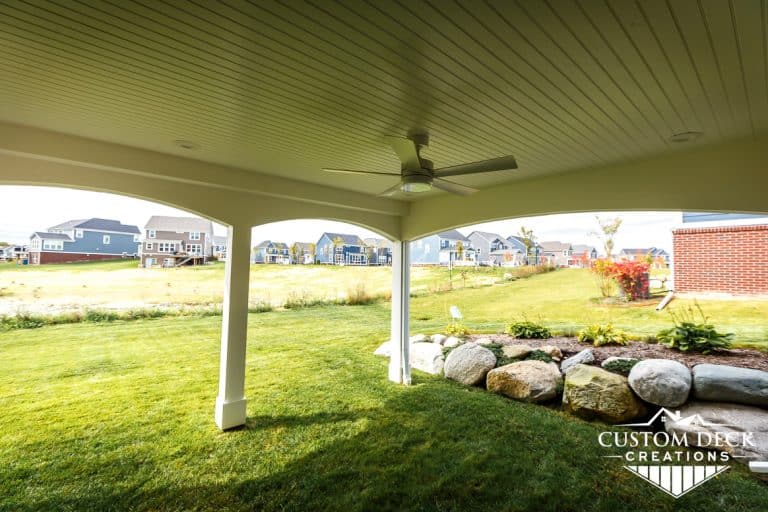 Do you have a deck that is tall enough so that you have some unused space underneath it? Don't fret – this is a good problem to have! Whether you decide to use that space for storage, snacking, sports-watching, soaking, or sitting around and chatting, we have some ideas for you.
Outdoor Kitchen and Dining Space
An under-deck space is an excellent opportunity to take your under-deck area to the next level. Install a kitchen prep area with a sink, countertops, and a refrigerator. A kitchen prep area is an inviting set-up for those wanting to hang out, eat a meal or snack, and sip a favorite beverage.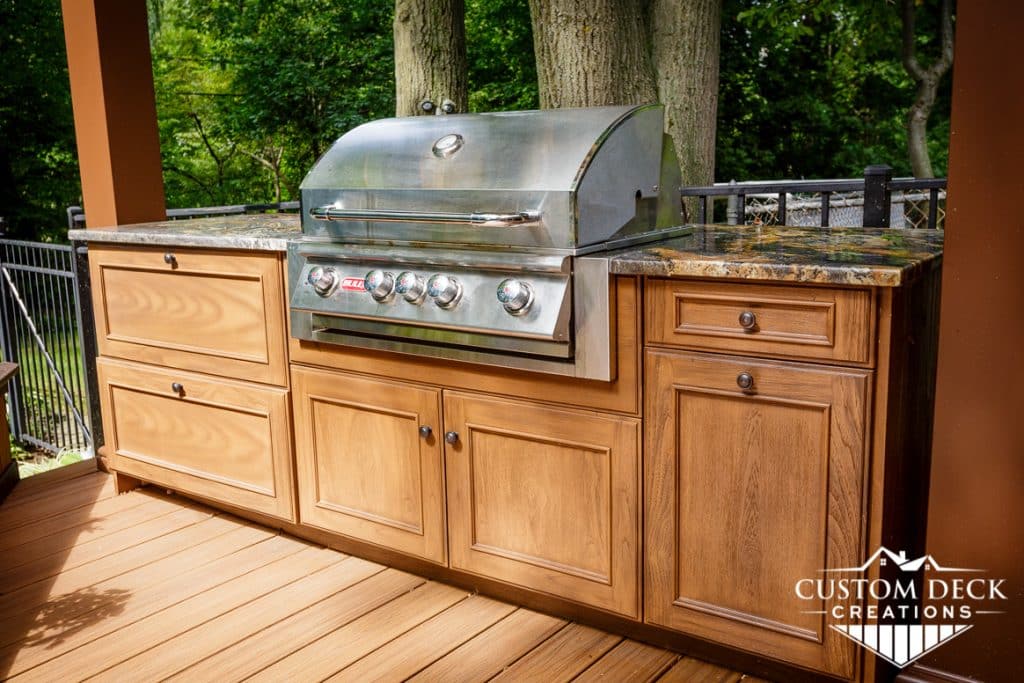 Soaking in a Hot Tub
We all love unwinding and relaxing outdoors – especially in a hot tub! Designate an area so you have got utmost privacy to soak in a spa or jacuzzi. There is nothing like being immersed in hot water with the tub jets running on a crisp, starry night. Install under-deck lights to add to the leisurely atmosphere.
Potting Area
If you have a lovely garden, this next option may be interesting. What's a potter's shed? This is a small shed or structure that gardening enthusiasts use to transplant plants, work with clippings, or do just about anything garden-related. Transform underneath your deck into a potting area. Not only is this space available ideal for this, but you'll have more storage than a shed typically would have.
Pet Play Place
For those of us with pets, we live to pamper them. This idea works for both cats and dogs. If you have a cat, put up a scratching post and a few places so they can perch and sun themselves. If you have a dog, include a soft bed and a few of their favorite chew toys, and make sure they can monitor their (your!) yard and protect it from those scary squirrels and bothersome birds!
Entertainment and Sports Spot
First, make sure you have a good under-deck drainage system. You want to keep this area dry, particularly with electronic equipment; this is important. Next, have a big screen TV, a mini-fridge, and definitely some comfortable seating. Finally, make underneath your deck the perfect spot for watching your favorite team crush it, an intriguing movie, or a talk show. If your preference is music, installing a stereo is another viable choice.
Meditation Location
A quiet and sheltered space under your deck is a beautiful spot for meditation and relaxation. Have this spot as your personal oasis to relax, practice yoga, or even as a workout area. You could bring yoga mats, an exercise ball, and music, all of which lend themselves to this purpose. A tabletop fountain is also a possibility to add to this. Nothing like the sound of gurgling water to help with meditation and inspiration.
Storage Galore
Do you prefer more time on the deck than under it? That's fine because under your deck is a suitable storage spot. Under the deck is a good place to store yard equipment and sporting equipment, and if you have things like kayaks, bikes, or an ATV, then below your deck is a secure spot to store these items.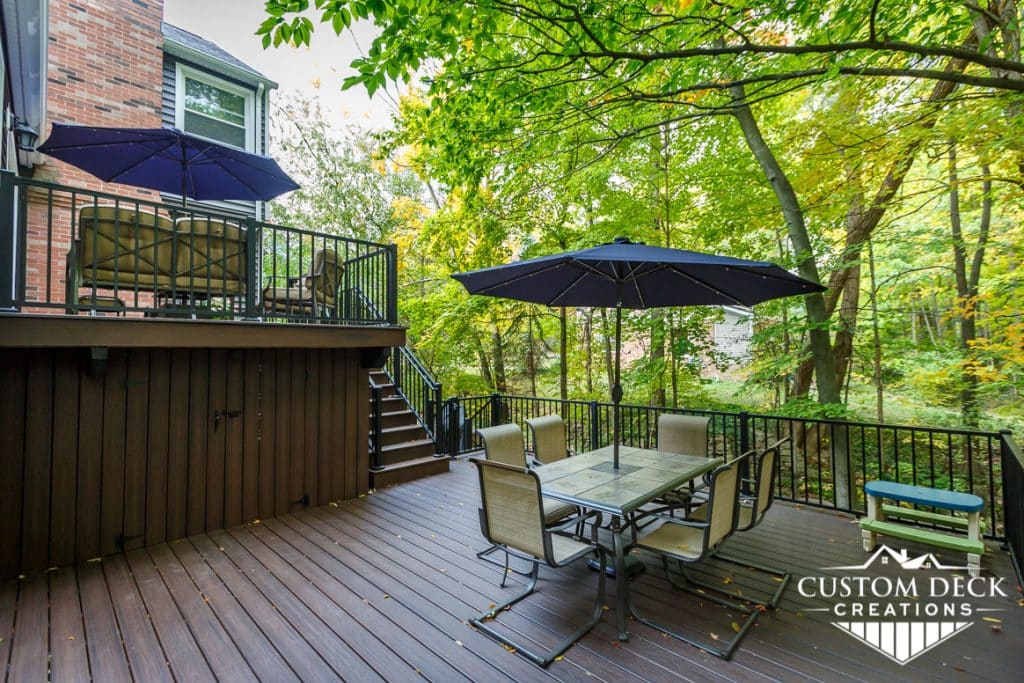 Screen It In!
This option is worthwhile if you want to do two things. Number one, it keeps leaves and pine needles out from underneath your deck, and number two, it reduces the number of bugs that may come in. Generally, screening in your patio area is always a wise decision. It helps protect from the winter elements and allows fresh air to come in.
Three Seasons Room
Winters can get cold, but what if we told you we could extend the use below your deck to almost all year round? Install some heavy plastic or plexiglass around your deck's columns and support legs. This will increase your time outdoors and make your under-the-deck area insulated to enjoy more outside time.
Sitting and Socializing
This is what it's all about! Your outdoor area underneath your deck is a perfect cove for conversation and socializing. Invite family, guests, and neighbors into your outdoor living room. Comfortable furniture, a throw rug, and throw pillows will tie this together. Remember, a blanket for the cooler weather. A bar cart may be a welcome addition.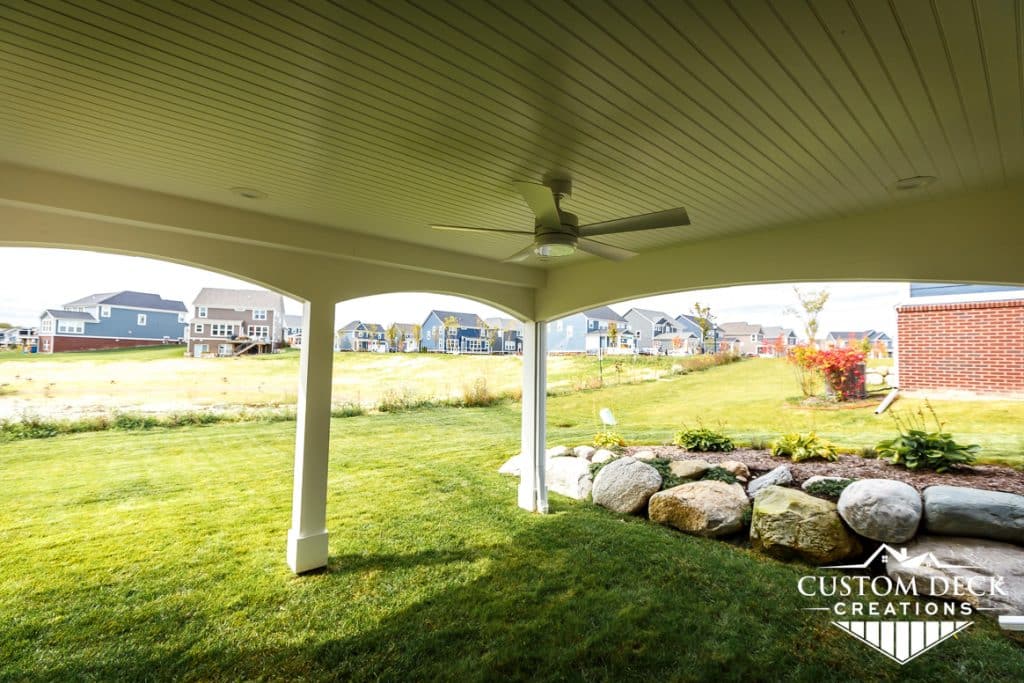 Final Thoughts
You've got the space, so you might as well use it. Most of these ideas are DIY, combining many to maximize outdoor enjoyment. We love seeing people get the most out of their deck, both above and below. Having a usable area underneath your deck will add fun and purpose to being outside while adding value to your home.