The 3 Types of Trex Decking: What Are the Differences?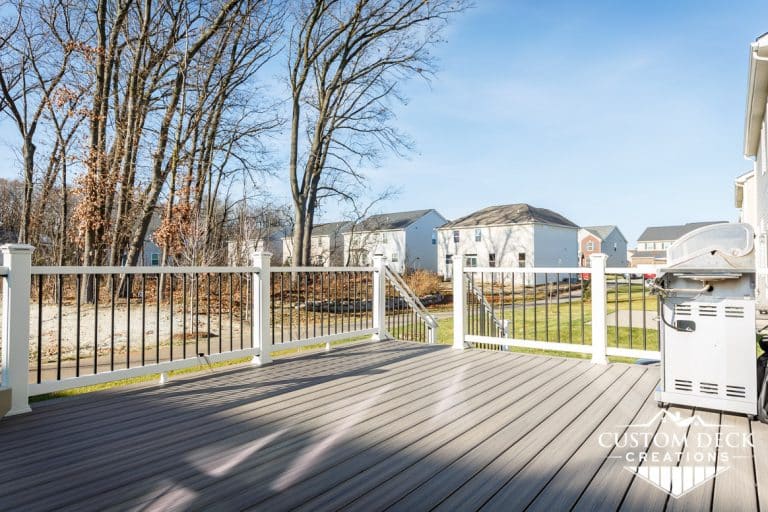 There are three lines or types of Trex Decking, all of which can transform your outdoor space into the yard of your dreams where you'll happily spend your days. 
But what's the difference between these Trex decking options? And are they all the same quality?
 Like most things in life, Trex classifies their levels of decking as:
Good (Trex Enhance Basics line)
Better (Trex Enhance Naturals and Trex Select lines)
Best (Trex Transcend line)
Which is best for you? And how do they compare to each other? Stick around, and we'll find out. 
How the Types of Trex Are Similar
Before we jump into what makes each line of Trex unique, let's touch on how they're all similar. 
Every tier of Trex decking is capped, which gives them the same fade and stain resistance. They also all come with a 25-year fade and stain warranty, on top of the standard 25-year limited warranty on almost all Trex products.
The underlying structure for each tier of Trex decking lines are all framed the same way, and they all can be installed utilizing hidden fasteners for the decking boards.
Differences Between Trex Decking Types
With the similarities covered, the key differences between the types of Trex decking come down to three things.
Color Selection
What color does Trex come in? There are plenty to choose from, but each color option is unique to the individual line of Trex. 
Durability
The composition of the cap is different on each tier. Consequently, each type of Trex board will vary in how effectively it resists scratching and marring. More on this below.
Profile
Trex boards come in either a scalloped or solid profile, depending on the line. Also more on this later.
Let's dive into the details of each to help you decide which is best for you. 
Trex Enhance Basics (Good) & Trex Enhance Naturals (Better)
Trex Enhance Basics
Trex regards Enhance Basics as good on their tier of decking options. It's a durable composite product but with the affordability of wood and comes in three traditional colors. The color options within the Enhance Basics line are monotone, meaning there is little variation from one board to the next.
Trex Enhance Naturals
On the other hand, Enhance Naturals is considered better on the Trex tier. With the exception of the color options, both the Enhance Basics and the Enhance Naturals lines are identical. Enhance Naturals stands out with five two-toned choices, all with a nature-inspired, authentic wood grain appearance. With the black gradients Trex adds in a truly randomized pattern during manufacturing, each board will look slightly different from the next.
Both
Both types of Trex Enhance have a softer cap than the Select or Transcend lines, meaning it's not quite as hardy as the other lines of Trex. But both the Enhance lines also feature a deeper grain patterns than the Select or Transcend lines, which hide scratching and marring more efficiently than the Select line.
For the color options and durability the Enhance Naturals line offers, the Enhance Naturals is one of Trex's most popular options (approximately 45% of our decks are Enhance Naturals).
Also unique to both Enhance Basics and Naturals is the scalloped profile of the boards. This feature makes them lightweight and easy to handle, without affecting the durability of the board (you won't start bouncing on your deck if you chose the Enhance line of decking).
However, there are a couple of things to consider about this profile:
You'll see the scalloped profile on the cut ends of the boards, specifically on the deck's outside corners and the ends of the stairs.
You won't be able to use the Enhance line of decking as a cocktail board or drink rail (the board on top of your railing)
They require visible color-matched face screws for the perimeter board, parting board, and stair treads
To summarize, here are the key traits to keep in mind for the Enhance lines:
Three colors (Basics) or five two-toned colors (Naturals) 
Least durable but hides scratches and marring better than Select
Scalloped profile
Trex Select (Better)
Like Enhanced Naturals, the Select line is considered "better on the tier" – with one major caveat which we'll cover shortly. It offers a little more durability and comes in five solid, rich color choices. 
Trex Select boards feature a solid profile, which means: 
You'll be able to use them as a cocktail railing 
You can use a plugged face screw system (such as Cortex plugs) for the perimeter boards, parting boards, and stair treads
It's worth noting that the Select boards are slightly thinner than the other types of Trex though, so we don't recommend combining Trex Select decking with either Trex Enhance or Trex Transcend decking boards. 
In summary, Selects main features include:
Five solid, rich colors
Improved durability over Enhance
A solid profile, which can double as a cocktail railing (7/8″ or 2″)
However – and here's that important caveat – the Trex Select decking line has a shallower grain pattern, and a finish that is "sheenier" than the other Trex lines. This means that any marring or scratching that does occur on a Select deck board will absolutely show much more easily than on a Trex Enhance or Trex Transcend decking board. It's for this reason only about 10% of our decks are the Select line.
Trex Transcend (Best)
Transcend is the top of the line and considered the best amongst the Trex tiers. About 45% of our decks are the Trex Transcend line. Like the Trex Select line, Trex Transcend decking boards features:
 A solid profile
The ability to use Cortex plugs, so any horizontal surface on your deck won't have any visible face screws (ask your builder about this option)
But where the Transcend line truly shines is its unmatched durability and a broad range of colors that provide the beauty of exotic wood without endangering forests. You have the choice of three earth tones or five tropical tones, giving you the flexibility to accurately match the design of your yard. 
In summary, Transcend offers:
Eight color options (three earth tones & five tropical tones)
The most durability out of all Trex lines (it is hard to scratch a Transcend board)
A solid profile that can double as a cocktail board
Trex Decking Prices
Now that we've covered the similarities and differences between the types of Trex decking, let's talk price; I know that's what you've been waiting for!
Naturally, we won't be able to tell you exactly how much your deck will cost without knowing your project's details, but we can help you get a rough idea. 
Much of the cost will be directly related to your selected decking board (remember the good, better, and best tiers):
Enhance Basic: Lowest Investment
Enhance Naturals & Select: Medium Investment
Transcend: Highest investment
Installing an average 300-325sf deck will be about a $19,000 to $24,000 investment; the price will vary depending on the features and type of Trex decking you choose. To give you an idea of the price differences between the Trex lines, here's what you could expect (this will vary based on your geographical region):
Enhance Naturals and Select will cost about $1200 more than Enhance Basics
Transcend will cost about $2000 more than Select or Enhance Naturals
If you're in the Southeast Michigan region and are ready to get a more accurate estimate, we offer a free, no-obligation phone estimate. 
Which Type of Trex Decking is Best For You?
You have a big yet exciting decision to make! And we hope this post will help you come to the most suitable choice. Remember, all types of Trex decking are highly durable, stain and fade-resistant, and come with a 25-year warranty, so really, you can't go wrong. 
But try asking yourself these questions:
How much wear and tear will my deck receive in the coming years?
What color will add to the overall design or aesthetic I'm going for?
What's my overall budget?
To give you an idea of what's most popular, of all the decks we build at Custom Deck Creations, about 45% are Enhance Naturals, 45% are Transcend, the remaining 10% are Enhance Basics or Select. 
Are you having a hard time deciding? Take a look through our gallery to get inspired!
If you have a question or you're ready to take the next step, please get in touch! Our crews at Custom Deck Creations have over 65+ combined experience and are more than happy to walk you through the process!