3 Considerations Before Building a Curved Trex Deck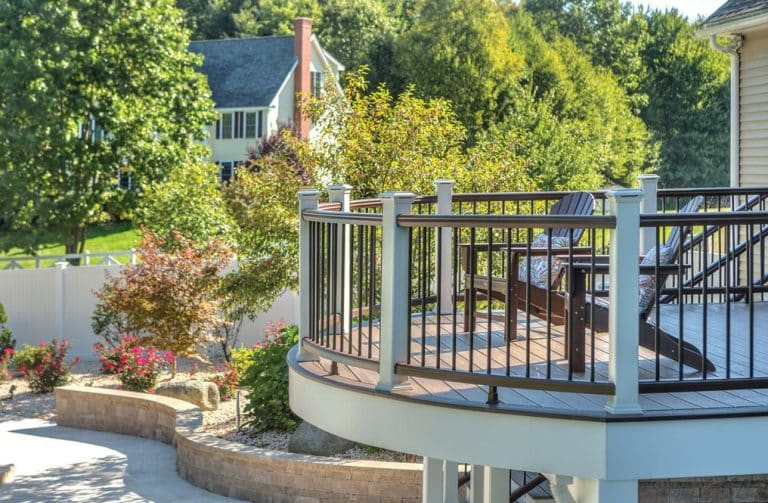 Bringing your outdoor space to life with a new design can be a lot of fun, and nowadays, there's so much information at our fingertips. You can find an unlimited amount of designs to feel inspired by and borrow for your own projects, from resources like our gallery to Google Images, Pinterest, etc.
And one of these design elements you may have come across in your search for inspiration is a curved Trex deck. While this style seemed to have hit its peak a few years ago, it can be beautiful and add an interesting aesthetic element to your deck, especially when coupled with a curved railing. 
However, there are some factors to think about before moving forward with this deck style. So today, let's talk about three things you should consider before building a curved Trex deck and railing. 
The first thing to consider and understand is the investment.
1. The Cost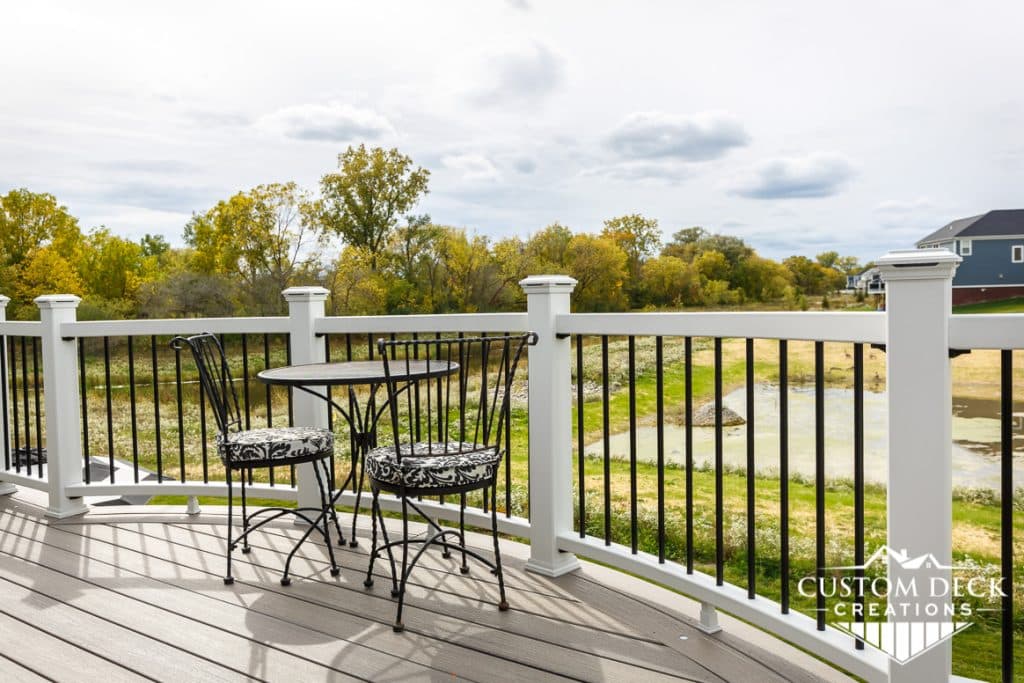 It takes a significant amount of time and focus to curve a deck and railing properly because both elements must bend at the exact same radius. Naturally, your builder will also need to curve the frame, which requires a lot of structural blocking, additional metal, and kerf cutting the rim joists. So to build a curved Trex deck, it can take twice as many labor hours as it would to build your standard straight or even multi-angled deck edge. 
Also, if you're interested in a curved Trex railing, keep in mind that only its most expensive line can be curved (The Trex Signature Rail). These railings will need to be curved first and then powder-coated, which alters the manufacturing process and significantly adds to the total price. 
So when you consider everything, it adds up to a lot of time and coordination. You're likely looking at an additional investment in the $2,000 to $5,000 range for a curved Trex deck. The price will vary depending on the curve's design (length and radius), if you include railings, and what material the decking board and railings are. 
2. Your Builders' Expertise
The second factor to consider is who you hire to install your curved deck and the availability of a specialist in your area.
At Custom Deck Creations, we don't specialize in installing curved Trex decks, but a few other local builders do. So if you're 100% set on having a curved design, we suggest working with a builder who specializes in that style and has plenty of experience and the right equipment.
These builders use specialty decking ovens to curve the decking and railings. They're similar to your kitchen oven but long enough to fit the boards, and they're set at a lower temperature to heat the board evenly, so it's easily bendable. 
3. The Line of Decking
Lastly, keep in mind that only Trex Transcend and Select boards can be curved. 
Trex Enhance decking (both Basics and Naturals) has scalloped bottoms (where it looks like the base has been scraped out in sections). And unfortunately, once this profile is heated and curved, it tends to warp, which is far from an appealing look. 
An Alternative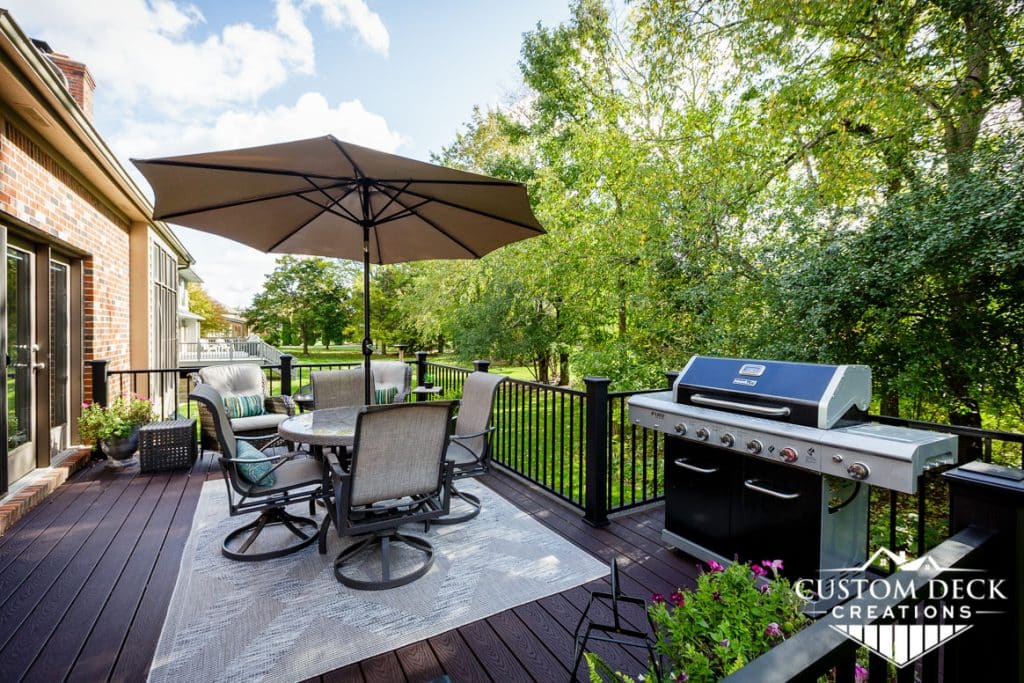 It only makes sense that we finish this post with an alternative option! 
A beautiful way to add a unique element to your deck without actually curving the boards or railing is to build a deck bump out with angles. A couple at 45 degrees or many different angles at smaller projections can create a unique, aesthetically pleasing curved effect. And the cost to do so is significantly less (by thousands of dollars) than actually curving the decking and railing. We build decks like these every week!
If this design sounds like something you'd like, we'd be happy to generate a few 3D plans before the build, so you get a visual. Let us know!
The Bottom Line
A curved Trex deck and railing are undoubtedly beautiful and bring a unique aesthetic to your backyard. However, it's not a budget-friendly design, and finding a reputable specialist may be challenging depending on where you live. 
Opting for a deck bump out (or two) is a great alternative that's easier on the budget and still gives your deck a unique design!
Ready to Build?
At Custom Deck Creations, we build composite decks for clients across SE Michigan. Our builds are all custom, so we can add deck bump-outs and other creative elements you might desire. We'd love to work with you to design your deck so you fall in love with your new backyard!
When you're ready to get started, please get in touch! We'll chat about your project and give you a free over-the-phone estimate. Also, feel free to look through our most recent projects for inspiration.
Did you enjoy this post? Please share it with a friend in the area who's considering building a deck. Want to keep reading? Check out these posts next: