6 Financing Options For Your New Deck or Patio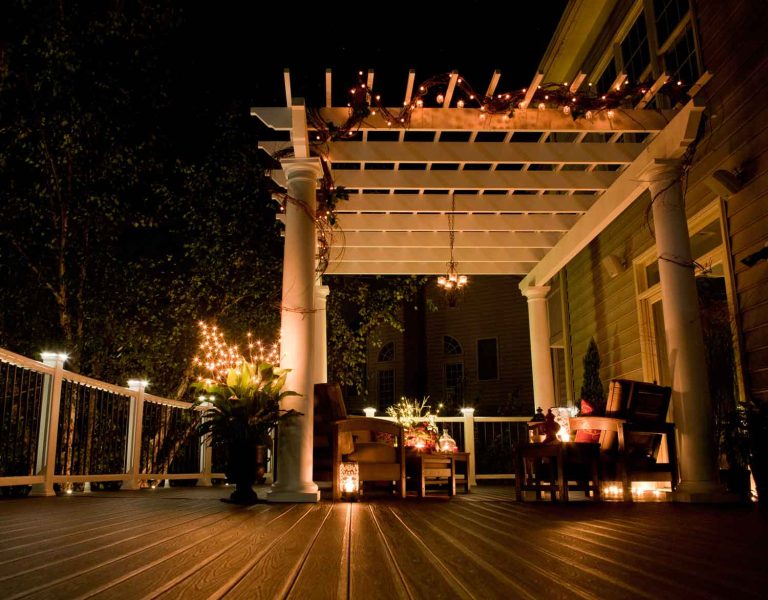 Thinking about extending your home, adding to your living space, building a new backyard retreat? The good news is, it's easy to answer the "but how do I pay for it?" question! There are many financing options available to homeowners for building a deck or patio and improving their lifestyle, while also adding value to their property.
Adding a deck is an improvement to your home which literally pays for itself if you ever sell your home. In fact, adding a capped composite deck gives one of the best returns on investment of all home improvement projects. Most homeowners see an eighty percent return on their investment in their capped composite deck or their patio when they sell their house.
A new capped composite deck is really an outdoor extension of your home's square footage, creating an area to relax with family and entertain your friends, without ever having to leave your home. Having such a get-away space this close to home also saves money by avoiding expensive bar tabs, event rentals fees, or restaurant pricing, meaning your investment starts to immediately pay for itself. And with the uniqueness of having a custom deck or patio added to your own home, you'll have a new living space to show off to any potential buyers down the road that no one else has. Bragging rights!
Your home is an important part of your life. Improve your home, increase your home's value, and pay for it over time.
Here are six financing options for a new backyard deck or patio.
Financing With Your Builder – Most Popular Option
Some deck builders that have been around for awhile offer financing to their customers, probably one of the simplest and easiest methods to finance your next job. Be aware thought that builder financing programs vary greatly in each builders's specific offerings. Not every builder offers financing, so be sure to ask your builder if they do. Some builders themselves charge a financing surcharge, a fee paid directly to the builder, just because you're financing your project. Look for a builder that doesn't charge such a fee. Others may require a cash deposit, increase the project price, or delay building your project due to a lengthy approval process. Be sure to ask your builder the details of their financing program.
Custom Deck Creations does offer multiple financing options, and we do not charge any financing or application fees. There are no additional fees from us if you finance. Many of our financing options have low or no fees nor interest if paid back over 2-4 years. Our financing application process is simple and fast, and we will walk you through the entire process, which only takes a few minutes. We accept all ranges of credit ratings from excellent to bad. There is no delay in your project if you finance. Builder financing is the most popular option among our customers. We'll walk you through exactly how to apply for financing and how cost effective it is when we meet.
At Custom Deck Creations, once we have you approved for financing, we can get started immediately building your new deck or patio. You can use our financing system for all payments, including the initial deposit, progress payments, and the final payment. You do not need any cash to be eligible for financing with Custom Deck Creations, nor do you need any cash for us to begin or even complete building your next deck or patio. Custom Deck Creations does not receive any sort of kickback or financial gain no matter the type of financing you choose.
Home Improvement Loan / Home Equity Loan / Line of Credit
Another popular option to finance your next home improvement project is a home improvement loan. A home improvement loan, also known as a Home Equity Line Of Credit, or HELOC, is a loan in which you borrow against the equity in your property but without paying off the original mortgage. With a HELOC, the lender gives you a line of credit which you draw from as needed, and you then make monthly repayments of principal and interest. Many banks and credit unions offer home improvement loans, and don't require you to be a member in order to qualify. A good place to get started is by asking your existing mortgage lender, your own bank, or a local credit union.
HELOCs often have a period of ten years during which you can continually draw funds out of it, and typically have a repayment period of 15 years. Unlike a personal loan, a HELOC is secured against your property. Interest payments are often tax deductible. Home improvement loan options are also available for those with limited or no home equity.
Using a Personal Loan to Build a Deck or Patio
Personal loans are loans made to an individual by a bank, credit union, or a large online financial lending company like SoFi. Personal loans make sense for new home owners who do not yet have much equity in their property, making home equity lines of credit (HELOC) and second mortgages unavailable.
Most personal loans have repayment time frames of five to seven years, which generally means the monthly payment amount will be higher than with certain other financing options. However, if you have good credit and monthly cash flow, a personal loan also adds up to lower interest charges over the life of the loan.
Applying for a personal loan is often simple and straightforward. The loaning institution runs a credit check and asks for verification of income – these are the primary factors determining eligibility. Personal loans are secured by collateral such as a property deed, and the interest payments are usually not tax deductible.
Personal loans are best for:
New home owners with little equity in their house
Smaller home renovation projects
People with excellent credit and good cash flow
Home Mortgage Refinance Option
If interest rates have gone down since you bought your home, refinancing your home mortgage is a good way of getting access to funds for upgrading your property. In this case, a mortgage refinance can supply you with money for building a deck or patio, and it can also lower your monthly mortgage payments at the same time.
A mortgage refinance uses your home as collateral for the loan, and is designed for large loan amounts, so it is not always the best option. Using a mortgage refinance for smaller home improvement projects means you are financing a small project in conjunction with a large debt spread out over many years. This can add long-term interest and financing costs to the project, making the improvement cost more over the long-run.
Second Mortgage Refinancing
A second mortgage is also known as a home equity loan, and is similar to a HELOC. However, with a line of credit, you only draw out funds as you need them. With a second mortgage or a home equity loan, you receive a lump sum of money instead.
Second mortgages are a sensible financing option when you already have a good mortgage interest rate and do not want to refinance your original mortgage. However, the interest rate on second mortgages is not always the same as the rate on the first mortgage, and may even be higher. However, you can deduct your interest payments on your tax returns when you finance with a second mortgage.
Getting a second mortgage also requires having sufficient equity in the property, so if you are a new home owner this option may be ruled out for you. The loan application process for a second mortgage is usually also more complicated than for a personal loan or HELOC, and it may involve having the home reappraised.
Financing with a Credit Card
Credit cards are another way of paying for improvements to your house. One advantage of using a credit card can be large reward program credits, giving you steep discounts on air travel along with other perks. However, credit card interest rates are often expensive, so if you use a credit card to finance a new deck or patio, make sure you are able to pay off the balance each month in order to avoid costly interest payments.
Still confused about financing options? No sweat! There's a ton to comprehend here. If you're in Southeast Michigan, contact Custom Deck Creations today and we'll walk you through all of your options to finance your new deck and find an option that works best for you.