Should You Invest in a Maintenance-Free Deck if You Plan On Moving?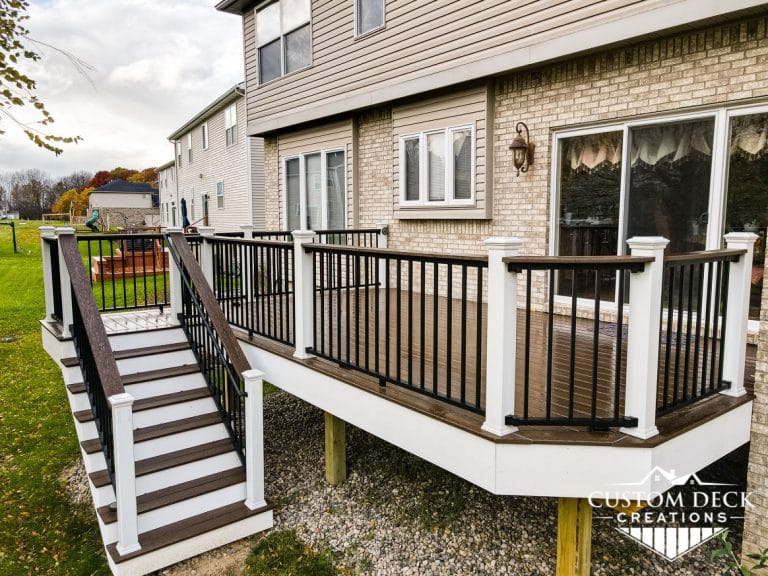 One of the more challenging decisions to make when building a deck is installing wood or composite. 
Like most homeowners, we feel that the more maintenance-free something can be, the better. But does that mean a maintenance-free deck like Trex is the right choice for everyone? Because who wouldn't miss sanding railing balusters, replacing rotting boards, fixing sticking up nails, and restaining their entire wood deck every one to two years?
But in all seriousness, if you plan on selling your home and moving in the future, is it worth the extra investment?
The Short Answer
There is no one correct choice, but how long you plan on staying in your home before moving is important. And the magic number is four years. If you'll be living in your home for at least that long, investing in a composite deck is a better overall investment than a standard cedar deck.
Let's dive in and look at the details and see why that four years mark is the magic number.
Composite Vs. Wood
First, the low maintenance of composite isn't the only driving element when deciding between deck types. Another factor that goes into the decision is usually cost. And when talking about the cost of a wood vs composite deck, it's important to factor in wood's ongoing costs as well.
The Difference in Costs
As you're likely aware by now, the price of lumber jumped significantly with the COVID pandemic. (You can read more about this in our post: Is Spring 2022 the Best Time to Build a Deck).
These cost changes have narrowed the gap between the investment of installing a wood deck vs. a composite deck, like Trex. So much so that it's now more expensive to build a deck out of cedar decking than Trex Enhance Basics decking! 
The exception would be using pressure-treated lumber, considering you could use the most basic wood for the decking surface. It would cost less than composite, but keep in mind the time and money needed to maintain a pressure-treated deck (and the splinters). 
The exact amount of upkeep will depend on how long you stay in your home and use your deck. Let's read on.
When Will You Sell?
Keeping the increased cost of lumber in mind, let's take a closer look at that magic number of four years. 
The math works out relatively evenly if we take the more popular Trex lines (like Trex Enhance Naturals and Transcend) and compare them to a cedar deck. Factor in the cost of ongoing maintenance for a cedar deck (replacing boards, sanding, staining or painting, etc.) and the $0 ongoing maintenance costs of a composite deck. The cost of a cedar deck starts to exceed the initially higher cost of a composite deck after about four years. 
So if you plan on living in your home for at least that long, it's often less expensive overall to invest in a composite deck! But if you're going to move within four years, or you're flipping a home to rent or sell, installing a cedar deck may make more sense.
On top of that, there's one more thing to consider: the ROI of a composite deck.
The Difference in ROI 
We recommend keeping the ROI of wood vs. composite in mind as well. By choosing a composite deck, you'll recoup 67% of your investment (based on the national average from the 2020 Cost vs. Value report). 
So when you do decide to sell your home, you're more likely to get a higher selling price if you have a composite deck. Homeowners know that a wooden deck requires work and money for upkeep, while a composite deck doesn't require that – you can just enjoy it! 
If you'd like more information, you can check out our post: Trex vs. Wood Decking: 5 Reasons to Go Composite.
Conclusion
It's your decision on what will be the best choice in the end. But to make the decision easier, ask yourself these questions:
How long do you plan on staying in your home?
What is the current cost of lumber compared to composite?
How much of an ROI are you likely to get?
How important is a maintenance-free deck to you?
What Next?
Are you ready to start designing and building your new maintenance-free deck?
At Custom Deck Creations, we build composite decks for clints across SE Michigan. We'll work with you to design a deck that you'll love, and one that will give you the best ROI when you decide to sell your home. Please give us a call for a free over-the-phone estimate; we'd love to chat about what you have in mind. Or, if you'd like some inspiration first, feel free to check out our most recent builds. 
Did you enjoy this post? Share it with a friend! If you'd like to keep reading, check out these posts next: