Does Siding Need To Be Replaced When Building a Deck? Here Are the Facts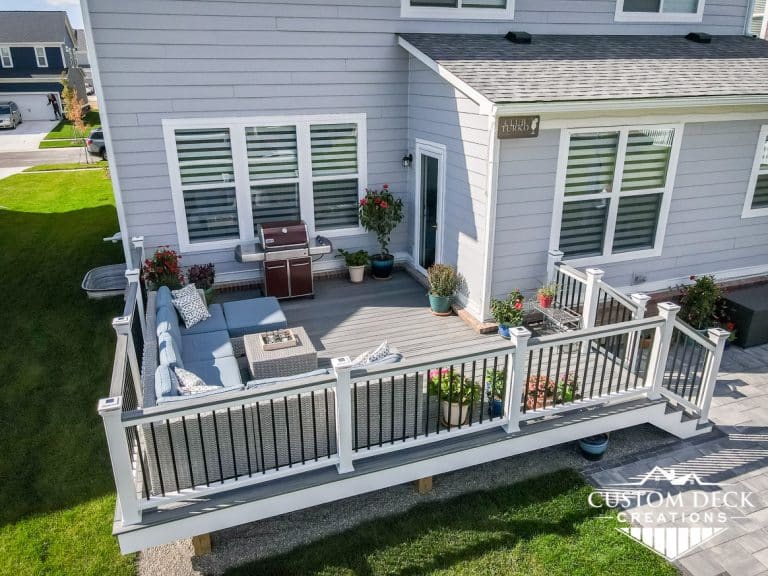 Adding a deck is one of the best improvements you can make to your home. On top of adding functionality to your outdoor space, a deck will improve curb appeal and, when properly built, look stunning and last for years.
But, considering decks are generally built right up against your home (or literally connected in some cases), do we need to replace any siding around a deck during our builds? And if so, will it end up looking miss-matched compared to the rest of the house and ruin the entire aesthetic?
Most of the time: no, siding will not need to be cut away or replaced during many deck builds. But a few factors come into play here, so let's dive in. 
What Type of Deck Are You Building?
The first thing we should mention is when you're installing a deck, you can choose to build it freestanding or attached to your home. The process and work that needs to be done involving the siding around a deck will vary depending on which type of choice. 
So, we're going to cover both. 
Freestanding Decks
Considering most of the decks we build are freestanding, let's start here. 
Just as the name describes, these decks stand freely of your home (but they're positioned right up close). Fortunately, no siding will need to be cut into or removed with a freestanding deck. So there will be no need to try and match new colors to your existing siding.
Ledgered Decks
Although less common, we do build ledgered decks. These decks are physically attached to your home via a ledger board. (You can learn more in our post: Freestanding vs. Ledgered Decks: Which Should You Choose?)
The proper way to install a ledgered deck is to first cut away the siding where we'll secure the deck to your home. Doing this exposes your home's structural rim joist, so we can add the proper waterproofing, flashing, and connectors. 
That might sound quite destructive, but we can usually reuse the existing siding and simply re-install it around the ledger board. So once again, there's usually no concern with matching colors.
The Exceptions
There always has to be a few exceptions! But these mainly come up if you're replacing an existing deck. 
If your new deck isn't as wide as your existing deck, you might need to add new siding where your old deck was. It depends on whether it was freestanding or attached and the condition of the siding behind it.
Or, if your new deck is wider than your existing deck, we'll likely need to add a new J-channel. 
Note: If you aren't familiar with J-channel, they're used to seal off and hold the pieces of siding together. Typically, you use them around windows, doors, corners, or other edges of your home. And they also give your siding a complete and professional look. 
Matching Materials
If you need to match siding or J-channel, it's not usually too difficult of a task. 
You can often find matching materials at a big-box retailer. But if not, a specialty building supply company should be able to order specific colors for your project.
One thing to keep in mind is if your existing siding was installed years ago, it's likely that the siding's color has gradually faded from UV exposure. New siding of the same original color will come close to matching, but due to the years of sun exposure to your existing siding, the colors may not be perfectly identical.
The Bottom Line
It's not likely your siding will need removing or replacing during your deck build. But if removing an old deck is involved, you may end up needing to replace some siding or add a new J-channel. 
Fortunately, finding color-matched materials is a simple problem to solve. And at the end of your project, both your deck and home will be looking great.
What Next?
Are you ready to start the build? Let's chat!
At Custom Deck Creations, we build composite decks for clients across SE Michigan. We want to work with you to design the deck you've been dreaming of, and if some of your siding needs replacing, no worries, we'll handle it!
To get started, please give us a call! We can chat about your project and give you a free over-the-phone estimate. Or, if you'd like to get some inspiration first, feel free to check out our most recent builds.
Did you enjoy this post? Share it with a friend in the area who's thinking of building a deck. Want to keep reading? Check out these posts next: