Do You Need an Electrician to Install Deck Lights?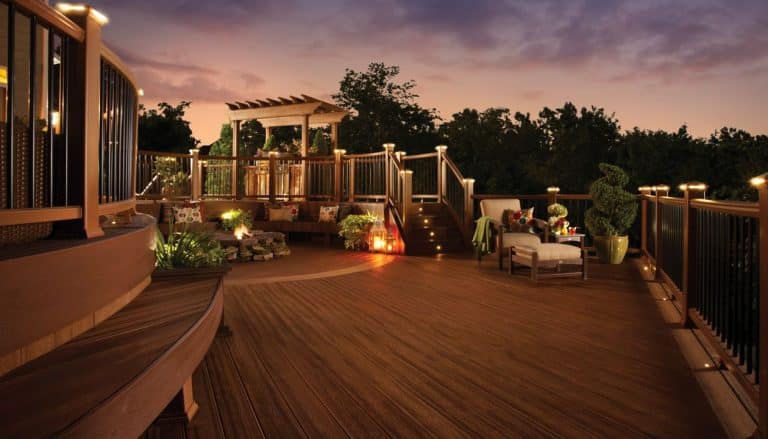 Deck lights are one of the most popular, practical, and aesthetically pleasing upgrades you can choose. They're considered essential by many, especially if you plan on using your deck at night. 
But how viable is it for homeowners to install deck lights themselves, or even for builders who aren't certified electricians? We all know how dangerous electricity can be, and coupling that with any complex installation could be a recipe for disaster. 
Today, we'll discuss whether or not you need to hire an electrician to install deck lights. And what else you need to know about the process.
Installing Deck Lights 
Do You Need to Hire an Electrician?
First off, the quick answer is no; you don't need to hire an electrician to install deck lights. 
We use and recommend Trex lights on our builds, which are low voltage LEDs. And any low voltage light won't require a licensed electrician. A transformer installed under your deck converts electricity from high to low voltage. And the lights simply plug into any existing outlet you have outside.
We also use solar-powered cap lights by LMT Mercer, which don't require electrical wiring at all!
If you'd like to learn more about deck lighting, check out our post: The Best Types of Deck Lighting to Brighten Up Your Space.
The Photocell & Timer
Now that that's covered, there's something else to be aware of if you're going to install deck lights like Trex. They come with a photocell, which is a light-activated sensor. The photocell turns your lights on automatically at dusk for a customizable amount of time throughout the night. 
The photocell is built into the timer and is separate from the transformer we spoke of before. Because the light-activated photocell needs to sense the ambient light to know when to turn on the deck lights, we don't recommend installing it to the underside of your deck. But the photocell doesn't need direct exposure to the sun, either.
The photocell unit is the size of a small brick and has a relatively short cord (about 3 feet) that plugs into an outlet. Depending on your home's layout, deck's design, and outlet location, it's usually secured to your home or at the side of your deck. 
PRO TIP: Install a New Outlet
For aesthetic purposes, if you'd like the photocell and timer unit to not be near the outlet, a licensed electrician can install a new outlet somewhere hidden. A job like this is usually around $500. This will be on the rare side of scenarios, though – only a few of our clients have done this.
When You Need An Electrician
Lights are an easy upgrade for your deck. But the exception to needing an electrician would be if we were also installing high voltage electrical, such as for an outdoor kitchen. Then we'd need a licensed electrician to run electrical for your grill, refrigerator, cold drawers, hot water tank, etc.
Conclusion
The bottom line is if you're adding lights to your new deck build, you don't have to hire an electrician to get the job done. Trex LEDs and solar-powered lights make it easier than ever to light up your deck. 
What Next?
Are you looking for a composite deck builder? Let's talk!
At Custom Deck Creations, we work with clients across SE Michigan to design and build their dream decks. We want to hear all about your vision and ideas for the space, and we'll even create multiple 3D designs so you can see what your deck will look like before we get started. 
Please, give us a call! We'll chat about your project and give you a free over-the-phone estimate. Or, if you'd like to get a little inspiration, feel free to check out our most recent builds. 
Did you enjoy this post? Share it with a friend! If you'd like to read more, check out these posts next: