Worried About a Mess? Here's How We'll Handle Clean-up On Your Project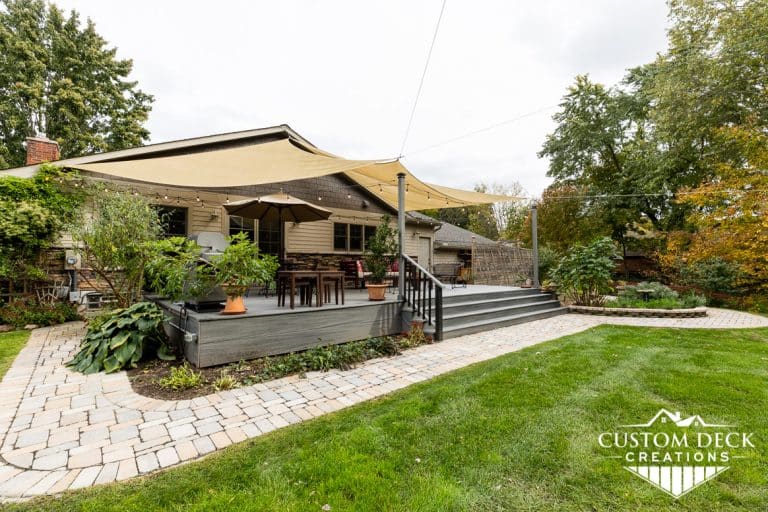 Building a deck is a messy job; there's no denying that. 
And you may have even heard a few horror stories about contractors leaving terrible messes behind.
But there's no need for you, as the homeowner, to be picking up scrap pieces of wood or searching for leftover screws. You should get to relax and spend time with family while enjoying your brand new deck.
So what condition can you expect your yard to be in once everything is complete and we've packed up and headed home? 
How We Handle Clean-Up
We believe in the expression "if you make a mess, clean it up." And as your deck builder, that means us! We clean up after ourselves. It's as simple as that! 
But there's "cleaning up," and then there's properly cleaning-up, which we feel is just as important as the deck build itself. Our team will leave your home and backyard just as beautiful as when we started your project. With the addition of a brand new deck, of course!
Here's how we do it.
Hauling Away Debris
We'll remove any and all debris after completion of each deck.
For many projects, we utilize a small debris collection system which we have picked up at the end of a project. At a footprint of only 4′ wide x 8′ long, it's smaller than most cars. We'll ask your preference on where you'd like us to place this as to not block access to your driveway or garage.
For a demo & replace project, we may have an on-site dumpster, placed on top of lumber to protect any surface and to not cause any damage to your property. We'll also sweep up under the dumpster after it's removed.
Note: If you have an existing patio, we'll always ask if you'd like us to haul away the paver stones, or if you'd like, we can stack them neatly somewhere in your backyard if you'd like to repurpose them.
Thorough Walk Around
We don't just take care of the large debris. We'll also walk around your yard, looking for smaller items, such as nails, manufacturer tags, etc. These can be easy to miss and may require a little extra attention to find. 
On top of that, we'll always perform a walkthrough with you. During this time, our project manager will have a final look over for any debris we may have left behind and ensure we clean everything up for you. 
In Front of Your Deck Stairs
While our goal is to leave no traces behind (except for your new deck of course!), there is an area that sometimes has a bit of extra mud from post hole digging – that is right in front of your new deck's stairs.
Because we're often working in an uneven backyard, we sometimes need to alter the slope to provide a safe and code-approved grass landing in front of your stairs. If this is the case with your project, we've got you covered – we'll sprinkle fresh topsoil and rake in new high-quality grass seed.
Note: You can learn more by checking out our post: Will Building a Deck Damage Your Lawn? Here's the Honest Truth
Conclusion
Our highest priority (amongst building a high-quality deck) is leaving your yard looking as lovely as it did before we arrived. No garbage, leftover debris, or nails in your lawn. 
And as the builders who'll be making the mess, we promise to be accountable. If you have any concerns during the building process, please let your project manager know. Or, you can always call me, Phil, I'm the owner, directly at (734) 822-6141.
Ready for the Build?
At Custom Deck Creations, we build composite decks for clients across Southeast Michigan. Our builds are custom-made, so we can work with you to design your dream deck that's practical and looks great in your backyard. 
When you're ready to get started, please give us a call! We'd love to hear about your project and give you a free over-the-phone estimate. Also, feel free to look through our most recent projects first for a bit of inspiration.
Did you enjoy this post? Share it with a friend in the area who'd like to build a deck. Want to keep reading? Check out these posts next: