Furniture for Composite Decking: What Won't Cause Scratches?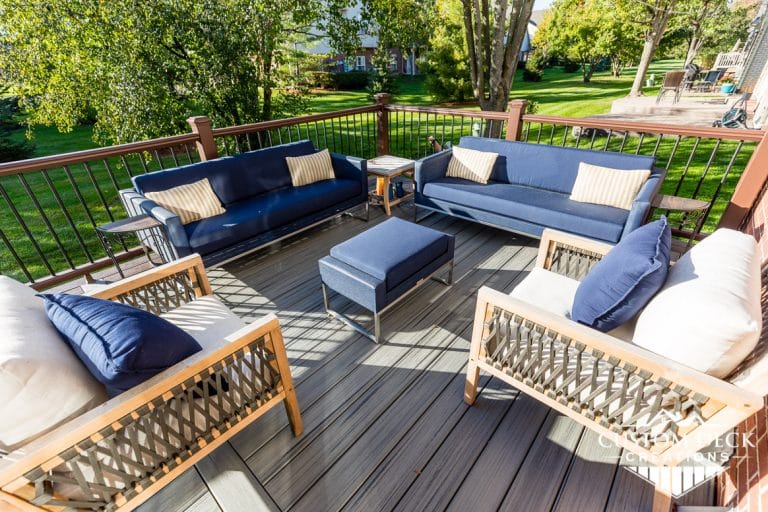 A new Trex deck creates a wonderful space to enjoy the outdoors with those you love (or are obligated to invite over from time to time, you know who we're talking about!).
However, like with anything new, you probably want to do everything in your power to keep it looking that way. And that includes being mindful of what you place on your deck, including chairs, tables, etc.
So, what type of furniture should you consider for your new deck? And what furniture for composite decking is safe enough so that you don't need to worry about scratching it?
Keep reading to find out.
Choosing Safe Furniture for Composite Decking
Fortunately, most types of furniture will be safe for the surface of your composite deck. Manufacturers like Trex create extremely durable boards that can handle wear and tear. 
Depending on the style you're going for, some common and perfect materials to choose from are:
Wicker
Wood-plastic composite
Aluminum
Stained wood
Plastic
Now we aren't saying every piece of furniture will be safe. There are some things to watch for or avoid that we'll cover next.
Note: Here's another great article by the NY Times with tips on choosing outdoor patio furniture. 
What To Look Out For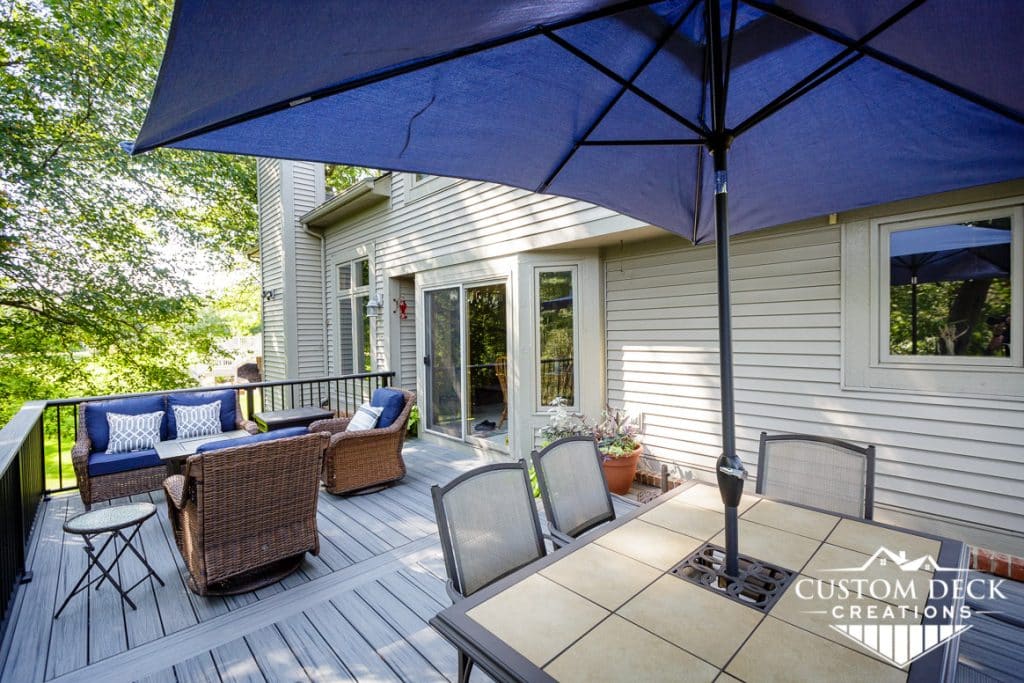 Like we said above, there will be some exceptions and things to pay attention to when you're shopping for furniture for composite decking. And these can vary from brand to brand and individual items.
Furniture Feet
The most important thing to check is the bottom of the furniture, especially with tables and chairs. Ideally, it will have plastic, rubber, or even felt protectors. Metal feet should be okay, but we'd recommend adding rubber or felt bottoms to be safe. 
Also, some manufacturers install protective feet using staples or brad nails. These often stick out lower than the furniture's feet and should be removed or covered because they can scratch your decking. 
PRO TIP: Fixing Scratches & Protecting Your Deck
If you get a scratch on your deck, check out our post: Does a Composite Deck Scratch Easily? We've outlined a couple of repair options you can try as well as some tips on preventing scratches. 
Also, if you plan on BBQing on your deck, consider checking out our post: 6 Tips & Tricks for Grilling on a Deck. 
Weight
Most patio furniture is relatively light compared to the furnishings in your living room. But some items, such as a solid concrete umbrella base, can be quite heavy. You want to be careful moving around any furniture with significant weight. Make sure to pick them up to move them, and never drag them across your deck. 
Indoor Use
One more easy thing to overlook is accidentally buying furniture made for indoor use. 
You always want to use furniture intended for the outdoors, as the fabric used on indoor furniture won't last and will become moldy very quickly. Also, some indoor furniture made of steel can leave rust stains behind if it's left in the rain.
Conclusion
Finding furniture for composite decking that won't scratch shouldn't be a problem. Most patio furniture will be perfectly safe to use. Besides the scratch-resistant deck boards, patio furniture brands usually add protective feet to their chairs, tables, etc. But, always check the bottom of the feet for staples or nails. And, of course, be cautious when moving anything heavy across your deck.
What Next?
Are you looking for a deck builder? Let's chat!
At Custom Deck Creations, we design and build composite decks for clients across SE Michigan. Our builds are all custom-made and designed to be practical for how you'd like to use the space. During your deck's design phase, we can show you what different types of furniture will look like on your new deck.
When you're ready, go ahead and get in touch. We'll chat about your project and give you a free over-the-phone estimate. Or take a look through our most recent projects first for inspiration.
Did you enjoy this post? Share it with a friend in the area considering building a deck. Want to keep reading? Check out these posts next: