Deck Skirting: Can It Be Added After the Build?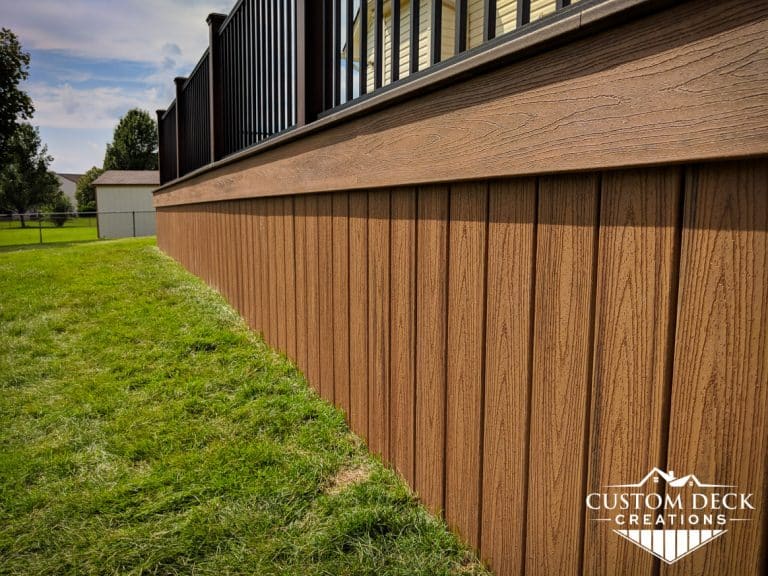 Deck skirting is a beautiful and functional upgrade to any backyard deck.
It adds the finishing touch to any build, bringing the entire design together and making it look clean and polished. Not only that, but it also creates a more secure storage space under your deck while keeping your backyard looking organized. 
But homeowners often ask us if it's possible to add the skirting after the deck is complete, sometimes months or years down the road, whether for financial or design reasons.
What does this process look like, and how difficult will it be?
We're going to answer these questions and dive a little more into the details. So you can decide if you should install your deck skirting now or if it can wait until another day.
Adding Deck Skirting After the Build
Fortunately, you can add skirting anytime after you finish your deck. Considering it's one of the last things to do during a build, to add it later on it generally takes little rework and is easily done in most cases. 
The most common styles of skirting are vertical or horizontal deck boards or a decorative lattice material. But regardless, the installation is generally the same. You install the skirt framing directly onto your existing deck's frame. And the process is entirely done outside the deck, making it easy to install at any point in time. 
PRO TIP: Deck Upgrades
Depending on your deck's design and materials, there may be other upgrades that you can easily add at a later date. Talk with your deck builder and see what options you have. For example:
Cocktail rails on your railings
Solar-powered cap lights
Stair riser lights
Additional set of stairs
Challenges & Considerations
Low Decks
Adding skirting on a completed deck that is very low to the ground (18 inches or less) may pose a challenge. The lack of space makes it a little harder to properly secure the skirting's framing to the deck's framing. So in the case that your deck is 18″ or less off the grade, we recommend installing any desired deck skirting during the build.
Cost
To install deck skirting down the road, there's a bit of work that requires you to remove your deck's fascia to access the framing. The extra work will make the installation slightly more expensive to add the skirt after the deck is complete. 
Conclusion
If you aren't ready to bite to bullet or are unsure if you want to invest in deck skirting, you don't have to decide right away. You can add it to your deck even years down the road, and it's a great option to reduce the initial investment of your deck.
Ready to Build?
If you're getting ready to build a deck, we should chat!
At Custom Deck Creations, we build composite decks for clients all over Southeast Michigan. We'd love to work with you to design the perfect deck for your backyard, and we can discuss all the potential upgrades to add now or later (including deck skirting). 
Feel free to check out some of our recent deck builds. When you're ready, get in touch for a free, over-the-phone estimate!
If you've enjoyed this article, share it with a friend! Want to keep reading? Check out these posts next: