Can You Put a Fire Pit on a Deck? Here's What You Should Consider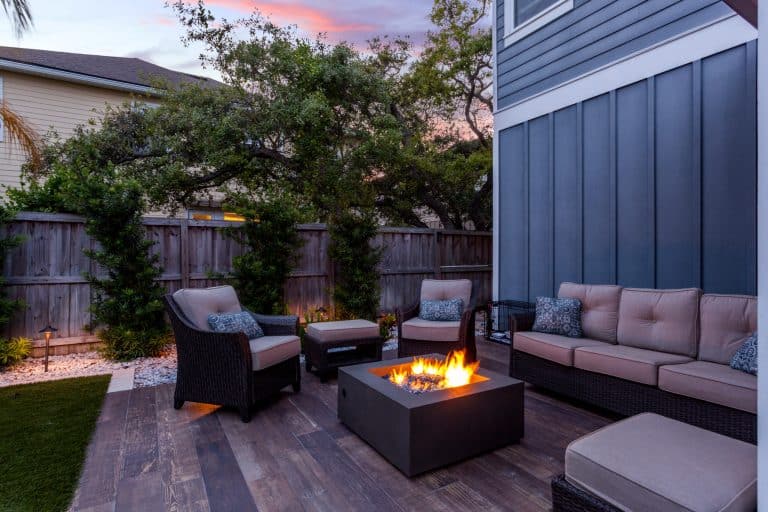 Can you put a fire pit on a deck and use it safely? 
As the weather starts to warm up, this question enters the mind of many new deck owners. After all, your deck is the perfect place to sit down and enjoy some outdoor time with friends, family, and neighbors. And sitting in front of a fire is a great way to keep the warm conversation going. 
But you're right to be concerned. We all know what fire does to wood, but there's a risk of warping and cosmetic damage even with composite. 
So today, we'll discuss everything you should consider if you want to put a fire pit on your deck. From the safety concerns, types of fuel, and general tips to make it safer and thus more enjoyable for you and your family. 
Using a Fire Pit on Your Deck
First, you definitely can use a fire pit on your deck. But let's make sure we're doing so safely, and it all starts with the fuel you'll be using. While we'll cover both types, we only recommend placing gas-burning fire pits on a deck, not one that burns wood. 
Note: We're not guaranteeing that any fire pits are 100% safe; you must use your best judgment during use. Be careful and make sure the fire is always being watched and not left alone. We aren't liable for any damage!
The Two Types of Fire Pits 
Wood Burning
First, we highly discourage using a wood-burning fire pit on your deck. Embers can spit out from the fire and cause scorch marks, damage the deck boards or railing, or even cause a fire.
You could have a wood fire if you have a composite deck, such as Trex. But we'd recommend using a firescreen on top of it to keep the embers from shooting out. And while the embers may not set fire to your deck, they can still cause damage. Also, be careful of umbrellas, patio furniture, and even your clothes which sparks can easily burn holes through.
Another point to keep in mind is that wood-burning fires generally burn hotter than gas, especially near the bottom of the pit. So regardless of the type of decking you have, we suggest using a ceramic disk or other material designed specifically for using a wood-burning fire pit on a deck.
Beyond ceramic disks or mats, there are plenty of other accessories that can help make the experience safer and better in general. Tools like ember shields to aromantic firewood are perfect for nights around the fire. If you'd like more ideas, check out Solo Stove's post on "The Perfect Tools For The Job."
The Best Place for Wood Firepits
We understand the appeal of a wood-burning fire pit, so a backyard or stone patio is the best place if you want to stick with wood fuel. But you'll want to keep it away from your home, the distance will depend on your local municipalities requirements. In many places, that's 10-15 feet away but check with your local ordinance office. 
Gas Burning
When it comes to gas fire pits, you can use two fuel types: natural gas or propane.
Both will supply sufficient energy for all your outdoor gas appliances. But be sure to buy the correct fire pit for whichever gas you'd prefer to use. Although, some will come with a converter kit to accept either natural gas or propane.
As for which one is better, it depends.
Propane is easy because you can likely find propane tanks at local big-box retailers or other vendors. Also, you can keep a full spare tank on hand to ensure you never run out of propane. However, natural gas will be cheaper to use over time, but the initial hookup will be more expensive. It requires a licensed plumber to plumb natural gas from the inside of your home to the outside on your deck. The average hookup fee will be $1,000 – $2,000. 
Conclusion
So, can you put a fire pit on a deck and use it safely? Yes, it's entirely possible and it's a great way to entertain friends and family. 
The key is understanding the hazards and knowing what you can do to prevent them. And this is especially true for wood-burning fires, as there's a greater risk of embers and the heat causing damage. But regardless of whether you're using wood or gas, make sure any fire pit is far enough away from any combustible material.
What Next?
Do you think it's time for a new maintenance-free deck? Let's talk!
At Custom Deck Creations, we work with clients across SE Michigan to design and build their dream deck. We'll create multiple 3D designs of your new deck, so you can see exactly where you'll put your fire pit before we get started. 
Please, get in touch! We'll chat about your project and give you a free-over-the-phone estimate. Or, feel free to check out some of our most recent projects first.
Did you enjoy this post? Please share it with a friend who might find it helpful! Want to keep reading? Check out these posts next: