Can We Replicate Another Deck's Design for Your Build?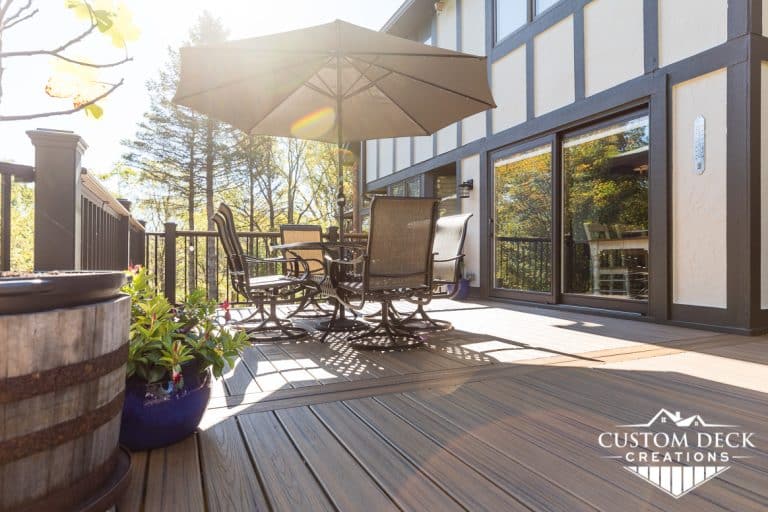 So you've found your dream deck or one close to it!
Your neighbor invited you over for a good old-fashioned neighborhood BBQ, and you fell in love with their deck—the size, design, features, etc. Or maybe you found it while scrolling through Instagram for inspiration, and you're already planning the "here's our new amazing deck" party.
Regardless, you're not alone in wondering how you'll get that deck into your backyard. We frequently get asked if we can replicate a neighbor's deck or one that the homeowners have seen online.
Let's discuss this possibility in more detail and how we can help you design your new deck. 
Can We Replicate Another Deck?
If you find your dream deck, don't let it get away! We can absolutely duplicate it for you. 
If it belongs to a neighbor, ask them if you can take a photo, or with permission, we can visit the deck with you. And considering we've built over 300 Trex decks in SE Michigan, there's a good chance it may be one of our builds if it's a quality-built composite deck!
We want to hear all the details about why you like this deck, regardless of how small they seem. Anything from the:
Size
Color
Railing style
Design 
Trim Details
Lights
Etc.
If you saw the deck online or on a social media platform, that's also no problem! Feel free to share those photos with us too. 
Do You Need Help With the Design?
Having inspiration is great when it comes time to design your deck. But it's not required; that's what we're there for to help you with.
Clients often come to us with no design ideas or deck size in mind, and that's totally fine! We can meet you at your home to measure how much space you have and discuss how you plan on using your deck:
Will you be hanging out with a couple of your closest friends?
Are you the neighborhood's go-to for parties?
Will you be dancing to the YMCA with 30 people?
Do you need a safe and fun place for your kids and their friends?
How about celebrating large family gatherings?
There's no right or wrong answer here, and you may plan to do all of these. That's awesome; we'll work with you to design your outdoor space to fit every occasion. 
Working With An Existing Design
If you already have an existing deck or a planned design, we can also take that and improve upon it. We can make changes to suit however you plan on using your new outdoor living space. Because everything we do is custom, we can make almost anything happen for you. Just let us know!
Also, part of our process includes creating multiple 3D designs of your deck, so you can see what it will look like before committing to any plan. Here's an example of one of these designs: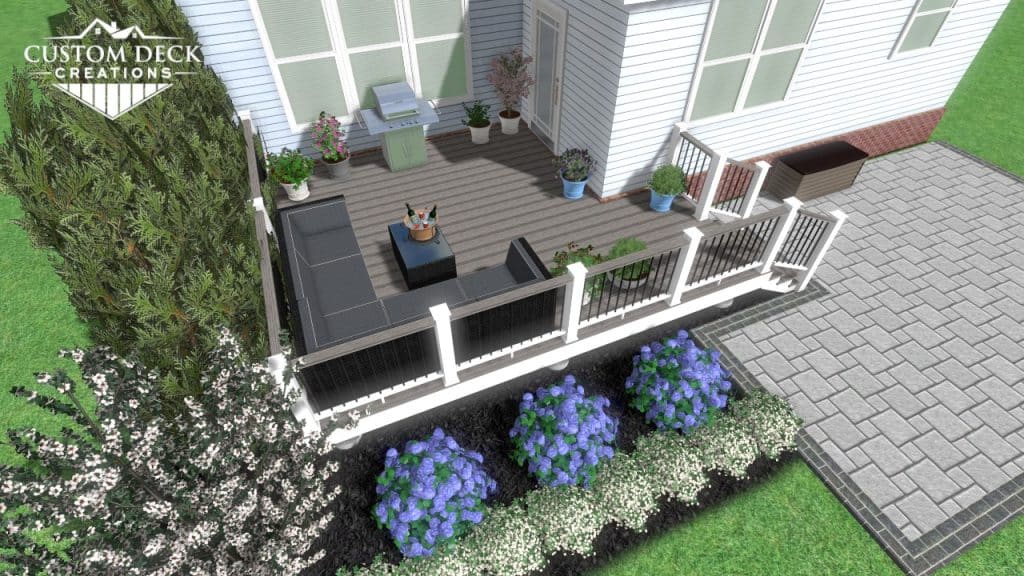 Conclusion
Inspiration can come from anywhere, and you can be sure we'll be able to replicate the best parts of any deck you love. But even if you aren't clear about what you'd like, we've got your back! We'll work with you through our initial call and on-site consultation to create a design that beats any cookie-cutter deck you'll find elsewhere. 
Ready to Start the Build?
At Custom Deck Creations, we design and build decks for clients across SE Michigan. All of our builds are customized to work for you and how you'd like to use the space. So be sure to share any and all your ideas and photos for inspiration!
When you're ready, go ahead and give us a call. We'll chat about your project and give you a free over-the-phone estimate. Or take a look through our most recent projects first to get a few ideas.
Did you enjoy this post? Share it with a friend in the area whose thinking about building a deck. Want to keep reading? Check out these posts next: