A Simple Guide to Cocktail Railings for Decks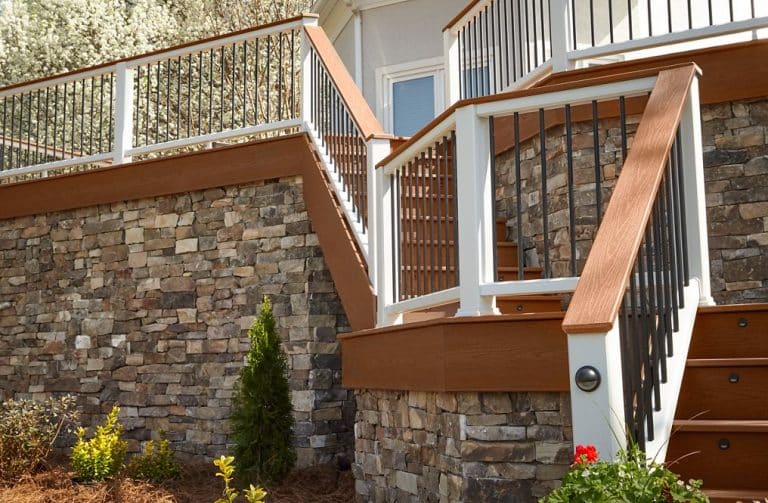 Why You Should Consider Upgrading To Cocktail Deck Railings
If you've been exploring the idea of building a deck, you've probably heard the term "cocktail rail" or "drink rail" a few times already. It's the popular upgrade that homeowners love and builders recommend. 
But what exactly are cocktail railings for decks? Can you customize them to enhance your deck's design? Or are they worth the investment at all?
These are the questions we'll be answering today, so you can decide for yourself if it's worth the investment. (But you should know, we may be a little biased!)
What Is a Cocktail Rail?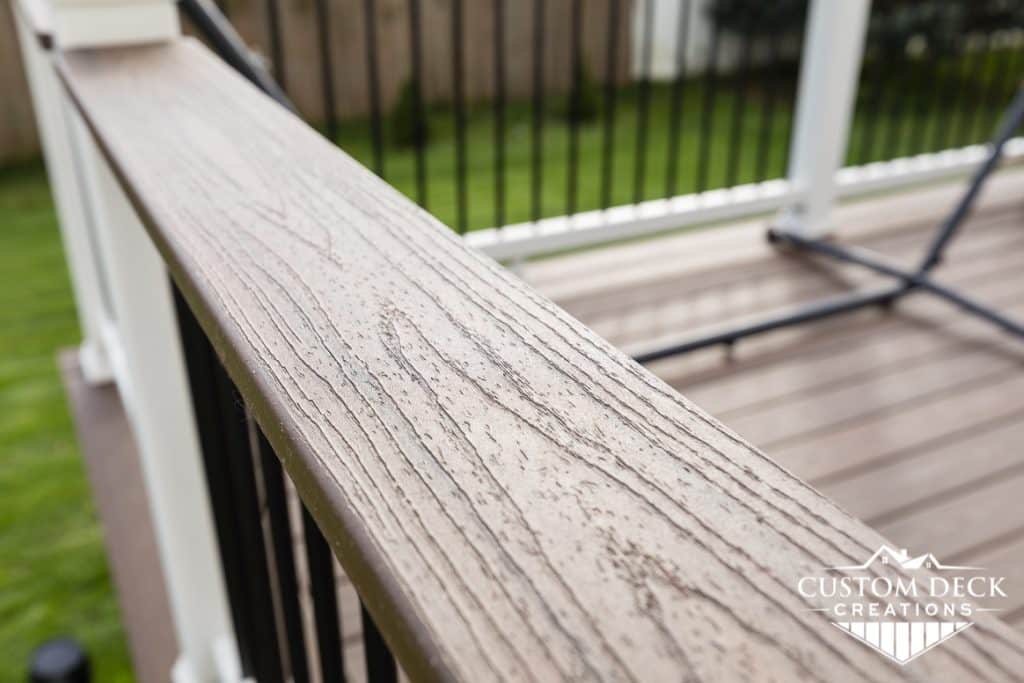 To start, a cocktail rail (also known as a drink rail) is a decking board you add to the top of your railing to create:
A flat surface to place drinks
Extra space for grilling
A space to lean on while socializing
It may seem simple or even a little unnecessary to some. But we consider cocktail railings for decks one of the best upgrades you can get, considering how handy it ends up being. 
Think about it. What happens when you invite guests over to hang out on your deck? At some point, everyone tends to huddle near the railing, leaning on it with their elbows, likely with a drink in hand. A cocktail rail is made for social gatherings.
The best upgrades are practical but should also be easily customizable and enhance the overall aesthetic of your deck. 
Customizations
We exclusively work with Trex products, and their railings are just as customizable as their decking is. You can add a cocktail rail to any of Trex's railing lines:
Trex Select Railing
Trex Transcend Railing
Trex Signature Railing
Colors & Sizes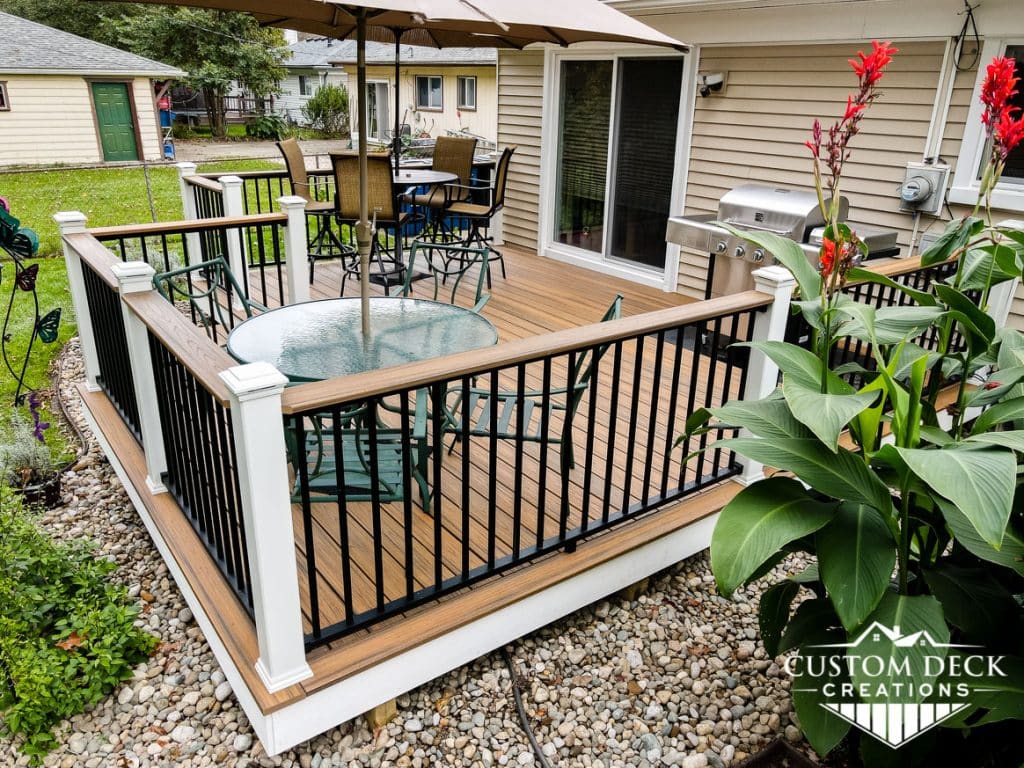 Cocktail rails allow you to add color to your railing, which is a subtle but beautiful touch when it comes to design. The boards can be any color or dimension within the Trex Select or Transcend decking lines but not from the Enhance line.
Because Enhance boards are scalloped on the bottom, you can't reliably connect them to the railing with fasteners and expect the same longevity as boards from the other decking lines.
Now considering Trex often switches up their color names, we won't list them here. But you can check out your current options with the Trex color selector.
As for sizing, the Transcend cocktail board comes in two options:
1-inch x 6-inches (by far the most common)
2-inch x 4-inches
While the Trex Select cocktail boards come in one size:
PRO TIP: Color Match
Use the same color for your cocktail rail as you are for your deck's picture frame board. Matching these colors looks terrific and keeps the design elements tied together. 
Railing Caps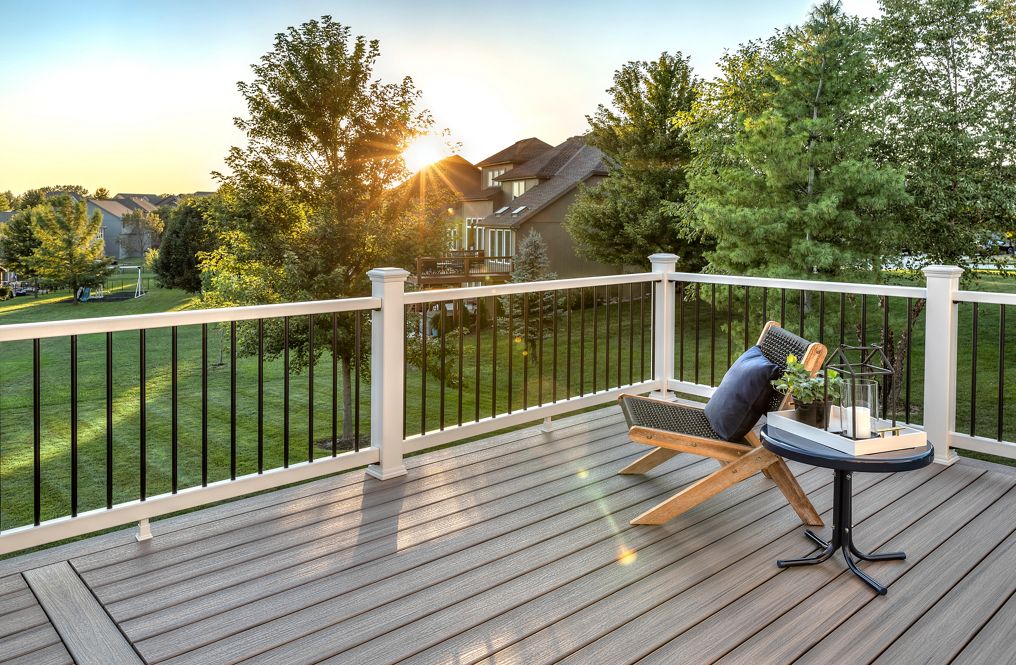 Another customization you may be familiar with has to do with the railing post caps. There are two choices:
Install the Railing Caps
Choosing to install the railing caps is what we recommend. Otherwise, the top of the posts will be flush with the top of the rail. And any imperfections will easily catch the eye when you're sitting on your deck and your railing is at eye level. Over time, flaws may become more obvious with the natural swelling and contraction of PT wood and composite decking.
Leave the Railing Continuous
If you choose not to install the post caps, the cocktail board will run continuously. That may be the look you want, as it can appear very modern and sleek. However, we would still recommend installing caps on the corners of your deck and the top and bottom of your stairs. That way, the cut ends of the cocktail boards aren't left exposed, which would hurt the overall aesthetic rather than improve it. 
Keep in mind, with many deck designs, this will result in only a few railings posts not having post caps. So that may defeat the purpose of the look you were going for in the first place. But spend some time with your deck builder working on the design, so you have a good idea of what both options will look like before building. 
Upgrading
While you would usually install a cocktail board during the initial build, there's no need to worry if it's not within your budget. You can easily add one to any Trex Signature railing down the road. There are no parts you must remove and reinstall, so it's a simple process. And the extra weight from the board won't cause your railing to droop or cause any other damage. 
You can also add a cocktail board to Trex Select or Transcend railing lines after the fact. But it would require removing all of the railings and, in some instances, replacing components of the rail. 
Now the price to install a cocktail rail varies by deck design and material selection. But on average, it will be between $1,200 – $1,500.
PRO TIP: Consider Other Upgrades
Cocktail rails aren't the only addons we think you should consider. After speaking with many homeowners, there are a few upgrades that consistently come up that people wish they had gotten. If you're interested, check out our post: Top 5 Deck Improvements Customers Regret Not Doing.
The Bottom Line
Installing a cocktail rail adds functionality to your deck and improves its aesthetic appeal with multiple color choices. Making it one of our top recommendations for deck upgrades and a trend that won't disappear anytime soon. 
What Next?
Are you planning on building a new deck? We should chat!
At Custom Deck Creations, we work with clients across SE Michigan to design and build their dream decks. We'll work with you to bring your vision to life and, just as importantly, stay within your budget. 
Give us a call, and we'll happily give you a free over-the-phone estimate. And feel free to check out some of our most recent builds!
If you enjoyed this article, share it with a friend! Want to keep reading? Check out these posts next: