3 Problems That Cause a Sloping Deck & How to Avoid Them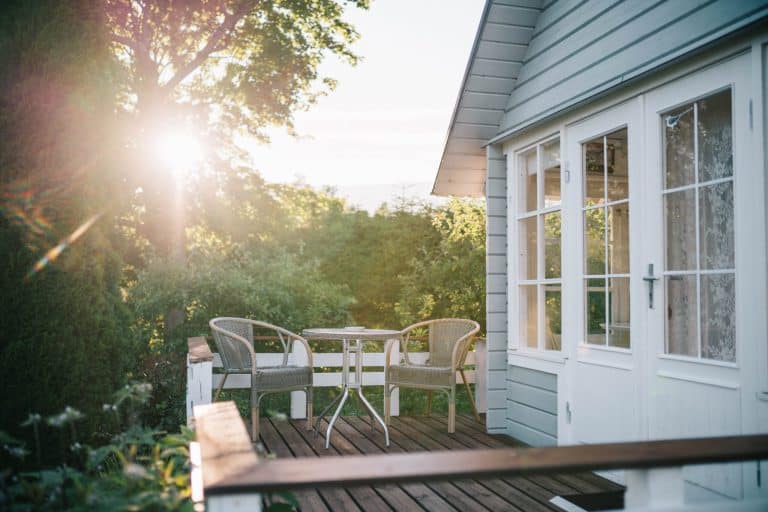 Oh no, we've seen it too. 
Your neighbor has a sloping deck, and it's at quite an angle. It's certainly a tough place to play a game of marbles! 
Are you wondering what the cause could be, so you can make sure to avoid the same trouble with your own deck? Fortunately, we have you covered.
Let's jump into what causes a deck to start sloping and what you can do so your deck doesn't suffer the same fate. 
The Causes of a Sloping Deck
A sloping deck can happen for several reasons:
The structural posts have sunk
The structural posts have heaved 
Incorrect installation of the deck footings
Or frankly, the deck could be reaching the end of its days, and the frame has started deteriorating. In any case, it's probably best to have the neighborhood party on your deck this year 🙂
But let's look at each of these problems in a little more detail.
Sinking Deck Posts
We've seen it happen where the earth underneath a deck's footings will move or get washed away. For example, we once had a call to repair a deck recently built by another builder that had this problem.  
What happened is the client had directly routed one of their home's downspout extensions towards the deck's footing, which was on a sloped hill. And over time, all the water from the downspout washed away the ground.
Fortunately, the fix for this problem is pretty straightforward :
Support the deck with a jack and concrete blocks
Dig out the footing to ensure it's been correctly installed
Add additional backfill or concrete to provide a stable fix 
PRO TIP: Downspout Draining
Downspouts and extensions shouldn't drain under your deck if it's avoidable. You want to redirect as much water away from the structural elements as possible. To do this, have nearby downspouts buried before you build the deck, or simply add a longer downspout extension, so the water is directed out and away from the deck's structure.
Deck Posts Heaving
In Michigan and other colder environments where temperatures reach freezing levels, deck posts can heave up. This phenomenon happens when water underground freezes and forms something called frost lenses. These lenses grab onto the structural posts underground and heave them upwards as the soil expands and can cause damage in the long run. 
This problem is a prime example of why building your deck correctly, and following codes (specifically building below the frost line) is essential. After all, building codes are in place to make sure your deck is safe and can stand up to the seasonal cycles!
We take depth requirements seriously, and we're proud to say that none of our decks have ever suffered from heaving. 
Note: Check out FineHomebuilding's post "How it Works: Frost Heave" if you'd like to read more on the topic.
Incorrect Footing Installation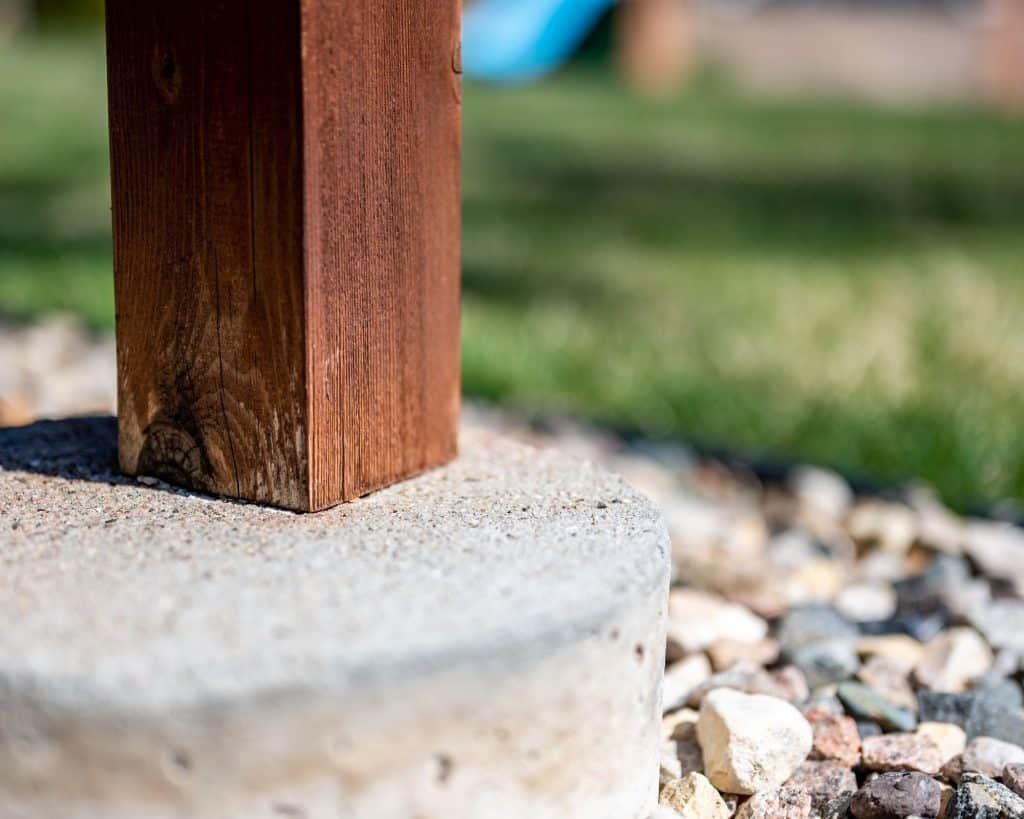 Sometimes, the deck's footings were just not installed how they should have been. We've demoed and replaced hundreds of decks, and we've certainly seen some "creative" ways to build. 
Quite often (more often than we'd like to see), there are no concrete footings at all. There's just a wood post in the ground, or there is hardly any concrete at all (which is a bad sign). These decks will not last as long as they should.
Instead, with properly built footings, you should have decades before a sloping deck ever becomes a major safety concern for you and your family.
PRO TIP: Ask About the Footing Installations
When you hire a deck builder, ask them how they'll install your deck's footings. Because in Michigan, there are two or three inspections for a deck:
The holes dug for the footings
A rough framing examination (if the deck is low to the ground and won't be easy to check after the build)
The final inspection
The inspection for your footings will happen after the holes are dug but before installing any concrete or the posts themselves. This post hole inspection is done only to ensure the holes are deep enough. But strangely, the actual installation of the footings and methods used are not inspected and often done when the homeowner is at work. 
So be sure to understand how your builder will install your footings. If you simply ask, they should gladly walk you through the process. And you should also see it in the scope of work (or contract) when you sign on with them. 
A Word on Wood Decks
It's worth mentioning that sometimes decks are intentionally built with a slope. Wood decks are built a little differently than those made from composite. Some builders will install wood decking like porches, with each board positioned against each other and touching. 
This installation method looks great for wood decks, but it doesn't allow water to drain off easily. And rather than turning your deck into a large puddle for the kiddos to splash around in after it rains, some builders will install wood decks with a slight slope. That way, gravity does its thing, and the water will roll off the decking boards. 
However, the slope builders add to wooden decks is usually subtle. So if you're noticing the angle of your neighbor's deck, it's likely because there's an underlying issue.
With composite decking, including Trex, builders install the boards with gaps between them. This gap allows water to escape and gives the underneath of your deck proper ventilation to dry. 
The Bottom Line on Sloping Decks
There are a few possibilities as to what causes a sloping deck. But most can be avoided or at least prevented for many years. It all comes down to proper installation practices and paying special attention to your deck's framing and foundation. 
Regardless of the reason, if your deck is sloping, a local professional should inspect it immediately. And to be safe, you should discontinue using it until a qualified professional or local building inspector has checked it out and fixed any issues.
What Next?
Are you considering building a new deck? We'd love to chat!
At Custom Deck Creations, we work with clients across SE Michigan to design and build their dream decks! Let us know your vision, and we'll bring it to life while staying within your budget. 
Get in touch! We'll chat about your project and give you a free-over-the-phone estimate. Or, feel free to check out some of our most recent projects first!
Did you enjoy this post? Please share it with a friend who might find it helpful! Want to keep reading? Check out these posts next: